Last week we shared the story of how the Sarantaporo.gr Community Network worked with the community of Sykea to help with a pressing problem. Like many other villages in the Thessaly region in central Greece, it lacked access to the Internet. When an alternative solution to Sykea's connectivity challenges was found, an opportunity opened up to tend to the needs of other communities in the region.
Sarantaporo and its neighboring villages used to be prosperous places back in the 80s, with all sorts of economic and social activities. In addition to primary sector activities, such as farming and herding, there used to be retail, construction, services, and food processing plants. Villages had their own schools and even cultural centers. People from the nearby towns and from more remote cities would regularly travel many kilometers to spend Saturday night in the village's bar, which was considered one of the hottest spots to listen to music, dance, and have fun.
There are countless stories from that period from locals in their 50s who stayed. Since then, though, young people have moved towards the urban centers, following the urbanization trend in the country. With most of the local development lifeblood drained, local economic activities started withering until there remained just a few vital ones, such as taverns, bakeries, small markets, gas stations, and some shops. Agriculture and animal herding, the local productive activities, remained strong, albeit weakened.
Animal herding has long been a traditional activity which made the area famous for its dairy products and meat, mostly from goats, sheep, and cows. The sector has been sustained through family businesses that transition from parents to their offspring, also employing many locals. Such is the case with more than 110 animal farms in Livadi village.
With every generational transition the animal herding businesses were being modernized, from improvised corrals to modernized animal farms with electromechanical equipment for dairy and meat products. For various reasons, though, this local modernization progress did not find its tandem in the telecommunications infrastructure domain, leaving the area deprived of Internet access and even landlines. This established a suffocating situation for many of the local professionals.
As Apostolos Tsaknakis, a local young animal herder, explains, "A daily obligation for me is to pay the bills of the feed traders who supply me, as well as other bills such as electricity, taxes, etc. It was a great pain for me to commute daily to the nearest banks located in the town of Elassona, 21 kilometers away from the small village where I live."
In 2017 we started building a relationship with our region's breeders association, whose members live near the village of Livadi, also in the Elassona municipality. These are professional animal breeders who keep their animal farms in the vicinity of the village, on a plain where just a few years back one had to take dirt roads to reach it. The plain lies in the foothills of Mount Olympus, below the village at a distance of approximately six kilometers via an uphill winding road. The remoteness of this area and the sparsity of the population were the basic reasons why the telephone landline never reached Livadi.
This relationship eventually led to the expansion of our Sarantaporo.gr network to 21 animal farms in the summer of 2019. This was an important milestone for us, since animal herding is one of the two basic economic pillars in the region, with approximately 55,000 goats and sheep and 1,000 cows.
The impact of Internet connectivity to the animal farms has been profound. Online communication enabled foreign stall workers to contact their families in a much more affordable way. Some of the breeders installed webcams to remotely monitor their livestock, mainly for security reasons, but also to remotely monitor the breeding process. During the pandemic, many farm owners have moved their families from the village to their more remote farm houses to protect themselves from contracting the virus. Livadi was one of the villages hardest hit by the pandemic in 2020.
"This was costing me time and money. Now I am using the Sarantaporo.gr to make my payments online and I no longer need to waste my time going to the town and back and leave my work half finished. I use this connectivity, among other reasons, to remotely monitor my animals via the webcams that I have installed. This makes me feel safe wherever I may be," says Apostolos Tsaknakis.
Local animal herder Apostolos Tsaknakis
During 2020, we explored opportunities to deploy useful local services for the farm owners, using the community network infrastructure. One such opportunity is the deployment of a local video streaming infrastructure that does not send the webcam video footage to the Internet, but, instead uses the local network to transfer data. This approach respects the limited Internet bandwidth available and leverages the increased, symmetrical speed of the local network. At the same time, it respects the user's privacy, since it does not use a third-party service to stream the video. We have implemented a similar approach with teleconferencing, having deployed a local instance of Jitsi free software, which our community members are using for their teleconferencing needs.
Other opportunities we can explore include the deployment of sensors for remote monitoring of the production process, such as measuring a milk tank's level or milk temperature.
Now that the farms below the village are connected, we are working with local community members to expand our wireless infrastructure to Livadi, located at a distance of 6-10 kilometers from the farming area. Once completed, farmers will be enabled to deploy their local services between the farms and their homes in the village.
Treading Forward
The Sarantaporo.gr CN started with one village, Sarantaporo, and gradually was joined by 10 more villages from the area to form the wireless "archipelago" of our current community network. Working closely with the local communities for more than 10 years now, we have learned that being flexible is a much valued and needed virtue.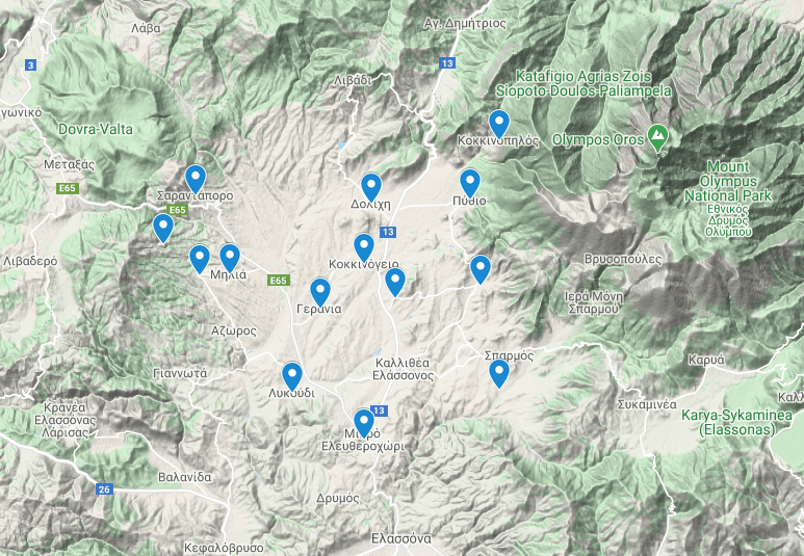 Before suspending our plans for Sykea, we noticed diminishing participation in the communications channel we had established for the local group. When responses started becoming really slow, we realized that we should consider tending to other needs of our community. For this project we had planned to use part of the funding we received from the Internet Society. When we discussed the situation with our Internet Society project peer, he was open to alternative suggestions. This flexibility allowed us to prioritize an alternative need of our community and start planning accordingly. Building the telecommunications infrastructure for the local animal herders empowers one of the two basic economic pillars of the region and fosters local sustainability.
We know many people hoped 2021 to be the year "to redeem" ourselves from the pandemic. To date, it doesn't look like it. We therefore need to think in terms of a marathon, rather than a race. As far as our infrastructure is concerned, this means building for resilience, improving quality of service, and expanding to new underserved villages and locations. With respect to our local community, it means empowering our members, by engaging them more actively and supporting them with knowledge and training, while bringing new people on board.
---
Image of Sarantaporo Community Network in Elassona, Greece