Members of the Internet Society Asia-Pacific Bureau team – Rajnesh Singh,  Amelia Yeo and Naveed Haq (and joined by Kevin Meynell from the Deploy360 Team) – had a super busy and productive week  at  the APRICOT  2016 conference  in Auckland, New Zealand.  The Asia Pacific Regional Internet Conference on Operational Technologies (APRICOT)  is the premier forum that brings together regional Internet builders and operators to learn from their peers and experts from around the world.
ISOC's Asia-Pacific Bureau is a long time partner of APRICOT and sponsors the fellowship programme at both the workshop and conference.  This enables individuals to attend the events to exchange ideas and take home their learning.  In 2016 our priority for the fellowship programme was on the Pacific Islands with a special focus on women.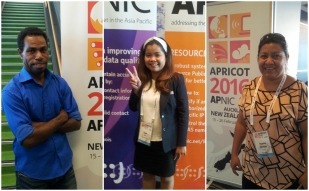 The 41st meeting of APRICOT 2016 had a number of co-located meetings including the Annual General Meetings of the Asia-Pacific Network Information Centre (APNIC) and Asia Internet Association (APIA), Asia Pacific Top Level Domain Forum (APTLD), and the AP*(APStar) retreat. The conference week was preceded by the workshop week that covered current technical issues.
Team ISOC was kept busy over the week and a half with speaking engagements, meetings and networking with Internet community stakeholders, organisational and individual members,  chapter leaders and fellows. With some 800 registrations, APRICOT provides us with a good opportunity to network with the regional technical community as well as exchange information on plans for the year ahead.
Our participation started at the Auckland University of Technology with Naveed presenting on ISOC activities at the APTLD meeting. Amelia took the opportunity to meet with (and photograph!) our 9 fellows that attended the workshops.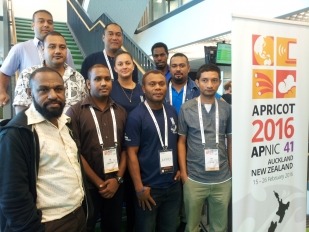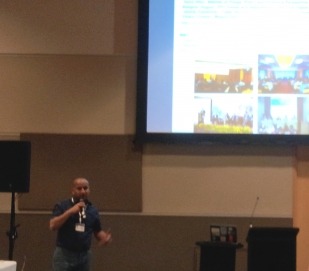 Naveed co-chaired the AP STAR retreat on Sunday. This meeting is where organisations from the region exchange information on their activities, achievements and future plans.  It also included an update from the Asia Pacific Regional IGF (APrIGF) Multistakeholder Group (MSG), followed by the DotAsia AGM.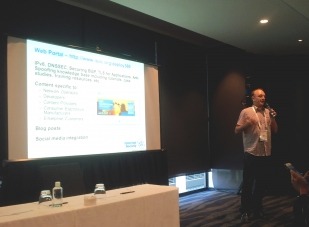 On our 'Super Tuesday,' Kevin participated in the "Tech Girls Get Together" session where he shared inspirations and influences on how and why he got into the networking field. This was followed by the Bureau's ever-popular [email protected] session which had some 50 members from around the world in attendance. Laurie Patton, Chief Executive Officer of Internet Australia (the ISOC Australian chapter) and Jackson Miake,  Chair of the ISOC Pacific Island Chapter co-chaired the meeting. Both provided an update on their activities and plans, with Laurie discussing the Chapter's position on Australia's Data Retention Act, and Jackson speaking on Internet access developments and connectivity in the Pacific Islands. Later, Kevin Meynell presented on some of our key initiatives including Deploy360,Best Current Operational Practices (BCOPs), Mutually Agreed Norms for Routing Security (MANRS)and how the community can get engaged.  This was followed by questions, and a lively discussion on website blocking. 
On Wednesday Rajnesh Singh presented an overview of ISOC's activities during the APNIC Global Updates session and Kevin Meynell on ISOC's state of IPv6 readiness at the IPv6 readiness measurement BOF and APIPv6TF. 
It was a long week-and-a-bit in Auckland and the Bureau staff were typically kept busy from morning to late evening with side meetings, bilaterals and discussions with a range of stakeholders. This highlights our strong presence and collaborative relationship with the regional Internet community.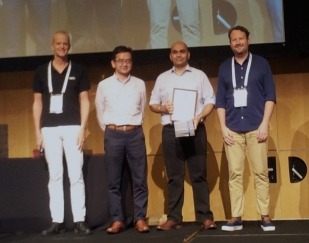 The next APRICOT meeting will be held in Ho Chi Minh City, Viet Nam from February 20th to March 3 2017.