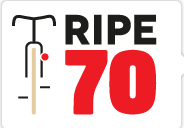 The RIPE 70 meeting is happening this time in Amsterdam and starts today with the opening plenary session at 14:00 CEST with some good presentations on the agenda. The plenary program is followed by the BCOP Task Force meeting at 18:00 CEST where we'll hear about some progress in documenting best current operational practices (BCOPs) and also two new proposals for BCOP documents:
DNS TTL Values for the Modern World

Network Operations Simplicity
We expect these two document proposals to spark a heated discussion in the community and get some volunteers to help the primary authors to write them down and get the consensus in the group.
On Tuesday mid-day Chris Grundemann will present the Operators and the IETF talk, where he will discuss the results of the survey and some ideas about solutions of this issue.
This time we have record number of registered attendees – 649 (checked on Friday) – so we can expect another big and productive meeting week.
For those of you who cannot attend in person – there is remote participation available with audio and video streaming and also a jabber chat room, so everyone is welcome to participate!