It seems that Belgium is beating the USA in more than just World Cup Soccer (What an amazing game!)… they are also doing it in IPv6 deployment! In looking at Google's latest IPv6 statistics, my colleague Phil Roberts noted that IPv6 deployment globally has doubled in 9 months and is now over 4%.  It's great to see a chart that goes up and to the right like this one: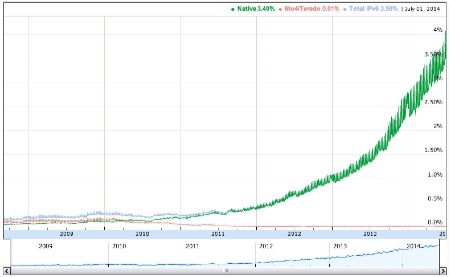 But while Google is measuring 4% IPv6 availability globally, I like looking at Google's "Per-Country IPv6 adoption" page that gives a view into how diverse the IPv6 deployment really is.  Here's the global map (click/tap the map to go to the site) as of today: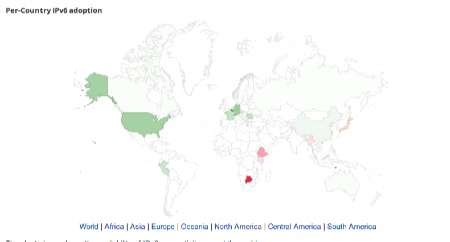 And if you hover over the green spots you can easily see some of the various numbers:
8.09% – United States
4.59% – Peru
5.14% – France
8.69% – Germany
5.67% – Romania
If you click on the "Europe" link at the bottom of the image you can zoom in a bit more and see these great stats (you could get this from the global map, too, if your hand is good enough to hover over the smaller countries):
20.07% – Belgium
10.68% – Switzerland
7.99% – Luxembourg
VERY cool to see this high level of IPv6 availability in Belgium and indeed in all these countries!
Obviously these are just one set of measurements from Google, but there are a range of other IPv6 statistics sites, including the World IPv6 Launch measurements site, that also continue to show the increased global growth of IPv6 – great to see!
P.S. if you want to get started with IPv6, please visit our "Start Here" page to find resources targeted at your type of organization so that you can get started today!