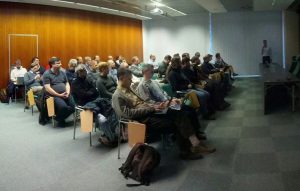 On Monday of this week, we officially established the Slovenian Network Operators' Group, SINOG.
We did this to encourage constructive dialogue between all network experts in the country and in the region. The forum is open to all individuals who are willing to share their expertise and experience with other members. SINOG will promote open standards, recommendations, and operational best practices documents.
I'm honored to be one of the original board members for SINOG. The full board, each appointed with one-year terms, is:
Matjaž Straus Istenič (Arnes)
Jan Jona Javoršek (Inštitut Jožef Štefan)
Mitja Jenček (Telekom Slovenia)
Jan Žorž (ISOC)
Urban Kunc (Go6 Institute)
This was the initial SINOG meeting, called SINOG-0. After the board was appointed and the new charter approved, we had two excellent presentations: Ivan Pepelnjak with the topic of Software Defined Networks and OpenFlow and Benjamin Zwittnig from Arnes talking about DNSSEC implementation at .si CC-TLD.
All interested parties who wish to participate  in SINOG are invited to join the mailing list and  fill in the application form, which formally makes you a member of SINOG and confirms that you accept the outlined program policies. Quick introduction of newcomers on the mailinglist is also encouraged and very welcome.
We're off to a great start with an active mailing list discussion, and we're planning a meeting or two next year. Join SINOG today if you're interested in keeping up with the latest news!