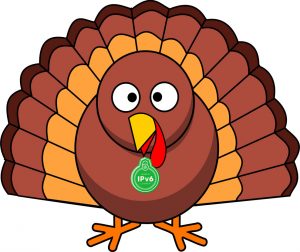 Today is Thanksgiving here in the United States, where 3/4ths of our team live. Today and tomorrow are holidays for us and we will be spending it with our family and friends, giving thanks for them and for so many other aspects of our lives.
We also want to thank you for all your support – your suggestions, your feedback, your social media love, and the many other ways that you have helped spread the word about the resources we have here on Deploy360. Thank you, most of all, for being out there deploying IPv6 and DNSSEC. We've made a lot of progress growing the programme and getting more real-world deployments, and it's all thanks to your hard work and perseverance.
You may remember the IPv6 Kitten. Well, here's an IPv6 Turkey for you on this Thanksgiving.
Thank you for all you do. Happy Holidays!