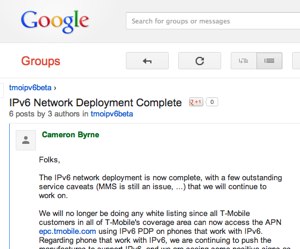 In an email message on Monday, T-Mobile's Cameron Byrne let people interested in IPv6 know that IPv6 deployment was now complete on T-Mobile's U.S. network:
Folks,

The IPv6 network deployment is now complete, with a few outstanding service caveats (MMS is still an issue, …) that we will continue to work on.

We will no longer be doing any white listing since all T-Mobile customers in all of T-Mobile's coverage area can now access the APN epc.tmobile.com using IPv6 PDP on phones that work with IPv6.

Regarding phone that work with IPv6, we are continuing to push the
manufacturers to support IPv6, and we are seeing some positive signs as
Android 4.0 updates are now being tested with IPv6.

In the meantime, the Samsung Galaxy Nexus (UMTS) remains the best bet
for what is available now.
The news spread through the tech world yesterday in large part through an ExtremeTech article, "IPv6 now deployed across entire T-Mobile US network," that received good traffic through social networks. The discussion on Hacker News raised the question of why the IPv6 was limited to certain phones, and a look in the T-Mobile IPv6 setup instructions and FAQ provided this answer:
4. My phone is not listed above, will it work with IPv6?
No, most phones do not have the Android radio firmware (RIL) that allows the phone to support IPv6 on the mobile interface.  T-Mobile USA is encouraging all handset phone manufacturers to support IPv6.  If more phones become available, we will update this site.
It's interesting to note that it is a device limitation (of not having the correct firmware) and it is great to see that T-Mobile is working with handset vendors to encourage support of IPv6.  I'd note in the first email message I quoted the part about Android 4.0 updates being tested with IPv6.
The T-Mobile IPv6 site also references a number of known issues and provides some info about how they are making IPv4 content available over the IPv6 network.
All this is definitely great to see!  If you are a T-Mobile USA user with a Samsung Galaxy Nexus it's definitely worth checking it out to see how the IPv6 network works.
P.S. I would love to do so myself but sadly T-Mobile's coverage is still rather sparse in the woods of southwestern New Hampshire that I call home…