Washington, D.C. – 1 July 2019 – The Internet Society announced today that it has appointed Sarah Armstrong as Executive Director of the Internet Society Foundation. In her new role, Ms. Armstrong will be responsible for leading the development of the Foundation's grant programs and organizational structure, as well as strategic planning, operations, communications, and financial reporting.
The Internet Society Foundation is a newly formed, non-profit organization that works with the Internet Society in support of a shared vision between the two organizations that the Internet is for everyone. The Foundation will focus on funding initiatives that promote the development of the Internet as a global technical infrastructure and that demonstrate the positive difference the Internet can make in enriching people's lives around the world.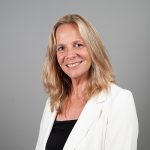 Ms. Armstrong (biography) brings many years of experience to her Internet Society Foundation role, having built a career in non-profit, humanitarian and international development work. Most recently, she worked with Abt Associates where she was responsible for strategy, operations, and program management for the communications, marketing, and business development functions. Before joining Abt, she worked as Director of Outreach and Communications in Juba, South Sudan for the United States Agency for International Development. She has also been a consultant to domestic and international non-profits and has directed successful programs for a wide range of organizations including AARP and the American Red Cross.
In 2004, Ms. Armstrong established A Brighter Tomorrow for Africa Foundation (BTA), a non-profit dedicated to improving the lives of women and children in Sierra Leone, West Africa through the financial support of small, community-based organizations. She is the recipient of the Humanitarian Leadership Award, awarded by National Organization of Sierra Leoneans of North America and has travelled and worked extensively in the developing world.
"The Internet Society set up this Foundation in order to make our financial support for others' activities more focussed and effective. Sarah brings to this role a long history in ensuring that effectiveness," said Andrew Sullivan, President and CEO of the Internet Society.  "With Sarah's leadership, we look forward to a Foundation that strengthens the Internet both in function and reach, so that it can serve all people."
Ms. Armstrong holds a BA in French from Dickinson College. She assumes her new position on 1 July and will be based in the Washington DC area.
About the Internet Society
Founded by Internet pioneers, the Internet Society is a non-profit organization dedicated to ensuring the open development, evolution and use of the Internet. Working through a global community of chapters and members, the Internet Society collaborates with a broad range of groups to promote the technologies that keep the Internet safe and secure, and advocates for policies that enable universal access. The Internet Society is also the organizational home of the Internet Engineering Task Force (IETF).
 Media Contact:                                                                        
Allesandra de Santillana
Senior Manager, Media Relations
[email protected]