October 16, 2003
Dear Friends of Jon,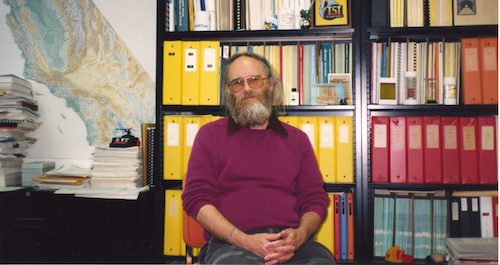 While we prefer to celebrate the anniversary of his birthday on August 6th, this is five years today since we lost Jon — Internet pioneer, family member, friend, colleague, mentor, writer, RFC editor, leader, listener, visionary, mediator, researcher, backpacker, and photographer; an art-loving international traveler, naturalist, gardener, native Californian, and storyteller; a fair-minded, level-headed, beard-and-sandals nice guy. He also loved libraries and the Sierras, could get angry when people didn't follow through with what they said they'd do, and quietly championed women's rights. He helped us all believe that, "The Internet is for everyone."
At his sudden death, hundreds of moving tributes were sent from around the world, beginning with Vint Cerf's RFC 2468, and there were memorial gatherings in Los Angeles. The transfer of responsibility from IANA to ICANN had just been formalized, and that public process was unfolding. Five years ago, the family felt overwhelming grief as well as gratitude, and did not know how to thank so many people for their thoughtfulness, kind words, prayers, and generosity. We still don't know how but thought you'd like to know that various posthumous honours have arisen; we'll try to list them here but wonder if we've missed some? (And let us know if perhaps we've listed these in some way that is inaccurate.) Each of these works is the result of the combined efforts of many people who admired Jon and wanted to find ways to continue the spirit of his life's work. Good-hearted collaboration was a hallmark of the way he worked and lived, so these are all wonderful accomplishments.
Recurrent tributes:
The Internet Society — The Jon Postel Distinguished Service Award, a fund was endowed to honor those who have served modestly and selflessly for the benefit of the Internet and its netizens, with Jon as the first recipient in June of 1999.
University of California, Los Angeles, Computer Science Department — The Jonathan B. Postel Distinguished Lecturer Series.
Information Sciences Institute of the University of Southern California — The Postel Center for Experimental Networking (PCEN), a research facility and program (www.postel.org).
Other honours:
Electronic Freedom Foundation (EFF) — Jon Postel, Pioneer of the Electronic Frontier, 1999.
Omneon VideoNetworks named a conference room after Jon.
We don't have the details on a scholarship fund at the University of Pennsylvania (1998 or 99?) and a professorship at one of the Claremont Colleges in California (2001?).
The Nigerian Internet Society has been working on several small projects that are impressive. Giandomenico Massari has been kind enough to keep us informed with messages and photographs:

A new IT Centre at the University of Port Harcourt. The Rivers State Governor graced the occasion along other dignitaries and University authorities, staff and students. The inscription on the building says: "T. Y. Danjuma IT centre, dedicated to the memory of Jon Postel, Internet Pioneer, 1943-1998" — dedicated October 23, 2002.
A new IT center at the Port Harcourt Branch of Nigerian Society of Engineers, dedicated May 17, 2003.
A third IT Center, this one located at the Nigerian Society of Engineers, dedicated October 3, 2003.
Three more projects are planned by the Internet Society Nigeria Chapter. First is another IT centre, to be donated to the University of Port Harcourt, Department of Electrical and Computer Engineering. The next will focus the Internet on telemedicine, with local and foreign organizations involved to create an IT center for telemonitoring and video conferencing will benefit the health of Nigerian patients. A third will be a teaching room with a multimedia projector connected to a consulting room, so doctors can discuss specific therapies and use these resources to improve the Nigerian medical system and the training of medical staff.

The Jon Postel Memorial Grove, redwoods and oaks planted in his honour (private).
We know, too, that you have each found personal ways to acknowledge Jon's contributions and to move forward with your life and work, happy to have known him.
Warmly and with gratitude,
Lois Postel and Family