BFIX, the Burkina Faso Internet exchange point, was established as an association in Burkina on February 19, 2015 by Internet Service Providers (ISP), mobile telecommunication operators, and some public institutions such as the University of Ouagadougou and the government agency in charge of promoting information and communication technologies ("Agence de Promotion des Technologies de l'Information et de la Communication – ANPTIC").
BFIX started exchanging the first bits of data among peers on June 26, 2015, during the 11th edition of the national "Internet Week." BFIX's service was officially launched on July 10, 2018 as part of the West Africa Regional Communication Infrastructure Project (WARCIP) – Burkina, among other projects.
Despite the launch and the operationalization of BFIX, a number of challenges remained, mainly attributed to the implementation of IXP best practices. In particular the network design was not optimal. Moving forward, the local community, through the voice of its executive director, Millogo Jean Baptiste, reached out to the Internet Society Africa Regional Bureau for technical assistance. A training session was planned and carried out between the 14th and 18th of January 2019 in Ouagadougou under the Internet Society and Facebook IXP Partnership project.
The one-week training had two components: a one-day roadshow for managers and decision-makers and a four-day IXP technical workshop for network engineers. The number of organizations that participated was 18 and 25 persons attended.
A few weeks after the training, the BFIX community was able to undertake an important exercise of migrating from a suboptimal routing design (Layer-3) to an optimal switching (Layer-2) network design. The change removed network bottlenecks  and the aggregate traffic grew from 0.5 Gbps to more than 6 Gbps of traffic at peak time. Most of the traffic consists of content from Content Delivery Networks (CDNs) edge caches accessible through the BFIX. The impact on end users experience is visible with the 1,100% growth in traffic usage and improved quality of service. Equally, the cost savings for networks operators, on international capacity, is estimated at over $120,000 USD per month based on current international transit costs. This is a considerable savings that can be used by operators to extend and upgrade the network to reach more users in the months ahead.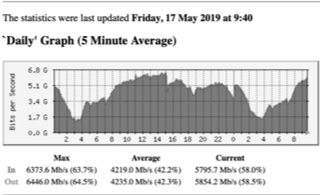 BFIX is a perfect example of how a synergy among stakeholders can bring tremendous benefits and change. The local Internet community (public, private, academia), the [BFIX] association, Internet Society Africa Regional Bureau, Facebook, and other partners such as Af-IX and Packet Clearing House (PCH) have all worked together to improve the Internet ecosystem in Burkina Faso. For sure, the ripple effect of the Internet usage will impact each layer of society.
I would like to thank Jean-Baptiste Millogo and Christian Muhirwa for their input in the writing of this article.
Internet exchange points provide a vital way to increase the affordability and quality of connectivity in local communities. Read the Internet Society's policy brief on IXPs.