After almost a decade, the Internet Governance Forum (IGF) remains a cornerstone of international Internet and local governance with participation from over 140 countries. The approach of the IGF is simple: anyone who has a stake in the future of the Internet can go and be heard. It was founded and operates on the principles of being bottom-up, transparent, and inclusive.
At the Internet Society, we want to empower youth as a key force in reforming decision making approaches to deliver sound Internet policies that put people's interests at the center. With the goal of having Youth Voices heard, together we must demand world leaders to break down the barriers that shut their voices out. With this in mind, and together with our partners, we have brought more than 200 youth to IGF 2015, 2016, 2017 and 2018, under the [email protected] program. This is part of our commitment to ensure that the next generation of Internet leaders are primed to advance an open, globally-connected, secure, and trustworthy Internet for everyone.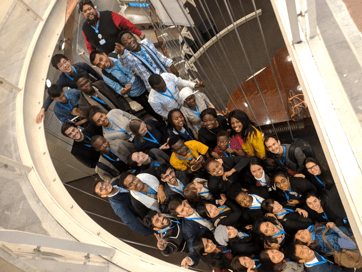 Some of the 50 [email protected] Fellows who attended this year's IGF in Paris wanted to share with us their impressions of the [email protected] Program and the IGF.
Marko Paloski from Macedonia, founder & coordinator of the Youth IGF MKD and active member of SEEDIG (South Eastern Europe Dialog on Internet Governance), summarizes his experience as [email protected] Fellow as follows:
Harsh Ghildiyal is a Teach for India fellow who is teaching at an under-resourced school in Mumbai and helping communities the students come from solve problems. Harsh, whose interests lie in policy and technology, and owing to those interests, over the past couple of years, repeatedly chanced upon the term 'Internet governance' until he applied for the [email protected] Program. In his own words:
Sebastian Hoe Wee Kiat from Singapore University of Social Sciences, who builds and strengthens community networks to create a digitally inclusive society to bridge the digital divide, shared with us his impression of the [email protected] Program:
Gabriel Karsan, a graduate Intern at the Union of Tanzania Press Clubs (UTPC), reflected:
Juliana Novaes, Head of the Projects Comission of the Youth Observatory, shared her impression of the IGF:
All these testimonials show us the importance of having a diversity of voices, including Youth, in Internet Governance world. We cannot shape the Internet's future without Youth's voices – let's open the doors and let them in! Youth are a vital force to get an open, globally-connected, secure, and trustworthy Internet for everyone.
Are you a passionate young person who thinks you should have a role in shaping the Internet? Learn what you can do at #CountMyVoice!