After almost a decade, the Internet Governance Forum (IGF) remains a cornerstone of international Internet and local governance with participation from over 140 countries. The approach of the IGF is simple: anyone who has a stake in the future of the Internet can go and be heard. It was founded and operates on the principles of being bottom-up, transparent, and inclusive.
At the Internet Society, we want to empower youth as a key force in reforming decision making approaches to deliver sound Internet policies that put people's interests at the center. With the goal of having Youth Voices heard, together we must demand world leaders to break down the barriers that shut their voices out. With this in mind, and together with our partners, we have brought more than 200 youth to IGF 2015, 2016, 2017 and 2018, under the Youth@IGF program. This is part of our commitment to ensure that the next generation of Internet leaders are primed to advance an open, globally-connected, secure, and trustworthy Internet for everyone.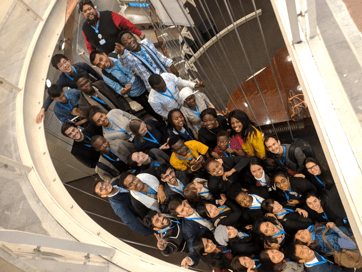 Some of the 50 Youth@IGF Fellows who attended this year's IGF in Paris wanted to share with us their impressions of the Youth@IGF Program and the IGF.
Marko Paloski from Macedonia, founder & coordinator of the Youth IGF MKD and active member of SEEDIG (South Eastern Europe Dialog on Internet Governance), summarizes his experience as Youth@IGF Fellow as follows:
"I was for the first time on Internet Governance Forum (IGF) at UNESCO Headquarters in Paris. I was there as part of Youth@IGF Fellows program from Internet Society. The experience is invaluable. First of all, the event is huge it has over 100+ sessions on every Internet Governance topic. What I liked the most was that in every session you could ask questions or give your opinion on the topics, with all the people there from all around the world. You could also speak open and get advice from professionals that work in Governments, Private Sector, Civil Societies, Academia, etc.
Also, I had the pleasure to meet Internet Society president & CEO Andrew Sullivan on the Collaborative Leadership Exchange on Day 0, where we had the opportunity to share our projects and experience in our topics. Andrew took part with us, like he was part of the Youth@IGF Fellows group. We had presentations and meetings with representatives from the Program's Sponsors, Microsoft and Google that work in this domain, and they listened to us about what obstacles we are facing and how can they help us accomplish our projects goals for better healthy and open Internet. I met a lot of people and with some of them we are still in connection on weekly basis whenever we are working on projects, initiatives or discussing the situations in our societies.
I like to thank the Internet Society that allowed me to take part in the program and have the pleasure to participate on the IGF event. Also, big thanks to our mentors Sheba Mohammid and Tracy Hackshaw for the experience that they gave to us, and Alejandra Prieto for all the coordination and help during the IGF meeting."
Harsh Ghildiyal is a Teach for India fellow who is teaching at an under-resourced school in Mumbai and helping communities the students come from solve problems. Harsh, whose interests lie in policy and technology, and owing to those interests, over the past couple of years, repeatedly chanced upon the term 'Internet governance' until he applied for the Youth@IGF Program. In his own words:
"I knew I would love to play a part in shaping the future of the Internet. However, I couldn't find a way to do so. Soon enough, though, opportunity knocked. Through Internet Society Youth@IGF program, I entered the intimidating realm of Internet governance with relative ease, and I left Paris with broadened horizons – a more informed and motivated individual. Through the Collaborative Leadership Exchange, the Internet Governance Forum, and other informal interactions, I was able to learn, grow, and most importantly, establish relationships that are helping me collaborate and play a role in shaping the future of the Internet like I always wanted to."
Sebastian Hoe Wee Kiat from Singapore University of Social Sciences, who builds and strengthens community networks to create a digitally inclusive society to bridge the digital divide, shared with us his impression of the Youth@IGF Program:
"Coming from a low-income family background, I am grateful for the 2018 Youth@IGF Fellowship to contribute to the global conversation on Internet Governance in Paris. As an Asia-Pacific youth, I contributed my voice to the conversation as an invited speaker panelist in the UNESCO workshop The Internet and Jobs: Preparing Gen YZ for future of work. My key takeaways are: we need to champion for a multi-stakeholder approach, allowing more youths and community stakeholders to contribute to the IGF global conversation. My experience as Youth@IGF Fellows allows me to further contribute my work in creating stronger community networks for action. Moving forward, I plan to collaborate with community partners, create resources for digital inclusion projects and champion them by speaking in schools and various local and regional events on topics that are important to our society and which I am deeply passionate on: Mental Health & Technology, Community Networks, and Digital Inclusion."
Gabriel Karsan, a graduate Intern at the Union of Tanzania Press Clubs (UTPC), reflected:
"I return home as an optimist with a fundamental base of knowledge and resources from the people and sessions attended as a proud 2018 Youth@IGF Fellow, as of now my dream for an egalitarian Internet for all is closer as the path is set. Currently, we are working with our Group Project DreamInternerVoices, collectively pushing for a safer equal internet, breaking the digital divide by sharing our voices through a touch of diversity and niche-based rhetoric."
Juliana Novaes, Head of the Projects Comission of the Youth Observatory, shared her impression of the IGF:
"Some years ago, when I thought of the expression "policy-making", I always imagined old men wearing fancy suits and having difficult conversations in a big company or congress. Not exactly a welcoming place for a young Latin American woman. However, my perceptions of the term started to change when I first heard of the IETF meetings and the decentralized processes in which protocols and technical decisions were made. It was curious to me how it functioned so well without a centralized authority. Later on, I became aware of a United Nations Forum about Internet Governance, and it seemed so strange to me how it was possible for this space to be open for everyone who wished to participate, with no governments retaining all the influence. It wasn't only until my first IGF, though, that I really saw what policy making really was and how openness, transparency and decentralization are basic principles to be followed by any initiative that calls itself multistakeholder. I'm young, and for this reason there will be many doors closed to me in terms of policy making, but having the opportunity to attend the IGF and to participate in a program such as Youth@IGF gave me strength to fight for these doors to be opened for us. We are young, but we have things to say and we want these things to be heard."
All these testimonials show us the importance of having a diversity of voices, including Youth, in Internet Governance world. We cannot shape the Internet's future without Youth's voices – let's open the doors and let them in! Youth are a vital force to get an open, globally-connected, secure, and trustworthy Internet for everyone.
Are you a passionate young person who thinks you should have a role in shaping the Internet? Learn what you can do at #CountMyVoice!