This International Women's Day, we're boosting the profiles of incredible women around the world who are pushing boundaries using technology – and we encourage you to do the same!
Last month, during Safer Internet Day – a call to action for everyone to play their part in creating a better Internet for everyone – women in the Internet Society's 25 Under 25 group, using just their smartphones to record video, answered the question, "What does a safer Internet mean to me?"
Watch the videos, explore the different ways these young women are using technology to shape tomorrow, then Shine The Light on some of the incredible women you know who are making an impact. Join the #ShineTheLight TweetChat with @SIGWomenISOC on March 8th… then join SIG Women!
Poornima Meegammana (Sri Lanka)
"A safer Internet to me is a place where a girl's voice can be heard without harassment."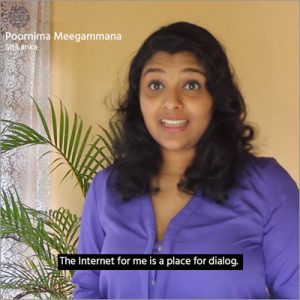 Mary Helda Akongo (Uganda)
"To me, a safer Internet would be a place that is free and safe for me to have my voice heard, a place where I can share my creative content, share my opinions and my thoughts without ridicule, backlash and hate from different people just because of probably my gender, my race, my religion or my beliefs."
Kate Green (UK)
"I believe that the infrastructure we use online – Google, Facebook and other social media platforms – should also keep us safe, and be really explicit about the data, what they're going to be doing with our data so that we can make informed decisions about what we want to share online."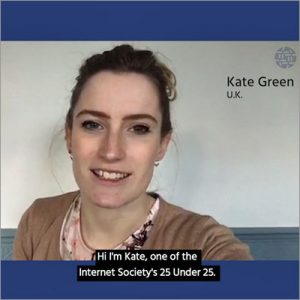 Jazmin Fallas (Costa Rica)
"For me, a safer Internet is a space where people can feel free to interact but at the same time have security that their rights are protected."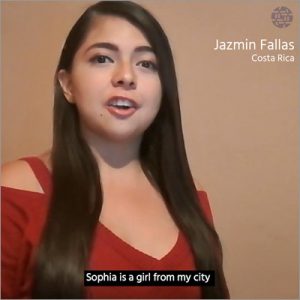 Makkiya Jawed (Pakistan)
"For me, a safer Internet is a place where instead of feeling judged, where you're not hiding behind facades, people come across and actually speak their views and opinions freely; a place where even mental health can be discussed openly; where illnesses such as TB and diabetes are actually not hidden but rather people say them out loud; a place where we find support from across the globe, to be who we are, a place where I'm simply me."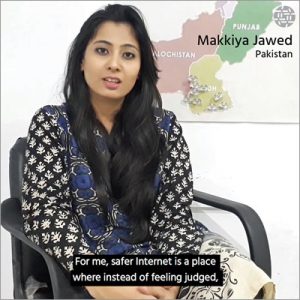 Paula Côrte Real, (Brazil)
"A safer Internet to me would be a place where people could express themselves without the fear of censorship or surveillance. It would also be a place free of hate and free of violence where people could exercise their rights without disrespecting other people's rights, because freedom of expression doesn't allow you to spread hate and to mistreat anyone, either online or offline."
Read Lia Kiessling's blog 2018: Time To Listen To The Voices of Women