I would like to share exciting news. Today OTA has announced it has joined forces with the Internet Society (ISOC) and will operate as a key ISOC initiative effective May 1, 2017. ISOC is a global non-profit with the mission to promote the open development, evolution, and use of the Internet for the benefit of all people throughout the world. Trust and the need to embrace best practices and stewardship are core to their beliefs. ISOC includes more than 100 organizational members and more than 95,000 individual members in over 120 chapters in 100 plus countries and territories. With a staff of more than 90 subject matter experts, ISOC has the resources and infrastructure to build upon OTA's accomplishments, amplifying our efforts, providing continuity and sustainability.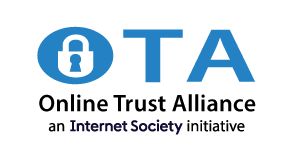 While at Microsoft in 2004, I recognized the need to convene competitors and stakeholders to help address the mounting risks impacting businesses online and their users, and founded the Online Trust Alliance. Just as I did then, I continue to advocate how essential trust is as the foundation of the Internet and the importance to move beyond online security and privacy compliance to stewardship. Wearing many hats, from technical standards to public policy and legislation, I have held fast to my principles of being a balanced and objective voice of reason.
At times OTA's position has not been well received by certain trade groups, but it has been sincere and unbiased by the interests of any one group. 13 years after OTA's founding, this vision is more relevant than ever. Not unlike the threat of global warming we must collectively work together to help preserve the trust and resiliency of the Internet and embrace change today before we encounter a trust meltdown.
Thanks in part to the initial funding from Microsoft and the leadership of many mentors including OTA's first Board member Howard Schmidt, who passed away last month, we have accomplished a great deal. This is largely a result of the insights and support from our members, Board and strategic advisors. The OTA Board members are all leaders in their own right including; Neill Feather, Ashit (Ash) Kumar, Danny McPherson, Geoff Noakes, Sal Tripi, Gary Von Hoch, Jeff Wilbur, Ben Wilson and Jonathan Zuck.
Past Board members and industry leaders have provided invaluable advice, including Chris Babel, Tom Bartel, Matt Blumberg, Mary Berk, David Daniels, Jeff Dossett, Tim Draegon, Jim Fenton, David Fowler, Manish Goel, Andrew Goss, Mike Hammer, Trevor Hughes, Erik Johnson, James Koons, Fran Maier, Brett McDowell, Pat Peterson, Rod Rasmussen, Tim Rohrbaugh, John Scarrow, Andy Steingruebl, Ari Schwartz, Ken Takahashi and others. Most importantly my wife Liz and sons Jake and Josh who were always ready to pitch in and kept me from stepping on the third rail, thank you.
Some of OTA's accomplishments include;
Creation of the Online Trust Audit & Honor Roll focusing on domain security, privacy and consumer protection, recognizing excellence in security and responsible privacy practices. Today the Audit is the only independent benchmark report tracking business and security practices of the leading consumer facing websites.
Driving adoption of SPF, DKIM and DMARC deployment to help counter email abuse.
Articulating the business and consumer protection value of Extended Validation SSL (EVSSL) Certificates.
Researching and reporting on native advertising disclosures, transparency and practices, outlining what is required to restore trust and integrity in online advertising.
Auditing email unsubscribe practices, focusing on moving past compliance to the user and brand experience.
Recognizing the risk of web session privacy and producing some of the first efforts to drive the adoption of https / AOSSL to help protect the privacy of web sessions.
Convening over 100 stakeholders to develop and publish the IoT Trust Framework, the most comprehensive and prescriptive guidance to address core security, privacy and sustainability requirements for the Internet of Things.
Hosting multi-stakeholder initiatives to address the risks of botnet, ICANN TLD changes and malvertising.
Publishing the Cyber Incident & Breach Readiness Guide annually as a tool to help prevent, detect, mitigate and respond to cyber incidents.
Providing a global forum to educate, discuss and advance balanced public policy mutually benefiting consumers, businesses and government.
What is Next?
OTA will continue to operate as an initiative within ISOC with a commitment to OTA's core initiatives and efforts. Existing staff will be retained and I will serve as a Strategic Executive Advisor to the ISOC leadership team, while also offering advisory services to the public and private sectors.
Thank you for supporting OTA and being part of my life for the past decade. In sum, combining our resources with ISOC is the best of both worlds for OTA – we will continue to operate as a core ISOC initiative while gaining access to more resources, members and reach worldwide.
---
Note: Craig Spiezle is the managing director of AgeLight Strategic Insights, a consultancy focused on build trust, stewardship and responsible privacy practices. Craig is the Founder and Chairman Emeritus of the Online Trust Alliance and currently an industry advisor to the Internet Society and other organizations and government agencies. The views represented above do not necessarily represent those of all OTA members or the Internet Society. You may contact Craig at craigsp @ agelight.com