Beyond the Net Journal: NoVA Ethiopia #1 Episode
According to recent studies, about 4 Million out of the 75 Million inhabitants of Ethiopia live with visual impairment. Being a blind person in Ethiopia causes daily hardships that are beyond any description.  Prejudices and educational limitation lead to economical and professional marginalization.
Together!, Ethiopian Residents Charity, with the aim of empowering people with visual impairments,  committed giving basic computer training in its study center as well as government schools. But simply getting the training is not enough as  access is limited and the information is not in an accessible format. In October 2015, Together! committee submitted to Internet Society grants "Beyond the Net Funding programme" to create a digital library for visually impaired.
The NoVA project (Non-visual access to digital library) aims to work with visually impaired students, professionals and job seekers to help get online information they need. NoVA wants to bridge the existing digital divide among sighted and visually impaired by serving as a way to access information at their convenience, without restriction. The digital library will offer Amharic and English screen readers and screen magnifier to facilitate the users.
We interviewed Woubakal Tesfaye, the NoVA manager, to find out the challenges they faced and how they solved them.
Woubakal, can you describe the project steps so far?

At the initial stage we selected web developers that have experiences in inclusive websites. That took time as most of the developers are unaware of accessibility devices and software for visually impaired.The next step was creating both Together! and consultants team. The team included sighted and visually impaired Together! staff and beneficiaries. After the first group discussion,  consultants finished the draft of the website. The team conducted a second meeting, mainly focusing on accessibility for visually impaired individuals.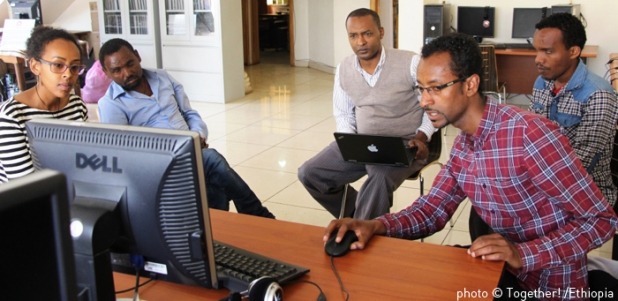 What are the types problems you encountered at the beginning and how did you solved them?

At the beginning we faced a lack of competent consultants to develop NoVA. So our committee started looking for professionals with disability experience. We finally approached Cybersoft, a web design factory that recently conducted research on visual impairment and IT,  and also developed a national library archive for a government organization. We were able to negotiate the fee, mentioning that we are from a young NGO that is striving to make a change. They reduced their price by 80%.
What are the main challenges in building this digital library?
How to make easy downloads of screen readers and screen magnifiers
Creating locally recognized shortcut keyboard keys
How to incorporate local languages. As Ethiopia is a melting pot of nations and nationalities the library will allow the user to select their preferred language.
Creating an online forum where users can join and share their experience
Copyright and producing audio books. We have just started a discussion with copyright holders of the Amharic novels that we'd like to convert into digital format.
How will this project be a great opportunity for the visually impaired of Ethiopia?
The first stages of the project will be about providing accessible resource and reference in electronic documents and audio books to visually impaired students, professionals and job seekers. NoVA will not only be the first digital library exclusively for visually impaired in Ethiopia, but it will offer a forum to create an online blind community. In the long run, NoVA will assist visually impaired to develop web surfing skills. It will also promote the theme of inclusiveness to people who build websites. We expect to see the first outcomes after the finalization and promotion of NoVA.
Share this story
If you like this story, please share it with your friends. That would tremendously help in spreading the word and raising the visibility of this project. Help more people understand how the Internet can change lives.
Do you have a great idea? We are interested in your project.
We are looking for new ideas from people all over the world on how to make your community better using the Internet. Internet Society "Beyond the Net Funding Programme" funds projects up to $ 30.000 USD.
Apply For Funding!
Want to create a project of your own? We're holding an information session on 21 July so you can find out how to apply for Beyond the Net funding!