What can we do to help operators prepare their helpdesk staff to troubleshoot IPv6? In this lightning talk from Jan Zorz, learn about recent efforts in the RIPE-NCC Best Current Operational Practices (BCOP) working group to provide actionable troubleshooting information for helpdesk workers. Using http://isp.testipv6.com in combination with an error decoder, helpdesk staff can more easily diagnose and repair common IPv6 connectivity issues. Jan's talk, entitled "IPv6 troubleshooting for helpdesks" is now available for viewing from the RIPE 68 site, and the slides are available for download.
If you are interested in contributing to the "IPv6 Troubleshooting for Helpdesks" document, you can:
The author team is also maintaining the document in a git repository and have a list of issues they are tracking there.  With that, here is the video: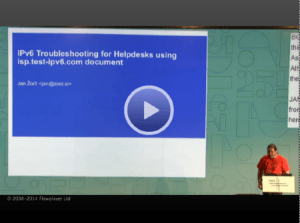 After watching, check out our resources on deploying IPv6 and IPv6 training.  Also, you can learn more about our BCOP project where we are working with operator groups around the world to better document their best current operational practices.
If you are not sure where to start with IPv6, check out our "Start Here" page with suggestions for different types of networks and users.