Industry Leaders Embrace OTA Audit Best Practices
Honor Roll Landing Page  |  Virtual Press Room |  Consumer Brands
"Security and privacy are integral to the continued success of the digital economy," said Jonathan Zuck, president of ACT | The App Association, which represents more than 5,000 app companies around the globe. "In today's mobile world, consumers expect instantaneous access to their most sensitive information from anywhere. Our companies work tirelessly to ensure customers' information is secure, and that their privacy is respected.  We are thankful for OTA's leadership on these issues, and honored to be recognized on the 2016 Honor Roll"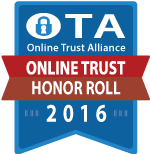 "As the digital marketplace has evolved, comprehensive privacy management has become increasingly necessary to enabling consumers' confidence in the channel," says David Fowler, Head of Privacy and Digital Compliance at Act-On. "Our rank in this year's Honor Roll reflects how seriously we take our clients' and partners' security needs and we are proud to support OTA's efforts to raise the bar beyond compliance to a data stewardship perspective."
"As new cyber challenges constantly arise, businesses must be diligent to keep their customers, employees, and brands secure," said Vidur Apparao, CTO of Agari. "Agari is honored to be included on the OTA's Honor Roll and by our designation as 'Top of the Class'.  We commend the OTA for highlighting where companies are doing well and shining a light on the areas that need improvement."
"We believe that trust is pivotal to driving broader adoption of IoT services and products across the ecosystem. This is why we are simplifying the security challenges that organisations face when protecting access to services and data for the Internet of Things (IoT), says Jon Penney CSO for Device Authority. Inclusion in the 2016 OTA Honor Roll attests to our relentless commitment to help drive optimal security postures for all."
"As digital matures, consumer trust needs to grow with it in order to maximize the opportunity for everyone.  Disclosures and respect for privacy are a significant contributor to consumer trust.  The entire industry has work to do and the best practices outlined in the OTA Online Trust Audit shine a light on this." – Jason Kint, CEO, Digital Content Next
"Connected devices and systems are expanding rapidly, but too many times they fail to implement proper authentication, encryption and messaging signing to ensure trust and integrity of data," said DigiCert CSO Jason Sabin. "The OTA Honor Roll is an important annual benchmark to help companies measure up to the high standards that are required for a safe web and economy. It also aids consumers by giving them insight into the organizations that most value their security and privacy. DigiCert is honored to be recognized for our efforts to uphold the highest standards in data and system protection and to support OTA's efforts to raise the bar for all industries."
"OTA's Online Trust Audit continues to set the bar for best practices, and reinforces the need for businesses to continually evaluate and monitor their practices and policies," said Rami Essaid, CEO and co-founder of Distil Networks. "We support OTA's efforts to promote best practices in the industry and the need to move beyond compliance to enhance online trust".
"Consumer privacy and protection remains an important issue in digital marketing. Upholding Online Trust Alliance's mission to enhance online trust and empower clients and consumers is a responsibility we don't take lightly," said Andy Frawley, Chief Executive Officer at Epsilon. "We are honored to be named to Online Trust Alliance's Honor Roll list for the fifth consecutive year, and remain committed to ensuring our client's marketing efforts are best-in-class and protect every consumer's privacy and information."
"Privacy and security continue to be major concerns for consumers and businesses of all sizes, however the ratio of websites secured by SSL is dramatically low," said GlobalSign Vice President, Product Management Doug Beattie. "We are honored to be recognized by the Online Trust Alliance for the fifth consecutive year in a row for our leadership in providing online trust. We support the OTA's Audit and look forward to working collaboratively with OTA and other industry leaders to ensure the data protection and privacy of online communications."
"We are proud that ImmuniWeb, our award-winning web security platform, is being used for the OTA Honor Roll global audit and scoring. At High-Tech Bridge, we are committed to make the Web a safer place, and we are excited that our SSL/TLS security, web security and phishing domain detection free online services are leveraged by OTA and its stakeholders." — Ilia Kolochenko, CEO High-Tech Bridge SA 
"Being a 2nd year member, Kromtech is proud of our contributions to data protection and privacy by pursuing the best security practices provided by OTA. We have helped thousands of companies and users worldwide to secure their data online and will continue to help many more in the future. We are pleased to be named to the 2016 Online Trust Honor Roll and to continue our way towards transparent and safe online business environment." — Alexander Kernishniuk, CEO of Kromtech Alliance Corp / MacKeeper).
"We're honored to be recognized in the Online Trust Alliance Honor Roll for the second year in a row and are committed to protecting our members' data, privacy and security. Through their benchmarking work, the OTA is helping security leaders shift perspectives by going beyond compliance to acting as trusted stewards of the data they protect," said  Neil Daswani, Chief Information Security Officer, LifeLock.  "We support their mission to make the internet a safer place by driving the adoption of best security practices industrywide."
"PrivacyCheq applauds OTA's initiatives in aggressively tracking modern privacy best practices and rewarding their use as honor roll organizations strive to enhance digital trust with consumers.  As the EU's new GDPR regulation redefines and raises the level of international privacy best practice, OTA honor roll members may thank OTA for the "leg up" and thought leadership OTA has provided." — Dale Smith, Futurist at PrivacyCheq.
"It's encouraging to see more organizations leveraging strong authentication protocols like DMARC to fight email fraud, one of the important best practices promoted by OTA. We are proud to be recognized on the Honor Roll for our fifth consecutive year and support OTA's work to increase awareness and raise the bar on privacy, security and consumer protection. We expect best practices like DMARC to become top priorities for companies everywhere, as email authentication results become the definitive standard not only for blocking malicious mail but also for building trust in legitimate mail."—Robert Holmes, General Manager, Email Fraud Protection, Return Path
"We're proud to earn a place on the 2016 Online Trust Alliance's (OTA) 2016 Honor Roll for the fourth consecutive year. This recognition underscores our commitment to providing best-in-class solutions that protect consumers' security and privacy. Cybercriminals are evolving, but together with industry leaders and the OTA, we can advance best practices that address both current and future security challenges," said Neill Feather, President of SiteLock.
"Consumers need confidence that their data is secure and privacy is respected.  As an Honor Roll recipient, Symantec encourages all sites to embrace these practices including encrypting all their site traffic, helping to enhance the privacy and security as consumers search, browse, bank, and buy," said Roxane Divol, SVP and GM of Website Security, Symantec Corporation.
"Establishing trust throughout the digital ecosystem is a critical issue for both publishers and their upstream partners. The Media Trust supports OTA efforts to drive adoption of measurable best practices regarding security, data privacy and performance of ads and the websites consumers rely on. Inclusion in the 2016 OTA Honor Roll attests to The Media Trust's commitment to help the industry deliver a more trustworthy advertising experience to consumers." — Chris Olson, CEO and Co-Founder, The Media Trust
"As a provider of comprehensive real-time data on the global cyberthreat landscape, ThreatWave is committed to the highest level of best practices in security, privacy and consumer protection. We are honored to be recognized on the 2016 Honor Roll for the fourth consecutive year, and we support OTA's work assessing companies on measurable benchmarks to keep pushing for improvement to enhance trust online," said Tom Bartel, CEO, ThreatWave.
"The OTA Honor Roll is a valuable benchmark and this year's report shows companies are becoming more proactive in monitoring their sites, embracing responsible privacy practices and increasing consumer disclosures with added control and choice." said Chris Babel, CEO, TRUSTe. "At TRUSTe we're dedicated to developing cutting-edge privacy monitoring and compliance technology to help companies adopt privacy best practices. We are honored to be named to the OTA Honor Roll for our own privacy practices and delighted to be able to use our privacy technology platform to support the OTA with critical data analysis for this report."
"Consumer trust is the essence of online advertising and email marketing.  The best practices OTA advocates in the Online Trust Audit are good for businesses and consumers alike.  UnsubCentral is thrilled to qualify for the 2016  OTA Honor Roll and encourages all businesses to embrace consumer choice and controls," said Cris Angelini, Business Development Director at UnsubCentral. "We're proud members of the OTA and appreciate the work the organization does to promote self-regulation."
"Verisign is honored to qualify for the OTA's 2016 Honor Roll. As the online threat landscape continues to evolve, it's not enough for organizations to  implement responsible data security practices; organizations must consider and include responsible data stewardship strategies and best practices within their security framework. It's a pleasure to partner with the OTA to raise awareness about these issues as we continue our efforts in defending the internet's security, stability and resiliency," said Danny McPherson, senior vice president and chief security officer at Verisign, and OTA Board member.
"Security and customer data protection is a top priority for Yes Lifecycle Marketing. With security breaches and phishing attempts at an all-time high, it is crucial to have rigorous security protocols that provide a system of checks and balances as well as consistent security testing to keep customer data safe. We're honored to be a recognized member of the OTA's 2016 Online Trust Honor Roll and look forward to our continued partnership in protecting consumer data and privacy," said  AJ Brown, VP, IT Security and Privacy at Yes Lifecycle Marketing.
"We in the ad tech business have to take the responsibility to be the stewards of data." says Roy de Souza, founder and CEO of ZEDO, "To be otherwise would be to alienate the customers we serve. We are proud to have this commitment recognized in OTA's Online Trust Honor Roll for the fourth consecutive year."