"We applaud OTA for creating the Trust Audit guidelines to hold companies accountable to trustworthy privacy and security standards, and to that end we're especially proud to be a 3-time recipient of OTA's 'Honor Roll' designation," said Ben Williams, head of operations and communications for Adblock Plus. "Consumer trust is exactly what Adblock Plus protects and champions for our users, so it's essential that our own internal technology and privacy practices pass this same rigorous scrutiny."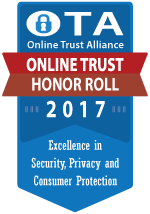 "With the increasing occurrence cyberattacks, it's no longer a matter of 'if' but 'when' an attack will occur," said Patrick Peterson, Founder and Executive Chairman, Agari. "OTA and Agari share a common mission to strengthen online trust, particularly in email, which is the entry point for up to 95% of security breaches. OTA's Trust Audit is invaluable, highlighting the importance of embracing best practices.  Agari solutions enable enterprises to protect their customers, partners and employees from these attacks, by preventing malicious emails from ever reaching anyone's inbox.
"OTA's Trust Audit recognizes the important of security practices and responsible privacy practices.  As a six-time recipient of the Honor Roll award, we encourage all sites to join us embrace these practices helping to enhance the privacy and security as consumers browse, bank, and buy online," said Joseph Yanoska, Executive Director, American Greetings Interactive.
"We are delighted to be on OTA's Online Trust Honor Roll for the second consecutive year. As a provider of Internet of Things (IoT) security solutions, we know how important website security and privacy is, and encourage others to audit their websites too," said Device Authority CEO, Darron Antill. "OTA's efforts also span the IoT and we continue to support the developments of their IoT Framework".
"At DigiCert, we strive to practice what we preach by not only advocating for high standards but implementing them ourselves to protect our systems and the customers who rely on us," said DigiCert CSO Jason Sabin. "Being a recipient of the of OTA's Online Trust Honor Roll for the sixth consecutive year speaks to our commitment. The growth of connected devices and networks increases the need to prioritize good security practices, given the potentially grave and large-scale consequences. Our work with the OTA and other industry partners is more important than ever in raising awareness about the importance of identity, encryption and data integrity."
"As the leader in connected health and fitness, Fitbit has always been committed to protecting consumer privacy and keeping data safe. The trust of our customers is paramount, and we are honored to be recognized for our efforts as a Top of Class recipient of OTA's 2017 Online Trust Audit Honor Roll," said Marc Bown, Senior Director, Security, Fitbit.
"The OTA Audit is a benchmark for organizations who want to show that they are looking at online trust holistically," said Jose Picazo, CEO of Iconix, a spearphishing protection company. "Since email is still the primary attack vector used by criminals, we are especially glad to see the continued focus on email authentication best practices as part of the core criteria."
"We are excited to have Intersections Inc. and Identity Guard once again recognized by the Online Trust Audit & Honor Roll for our commitment to IT security and privacy. Our 20-year track record as an industry leader underscores our continuous innovation to help protect our members' personal information and being named Top of the Class yet again is indicative of our commitment to exceptional protection." – Johannes Roets, CEO, Intersections Inc.
"The Online Trust Alliance Audit is a significant endeavor promoting best practices in security, consumer protection and privacy.  As a recipient of the Honor Roll for the third-consecutive year, the Audit underscores our commitment to global security and privacy best practices. We believe that being a part of such initiatives drives Kromtech to provide users with the highest level of protection and reflects evident progress in online practices", said Alex Kernishniuk, VP of Strategic Alliances at Kromtech.
"Data is the 'oil' of the Internet. It is fueling innovation and revenue, yet if abused there is a risk of a negative impact to society," said Craig Spiezle, Founder and Chairman Emeritus of OTA. "The Audit underscores the urgency to embrace responsible security and privacy practices.
"OTA's Audit continues to drive awareness and recognition on the importance of responsible data security and ethical privacy practices," said Internet Society Chief Internet Technology Officer, Olaf Kolkman. "The increase in sites embracing end-to-end encryption shows it is becoming the norm for all site traffic."
"To be recognized by the OTA Honor Roll for excellence in consumer protection, data security and privacy practices is a top accolade," said Abani Heller, President & CEO of PeopleConnect, Inc. "We have a responsibility to embrace the highest level of consumer privacy and value the OTA's and ISOC's commitment to help make the internet more trustworthy and resilient."
"PCH is honored to once again be included in OTA's 2017 Honor Role. Transparency and trust continues to drive the thriving online ecosystem. OTA continues to raise the bar and drive consumer protection, brand responsibility and commitment to responsible data handling.  The Audit underscores the importance of addressing these issues today and to help prevent them tomorrow," said Sal Tripi, AVP Digital Operations and Compliance, Publishers Clearing House
It is truly an honor for SecurityScorecard to be named to the 2017 OTA Audit & Honor Roll," says Dr. Aleksandr Yampolskiy, CEO and Co-Founder of SecurityScorecard. "To be named to this prestigious list is a testament to SecurityScorecard's commitment to ensure the privacy of our users across the world."
"We're honored to once again be named to Online Trust Alliance's (OTA) 2017 Honor Roll. This continued recognition is a testament of our commitment to promoting online trust, security and privacy. By providing best-in-class security solutions and partnering with organizations like OTA, we're able to help businesses mitigate risk and stay a step ahead of cyber attackers," said SiteLock President Neill Feather.
"Consumer-facing website owners have an important responsibility because their customers entrust them with valuable data," said Roxane Divol, Symantec Executive Vice President and General Manager, Website Security. "The OTA Audit recognizes those who go beyond compliance and demonstrate stewardship of their customers' online security and privacy."
"OTA's ongoing commitment to online privacy, security and consumer protection best practice is to be admired. Organizations have a responsibility and also an obligation to ensure they evolve their practices in line with the rapidly changing online threat environment, global privacy standards and consumer expectations. TrustSphere is proud to have been included in the 2017 Online Trust Honour Roll, now for the sixth consecutive year," said Manish Goel, CEO of TrustSphere.
"Security and privacy remain the foundation of consumer trust.  As a recipient of the Online Trust Honor Roll for the 6th consecutive year, Twitter is honored to be recognized for our efforts. The best practices advocated by the OTA are essential for the long-term growth, resiliency and innovation of the Internet.  We are committed to working globally driving the adoption and embracing responsible privacy practices," said Michael Coates, Chief Information Security Officer, Twitter
"OTA's Trust Audit underscores the importance and need for all organizations to embrace end-to-end email authentication as the most reliable way to shut down phishing and gain control over shadow email services," said Alexander García-Tobar, CEO of email authentication firm ValiMail. "While we are encouraged by the rise in Trust Honor Roll recipients, lack of email authentication is still the primary cause of sites failing. This reflects poorly on brands, but most importantly places customers at risk. As a proud recipient of the Honor Roll and one that qualifies as one of the Top 50 overall site scores, we take the Audit seriously and are honored to be selected to it for a second year."
"Verisign is pleased to be recognized on the 2017 Online Trust Audit and Honor Roll, and partner with the OTA to raise awareness about these issues as we continue our efforts to defend the internet's security, stability and resiliency," said Danny McPherson, senior vice president and chief security officer at Verisign.
"Yes Lifecycle Marketing is pleased to be included in OTA's 2017 Honor Role. The OTA's leadership and drive for continuous improvement in the areas of security and privacy benefits all marketers.  Trust is critical to maintaining good relationships with consumers", said Dan Hall, CTO, Yes Lifecycle Marketing.
"Despite ratcheting up the criteria needed to qualify for the 2017 Honor Roll, it was encouraging to see the highest percentage of recipients since OTA began the Trust Audit nine years ago," said Craig Spiezle, Founder and Chairman Emeritus of OTA. "While OTA congratulates all Honor Roll recipients, many others have a long way to go to ensuring and embracing acceptable security and privacy practices."