The Internet Changes Lives
The Internet Society is guided by the belief that for an Internet to exist for the good of all people, it must be shaped by diversity, inclusion, and equality. It is only by working together, with our valued community partners around the world, that we can achieve an Internet that is open, globally connected, and people centric.
We believe the voices of people around the world are key to the Internet's future.
Supporting community-led projects since 2007, the Internet Society communities have been making a positive impact at the local level for years. Firstly, through our Community Grants funding programme until 2015, followed by our "Beyond the Net Funding Programme".
Our Chapters – our diverse global community – bring members and local organisations together to run projects and activities dedicated to the use of technology for positive change. They work tirelessly to develop projects at a local level, and their passion, perseverance and commitment are inspiring. Proof that changing the world for good by using the Internet is indeed possible.
We are pleased to share the outcome of these amazing projects that have worked hard to improve their communities' capacity on issues such as Access, Education, Gender and Disability inclusion, Policy and Trust. In 2017, we were able to reach thousands of people through community-driven projects designed to train valuable digital skills, we developed initiatives that will enable continued trust in the Internet, and we continue to build infrastructure in rural and underserved areas, connecting Indigenous communities, because an Internet that works for everyone is impossible unless all voices are heard.
In 2017, we took on a new challenge. We launched the "Chapterthon", a global marathon of Chapters working together to reach a common goal: The Improvement of Education via the Internet. Through this initiative, we've taught hundreds of young girls and boys how to code, and brought much-needed discussions about cybersecurity and online safety to numerous schools. The Chapterthon has not only provided a unique opportunity to reinforce community bonds, but has also won the 2018 World Summit on the Information Society (WSIS) "International and Regional Cooperation" Award presented by the International Telecommunication Union – of which we can all be proud.
As we look at the work previously carried out, it is of course important to continue looking ahead. We are at a pivotal moment in the Internet's development and we all have a role to play in shaping our digital future.
To meet the challenges we face and to move boldly into the future, we have begun coordinating our efforts into four sustained and comprehensive campaigns that will consolidate our work and vision for the future through positive action. The Internet Society has been pursuing our goals of individual empowerment and collaborative innovation for 25 years now, and we believe our community, our organisation, and our program uniquely positions us to advance these goals in the coming years.
We hope, like us, you are inspired by the amazing work of our community, and apply for a Beyond the Net grant to help us continue to shape the future of the Internet.
— Raúl Echeberría, Vice President, Global Engagement, Internet Society
Beyond the Net Funding Programme
At the Internet Society, we believe that the Internet has the power to change lives. That is why we have the Beyond the Net Funding Programme, to give everyone the chance to make a positive difference and to join us in our mission to provide an open and secure Internet for all.
We support bright ideas, planned and brought to life by our Chapters' members, working in partnership with local organisations to empower people around the world.
Since we first started funding Internet community projects back in 2005, we have supported over 500 small, medium and large-scale projects, covering everything from teaching technical skills to young people to helping local engineers deploy leading technology.
Our Programme by the Numbers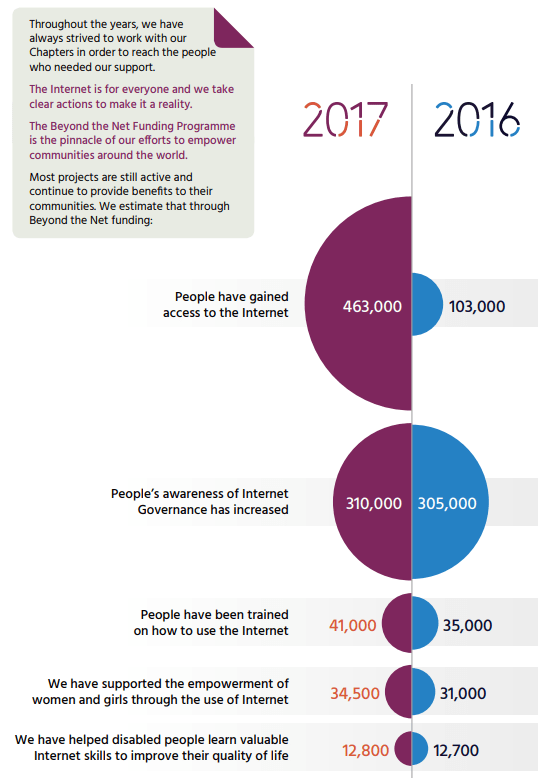 If you want to become involved and help shape the Future of the Internet, join us.
Beyond the Net Funding Programme provides:
Medium and Large projects funding for initiatives that harness the power of the Internet to change lives. They work in partnership with local organisations to empower people in their communities.
Small projects funding to improve awareness on Internet topics of interest for the local community, and to strengthen and grow Chapter membership.
Funding 2017
In 2017, the Beyond the Net Programme provided $ 814,131 in funding for 52 small projects and Chapter events, and 24 large-scale community projects around the world.
For more details, continue reading the PDF online or download it.