At the 2014 v6 World Congress in Paris, Facebook's Paul Saab outlined how Facebook is well on the path toward moving to an IPv6-only internal network. He makes the point that why should you deal with the headache of maintaining a dual-stack (IPv4/IPv6)? Instead just move your internal network to be IPv6-only and then have dual-stack devices on the edge of the network to interact with the legacy IPv4 Internet.  He also walks through the challenges Facebook faced with regard to vendor equipment, software applications and also with the issue that many developers continued to write IPv4-only code. (A clever solution: simply remove IPv4 from the developer's machines!)
You can download a copy of the slides (and view commentary in the IPv6 Group on Facebook) to read all about the process, but here's the key summary slide 31: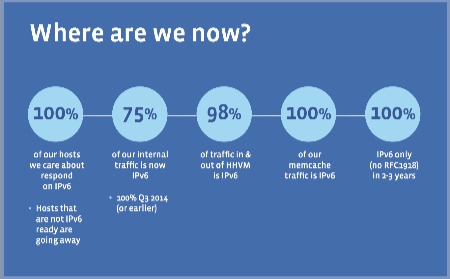 Those statistics are:
100% of  hosts they care about respond on IPv6  (Hosts that are not IPv6 ready are going away.)
75% of internal traffic is now IPv6 with a goal to be at 100% by Q3 2014 or earlier
98% of traffic in and out of HHVM is IPv6
100% of our memcache traffic is IPv6
A goal of being 100% IPv6-only in 2-3 years
Very impressive to see!  All in all a great document for anyone seeking to understand the challenges that an online service may face when moving to IPv6 – and how to overcome those challenges!
---
Please visit our IPv6 Case Studies page for more examples of IPv6 deployment. If you would like to get started with IPv6, please visit our IPv6 resources or begin with our "Start Here" page to help find resources most appropriate for your type of organization. If you have an IPv6 case study you think we should consider for inclusion on our site, please contact us – we are always looking for more!
---