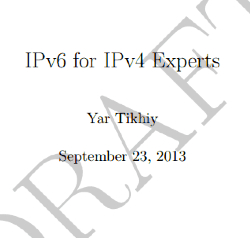 In September 2013, Yar Tikhiy released a free ebook titled "IPv6 for IPv4 Experts" available at:
https://sites.google.com/site/yartikhiy/home/ipv6book
The ebook is available in English in multiple PDF sizes and in Russian in PDF, EPUB and HTML.  In an A4 paper size the document comes in at 402 pages and at a high level has this structure:
Preface

1. Defining the Problem

2. IPv6 Address

3. IPv6 Packet

4. IPv6 in the Protocol Stack

5. Neighbor Discovery Protocol

6. Advanced IPv6

Conclusion

Bibliography
The ebook is marked as a draft and some errata have been noted.