The following fellows attended the IETF 96 meeting in July 2016 in Berlin, Germany.
Abhijan Bhattacharyya (India)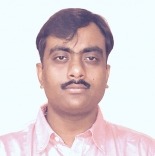 Abhijan Bhattacharyya is a Scientist at the Innovation Lab of Tata Consultancy Services; Asia's largest software exporter. He presently works on creating innovative solutions that address the future requirements of IoT-specific applications. He has previously submitted a draft to the CoRE working grouping, and it has reached a mature stage. Abhijan is also a returning Fellow having been selected to participate in the Fellowship programme for IETF 90 Toronto.
Farzana Mithun (Bangladesh)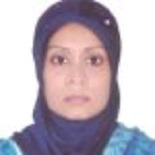 Farzana Mithun is a Senior ICT Officer with the United Nations World Food Programme. In this role, she is responsible for IT service delivery, including infrastructure, telecommunications, and applications. She also oversees the IT Helpdesk, and is accountable for cybersecurity and business continuity management. Farzana holds a BSc in Applied Physics and Electronics, a MEng in Computer Science, and has acquired the Project Management Professional (PMP) and Certified Information Systems Auditor (CISA) qualifications. She is very interested in the V6OPS and WEBSEC working groups of the IETF. Farzana is a past recipient of the SANOG Fellowship.
Humberto Silva Galiza de Freitas (Brazil)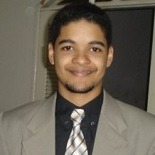 Humberto Silva Galiza de Freitas is a Senior Network Engineer for AmLight Project (www.amlight.net), a collaborative network consortium among research and education networks (RENs) from the U.S. and the Latin America. He also works at the Brazilian research and education network (RNP) in Campinas, Sao Paulo. He holds a BSc in Computer Science and is currently undertaking a MSc in Computer Networks. His main interests are following the discussions on the SDNWG, NFVRG, and GROW working groups. He is a co-author of an IETF draft in the Networking Working Group (IPv4 with 64 bit Address Space). Humberto is motivated to continue in this area of work to help people improve their lives in some way through the use of Internet protocols and related technologies.
Joan Masai (Kenya)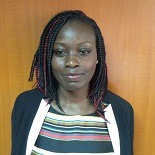 Joan Masai is a Network Engineer at Kenya Education Network (KENET), the national research and education Network (NREN) of Kenya where she contributes to delivering Internet and ICT services to institutions of higher learning, research centers and some schools around the country. Her role at KENET spans the network core, distribution and access layers and involves working on MPLS, leased lines, radio, and switching & routing technologies. She is keenly interested in Internet governance, cybersecurity and big data. Joan currently follows the work of the V6OPS and ISIS working groups in the IETF.
Karan Verma (India)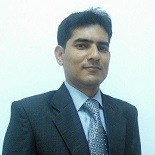 Karan Verma is an Associate Professor at Central University of Rajasthan (India). He holds a PhD from the Universiti Teknologi PETRONAS in Malaysia and a MTech in Networking from the Indian Institute of Technology. His main interest is information security and he is working on intelligent transport system security. Karan has developed an IP-CHOCK Reference which detects and prevents DoS attacks. Karan is passionate about building a community around Internet Standards to help others improve their understanding of the IT environment. He is a Returning Fellow and an IEEE-ISOC Exchange Fellow.
Leandro Melo de Sales (Brazil)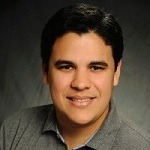 Leandro Melo de Sales is a Professor at the Federal University of Alagoas (UFAL). He holds a BSc in Computer Engineering from the Federal University of Alagoas (UFAL) and MSc and PhD degrees in Computer Science from the Federal University of Campina Grande (UFCG). His main research interest is network protocols, specifically for multimedia applications, and in his PhD thesis he developed Global Media Transmission Protocol (GMTP), a cross-layer optimized protocol for massive distribution of live multimedia content. Leandro is presently coordinating a number of workshops for the XXXVI and XXXVII Congress of the Brazilian Computing Society. He was previously a Fellow at IETF 94 and is also a IEEE-ISOC Exchange Fellow.
Mario Aleman (Nicaragua)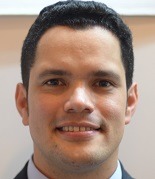 Mario Aleman is the Nicaragua Section Chair at IEEE (Institute of Electrical and Electronic Engineers). He holds a BSc in Electronics Engineering and a MSc in Solar Technology Manufacturing. Mario has previously been a Visiting Research Scholar at the Fraunhofer Center for Sustainable Energy Systems (CSE), a Researcher at the Massachusetts Institute of Technology (MIT), and a Visiting Research Scholar at Cornell University. He specializes in product prototyping and energy efficient systems, and he is interested in the MANET, IANAPLAN, DNSOP, and IDR working groups at the IETF. Mario is a former ITU Fellow and is the present Chair of the ISOC Nicaragua Chapter.
Melchizedek Alipio (Philippines)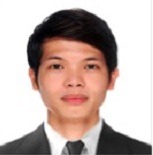 Melchizedek Alipio is a full-time PhD student in Electrical and Electronics at the University of the Philippines (Diliman), where he is working under the Ubiquitous Computing Laboratory of the Electrical and Electronics Engineering Institute. He is currently involved in the development of congestion control algorithms for cache-based protocols in Wireless Sensor Networks (WSNs). Mel is a student member of the Institute of Electrical and Electronics Engineers (IEEE) and a member of ISOC Philippines Chapter (ISOC-PH). He is interested in the SDN, ICC, and T2T research groups and the DTN and RMCAT working groups at the IETF. He is committed to research that increases Internet penetration in the Philippines.
Mikhail Medrish (Russian Federation)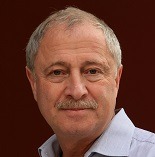 Mikhail Medrish is a Director for the Internet Support Foundation. He was previously Chairman of the Board for the Coordination Center for Russian ccTLDs and has been the CTO for a number of Russia's largest ISPs. He was also the Technical Lead for the first Russian project of mass broadband Internet access services and IPTV, organized on the basis of ADSL technology. He is interested in the ACE, SACME, and TLS working groups at the IETF.
Musa Stephen Honlue (Cameroon)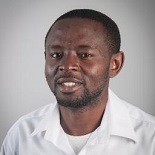 Musa Stephen Honlue is currently employed by AFRINIC as a Trainer – Capacity Building and Coordinator for the IPv6 certification program (certi6.io). He is also an Instructor for AFNOG. Stephen holds a BSc in Networking, MSc in Computer Science and possesses a number of industry certifications in routing & switching and security. He is looking forward to attending the V6OPS, DNSOPS, and IPSECME working groups at IETF 96.
Tirumaleswar Reddy Konda (India)
Tirumaleswar Reddy Konda is a Technical Leader at Cisco Systems, where he works on firewall and cloud-based Security as a Service (SaaS) features. He has 12 patents pending approval at the U.S. Patent Offices, and is conducting research in the areas of Security, WebRTC, Privacy and AEON (Application Enabled Open Networking). He is also an active contributor to the PCP, TRAM and RTCWEB working groups at the IETF. He is a Returning Fellow, having been selected for the Fellowship to IETF 90. Tiru has been cited in RFCs 7488, 7652, and 7376.
Ximena Robles (Ecuador)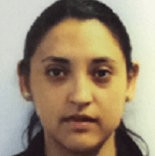 Ximena Robles is a Systems Engineer who is employed at the network operations center of CEDIA, the Ecuadorian national research and education network (NREN). She holds a BSc in Computer Science from the University of Cuenca (Ecuador) and is currently working on a MSc in Artificial Intelligence at KU Leuven University (Belgium). She is interested in the JOSE, V6OPS, TCPINC and IPPM working groups in the IETF.
Zeina Daghlas (Palestine)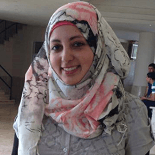 Zeina Daghlas is a Telecommunications Engineer at Callu DSL in Ramallah, Palestine. She obtained her BEng in Engineering from the Arab American University in Palestine. She was one of the founding members of the IEEE branch at her university and is a actively involved in the ISOC Palestine Chapter. Her professional activities are centered around network operations, IPv6, DNS, and IoT. She is interested in the DNSOPS, 6LO, and 6MAN working groups.