Internet of Things and media sites fare worst with fail rates over 75%; Twitter scores as most trustworthy
BELLEVUE, Wash. – The Online Trust Alliance (OTA), the non-profit with the mission to enhance online trust, announced today the results of its 2015 Online Trust Audit & Honor Roll — the de facto online security and privacy standard for the world's top
companies. OTA evaluated nearly 1,000 websites, grading them based on dozens of criteria in three categories: consumer protection, privacy and security.
OTA's 7th annual audit has been expanded and includes websites of the top 50 leading Internet of Things device makers, focused on wearable technologies and connected home products. 76 percent of these sites failed the assessment, while only 20 percent scored highly enough to qualify for OTA's Online Trust Honor Roll. News and media sites received the lowest scores with an 80% fail rate. These sectors fared poorly primarily due to inadequate privacy policies and a lack of domain and consumer protection standards.
"The results of this audit serve as a wake-up call to Internet of Things companies who are handling highly sensitive, dynamic and personal data," said Craig Spiezle, Executive Director and President of OTA. "In rushing their products to market without first addressing critical data management and privacy practices, they are putting consumers at risk and inviting regulatory oversight."
Noting this trend, and building off of the Honor Roll, the OTA has launched a multi-stakeholder effort to develop an Internet of Things trust framework including security, privacy and sustainability practices. OTA recently released a discussion draft of the framework, soliciting public comments with the goal of creating a voluntary code of conduct. 
Other Sectors Fare Better; Twitter Scores Highest for Trustworthiness
Despite setting the most difficult criteria yet for its audit, OTA reported that 44 percent of the websites it evaluated across multiple industries qualified for OTA's 2015 Honor Roll, a significant improvement over last year's 30 percent.
Still, 46 percent of examined websites failed outright, while another 10 percent didn't perform strongly enough to earn Honor Roll status. A failure indicates the site is vulnerable to an existing online security threat, is not adequately protecting consumers from phishing and other social engineering threats, and/or has insufficient privacy policies and inadequate disclosure notices.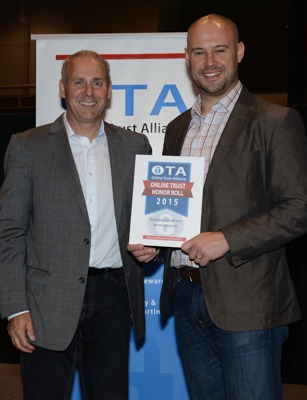 For the third consecutive year, Twitter scored highest among all websites. Top scorers in each industry category were as follows:
Banking: USAA Federal Savings Bank
Government: Federal Deposit Insurance Corporation (FDIC)
Internet of Things: Dropcam
News/Media: Bloomberg Businessweek
Retail: American Greetings Interactive
Social: Twitter
"Our audit and Honor Roll program rewards companies for a commitment to data stewardship, security and privacy policies that protect against cybercrime's escalating threats," said Spiezle. "OTA commends the companies whose dedication to responsible data practices earned them a place on our list. At the same time, it is concerning to see others remain complacent, failing to embrace responsible practices year after year."
Industry Highlights
Retailers: The retail sector saw the largest increase in Honor Roll qualification, from 24 percent of evaluated websites in 2014 to 42 percent in 2015. This 78 percent improvement is attributed to nearly 100 retailers, who fell just short of the threshold last year, making straightforward improvements to push them over the top.
Banks: Due largely to improved privacy scores, the banking industry also saw a major uptick in Honor Roll qualifications, from 33 percent of evaluated websites in 2014 to 46 percent in 2015.
Social: Websites in the social networking category boasted the highest percentage of Honor Roll qualifiers among industries at 58 percent.
Government: This sector amassed the highest average privacy score among all evaluated industries. While 42 percent of government sites made the Honor Roll, 54 percent failed, making this an all-or-nothing industry category.
News: Media websites fared even worse than the IoT sector. Only eight percent qualified for the Honor Roll, while 80 percent failed due primarily to poor email authentication and failing privacy scores.
Additional Resources
The complete 2015 Audit & Honor Roll report and methodology can be downloaded at https://otalliance.org/HonorRoll.  Quotes from Twitter and other Honor Roll recipients 
OTA will host a webinar reviewing the data and research on June 23 at 10am PDT. Register
The 2015 Online Trust Audit was powered in part by leading organizations, including: Agari, AVG Technologies, DigiCert, Distil Networks, Ensighten, GlobalSign, High-Tech Bridge SA, IID, Microsoft, Qualys, Return Path, SiteLock, SSL Labs, Symantec, ThreatWave, TRUSTe and Verisign.
About OTA: 
The Online Trust Alliance (OTA) is a non-profit with the mission to enhance online trust and user empowerment while promoting innovation and the vitality of the Internet. Its goal is to help educate businesses, policy makers and stakeholders while developing and advancing best practices and tools to enhance the protection of users' security, privacy and identity. OTA supports collaborative public-private partnerships, benchmark reporting, and meaningful self-regulation and data stewardship. Its members and supporters include leaders spanning the public policy, technology, ecommerce, social networking, mobile, email and interactive marketing, financial, service provider, government agency and industry organization sectors.