All seats are now full. Thank you for your amazing participation! We will be offering a new round of moderated courses in Q4 2019, so please stay tuned!
The Internet Society offers the following moderated online courses to the members:
How to register for a course
The online courses will be delivered through an eLearning portal and led by expert moderators.
To register and enroll onto the course of your choice, please follow these steps:
Choose the course category you are interested in:

3. Choose the language you prefer:

4. You will then need to click on "Create New Account" and then proceed to accept the "Sign Up Policy" and fill the required information.
Please, ensure you use a working email address when signing up as it will be used to verify your account.
You will also need to include your Internet Society Member ID when signing up. To find the ISOC Member ID, please connect to the portal and go to your profile. If you are not the Internet Society member, please sign up first.
5. Once you enter your information successfully, you will be notified that an email with a link has been sent to you.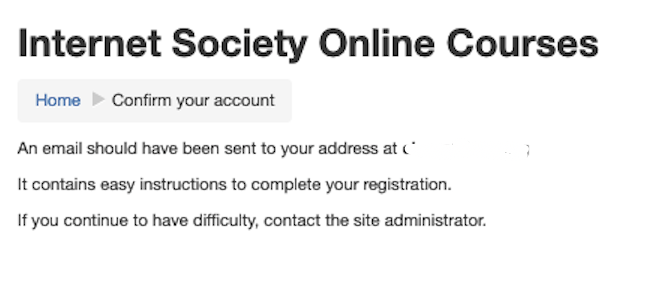 6. Click on the link sent to your email address in order to login to the platform.
7. Once logged in, please select the course that you want to follow and click on "Enroll me".
Timeline
| | |
| --- | --- |
| Applications Open | 2 July 2019 |
| Applications Close | 12 July 2019 |
| Courses Begin | 15 July 2019 |
| Courses End | 25 August 2019 |
Note that each course is offered to the first 50 Internet Society members who register.