From Yvonne Marie Andrés's early laying of groundwork for online education to Radia Perlman's impact on how how networks move data to Kanchana Kanchanasut's and Dorcas Muthoni's work to connect the global south, the Internet would not be what it is today without the brilliance of women. Celebrate some of the women around the world making the Internet a safer and more trusted place.
Want to help close tech's gender gap? Join SIG Women, which aims to "promote a global neutral space that works towards the involvement of women in technology."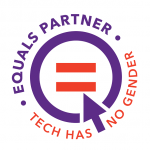 The Internet Society is proud to be a partner of EQUALS: The Global Partnership for Gender Equality in the Digital Age.