In collaboration with the Thailand Internet community, the National Science & Technology Development Agency (NSTDA) and the Ministry of Information & Communication Technology (MICT), the Internet Society is hosting the INET Bangkok, with a conference theme of "Internet: The Power to Create."
Our programme will focus attention on how the Internet can become a positive and productive force in society through innovative and new applications.
Four Drivers of The Internet
The INET Bangkok tracks are based on four drivers of the Internet in Thailand.
1. Technology Track
This track will examine the current challenges of the Internet infrastructure and its related technologies. Sessions will discuss how technology is changing the fundamentals of how we manage our business, network and use the Internet. Specific topics covered include IPv6, Strategies for cloud based software development and WebRTC.
2. Innovation Track
This track will explore the emerging solutions and novel applications on the Internet, and how they can meet users growing needs. In addition, sessions will cover various Internet enabled systems such as e-medicine, e-farming and e-learning, and how these will redefine industry and provide positive benefit for users. Specific topics covered include Mobile-Commerce, E-Commerce, Cloud Computing, e-government (cloud) and smart devices/systems.
3. i-Society Track
This track will discuss the developing challenges and concerns with the emergence of the information society and digital economy. Specific topics covered include Integrated Internet Development Strategies, Governance in the Age of the Internet and Free Trade Agreements (FTA) and Digital Footprint.
4. Future Track
This track will explore the different types of strategies and solutions to address the Internet development challenges such as addressing the digital divide, content divide, and governance. It will also explore recommendations from the other 3 tracks into the discussion. Specific topics covered include rural Internet technologies; report on future research initiatives and Cloud and Big Data.
INET Bangkok Co Hosts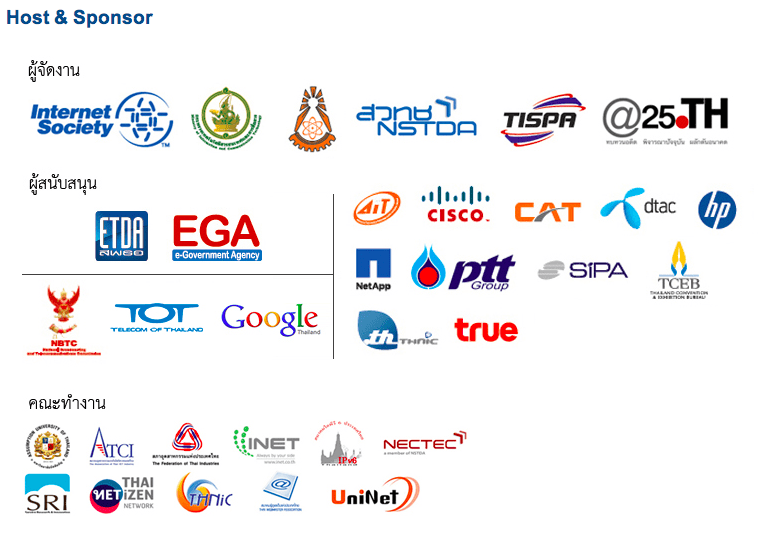 Agenda
6 June 2013
Time
Title/Description
19:00 to 22:00
VIP Gala Dinner 25th Anniversary of .TH
7 June 2013
Time
Title/Description
08:00 to 09:15
Registration Registration for INET Bangkok
09:30 to 10:00
Opening Ceremony Opening Remarks from the Minister of ICT
10:15 to 12:00
Plenary Session: Internet – The Power to Create
12:00 to 13:30
Lunch
13:30 to 15:00
Concurrent Sessions Select from three concurrent sessions, including: M-Commerce and E-Commerce: Innovation for Consumption Enabling Smart and Open Government Moving Towards IPV6: The Next Internet Protocol
15:15 to 17:30
Concurrent Sessions Select from three concurrent sessions, including: Smart Services by NSTDA/NECTEC Strategies in software engineering development for Cloud: A Global Experience WebRTC Workshop & Internet of Things
18:00 to 20:00
Networking Reception
8 June 2013
Time
Title/Description
09:00 to 10:15
Concurrent Sessions Choose from two concurrent sessions, including: Governance in the Age of the Internet and Free Trade Agreement (FTA) Internet Creates Opportunity for Rural Areas: A Multistakeholder Forum
10:15 to 10:45
Morning Break
10:30 to 12:00
Concurrent Sessions Choose from two concurrent sessions, including: Internet Creates Opportunity for Rural Areas: A Multistakeholder Forum, continued My Internet Workshop
12:00 to 13:30
Lunch
13:30 to 15:00
Concurrent Sessions Choose from three concurrent sessions, including: Building a Sustainable Internet Ecosystem: Integrated Development Best Practices Internet and Open Public Data: A Public-Private Partnership Future Internet and Research
15:00 to 15:15
Afternoon Break
15:15 to 16:15
Closing Plenary Closing Plenary: Taking Stock and the Way Forward
Speakers
Paul Wilson
Director General, APNIC
Paul has twenty-five years involvement with the Internet, and nearly fifteen as the head of APNIC, and Regional Internet address Registry for the Asia Pacific. In his current role, he contributes expertise to many regional and global forums related to the development and governance of the Internet. In 2012 he was also selected to the Multi-stakeholder Advisory Group for the Internet Governance Forum (IGF).
Previously as CEO of Pegasus Networks, the first private ISP in Australia, Paul worked with the International Development Research Centre, helping to establish many early Internet services in developing economies of the region.
Sunil Abraham
Executive Director, Centre for Internet and Society
Sunil Abraham is the Executive Director of Bangalore based research organisation, the Centre for Internet and Society.
He founded Mahiti in 1998, a company committed to creating high impact technology and communications solutions. Today, Mahiti employs more than 50 engineers. Sunil continues to serve on the board. Sunil was elected an Ashoka fellow in 1999 to 'explore the democratic potential of the Internet' and was also granted a Sarai FLOSS fellowship in 2003.
Between June 2004 and June 2007, Sunil also managed the International Open Source Network, a project of United Nations Development Programme's Asia-Pacific Development Information Programme serving 42 countries in the Asia-Pacific region.
Duangthip Chomprang
Regional Affairs Manager, Asia, Internet Society
Duangthip is the Regional Affairs Manager, Asia. Duangthip or "Thip" originates from Bangkok, Thailand. She comes from an international relations & development background with multidisciplinary experiences, in the private and public sector. Her main specialization was in technology transfer strategies for regional, national and sectoral economic development encompassing leadership development, public sector modernization, SME development, women entrepreneurship and nanotechnology.
Prior to her work in international development field, she spent over 14 years in the private sector in the telecom and finance & banking sectors specialising in the areas of corporate strategic planning, mergers and acquisitions, project finance, investor relations and portfolio risk management. In relation to her telecom experiences, she possess experiences in tariff negotiation, product/service pricing and concession arbitration.
Her credentials include:
• Subject matter expert in technology transfer and competitiveness strategy
• Head of International Relations Division (for Thailand Productivity Institute)
• Principal advisor to the Office of the Prime Minister on Public Sector Reengineering, Government of Thailand.
• Board member of the Goldman Sach and GE Capital consortium
• Business Consultant (specific to turnaround strategies, business model, and business engineering).
• Regional and Country Financial Analyst (GE Capital Asia Pacific)
• Six Sigma Master Black Belt and Six Sigma Black Belt.
• The prestigious Eliyah Goldratt's scholarship recipient (i.e. founder of Theory of Constraint).
She possesses a Bachelor's in Finance & Banking (Thailand) and a Master's in International Banking & Investment (UK). Her passions are reading, horseback riding, chess, elephants and saving the planet. She is well traveled and has worked and lived abroad in Hong Kong and Tokyo.
Jane Coffin
Director, Development Strategy, Internet Society
Jane Coffin is responsible for development strategy at the Internet Society, where her work focuses on coordination of collaborative strategies for expanding Internet infrastructure, access, and related capacities in emerging economies.
Prior to joining ISOC, Jane worked on Internet and telecommunications policy issues for the Office of International Affairs at the National Telecommunications and Information Administration – U.S. Department of Commerce. She was an active participant in Internet discussions in the ITU, OAS-CITEL, and OECD, working closely with the five regional Internet registries (RIRs) and other Internet technical community stakeholders. She was very involved in policy discussions on open Internet standards and issues related to BGP, IPv4, IPv6, and MPLS. While at NTIA, Jane was an advocate for the deployment of Internet exchange points (IXPs) to increase international Internet connectivity (IIC), and was an ITU-T SG-3 IIC co-Rapporteur and an IIC coordinator in CITEL's PCC.I. She was Vice-Chair of the Federal IPv6 Task Force, and a Vice-Chair of the ITU Council Child Online Protection Working Group,
From 2002-2006, she served as Chief of Party, and Deputy Chief of Party on two separate USAID projects in Moldova and Armenia. Jane worked closely with regulators, policy-makers, senior officials and parliamentarians, Internet service providers, and stakeholders on regulatory strengthening, market access and competition, and liberalization and privatization activities in Moldova and Armenia.
Jane worked for AT&T as a Director of International Affairs/Government Affairs, where she worked on international telecommunications issues, including VOIP, ENUM, and ICAIS, and was a Rapporteur in ITU-D Study Group 1 for universal access/universal service in rural and remote areas.
She holds a BA in Classics from the University of Massachusetts at Amherst, attended the College Year in Athens program in Athens, Greece, and was an AFS exchange student in Falun, Sweden (1985-86).
Jane is based in Reston, United States.
Dr. Jirapun Daengdej , Ph. D
Dean of Faculty of Science and Technology, Assumption University
Dr. Jirapun receives his Ph.D. in Computer Science from University of New England, Australia. He is the author of more than 30 international publications, 2 of which receive "Best research paper awards", and 3 of which are presented at Aerospace conference in USA. He receives IBM faculty awards in 2009 and 2011 for his researches in software testing. He is a certified software project manager with CSPM (QAI) and SAPM (Stanford University). Since year 2000, Dr. Jirapun has been involved with more than 50 large scale software development and ICT master plan projects in the countries for both public and private sectors.
Currently, he is a Dean of Faculty of Science and Technology, Assumption University, Thailand. At the same time, he is a director of a master degree program in IT, which is jointly developed with Stanford Center for Professional Development. He also serves as president of Thailand SPIN (Software Process Improvement), a world-wide community originated by Carnegie Mellon University, which concentrates especially on software process improvement activities. His current joint research with a number of universities in USA concentrates on "Problems in global software development".
Dr. Mike Hayes
Director of the Masters in Human Rights program, Human Rights and Peace Studies at Mahidol University
Dr. Mike Hayes currently is the Director of the Masters in Human Rights program at the Institute for Human Rights and Peace Studies at Mahidol University.
He also teaches in a number of university programs and professional courses throughout South East Asia, mainly in the areas of human rights and development. He is also involved in research in non-citizen rights, new media, and capacity development.
Dr. Krisanadej Jaroensutasinee
Associate Professor, Walailak University
Professor Krisanadej is currently the Head of Center of Excellence for Ecoinformatics at Walailak University in Nakorn Srithammarat, in the south of Thailand. His areas of expertise include GLOBE Master Trainer in Atmosphere protocol, mathematical systems modeling (Ecology, Physics, GeoComputing,
Non-linear Physics, Computational Physics, Information Technology, Digital Storage and Processing, Data Visualization ), basic Instrumentation in Earth System Science and Biology, GPS , webMathematica and Web Services, GIS and Spatial Database, Web database system, Coral reef research, Cloud Forest
research, Phenology, and climate change , time Series Analysis and Models, Advanced Statistical Models and Spatial Analysis Models, Climate Changes Studies and advanced programming in C/C++, Java, Mathematica, MATLAB, Fortran, JavaScript, JSP,
PHP, ArcInfo, Computer Graphics, Grid and Cluster Computing with Mathematica. He is alos a published author of several technical papers appearing in various journals such as Computers in Physics, Journal of Physics, Journal of Fish Biology, Asia Pacific Journal on Tropical Medicine and Journal of Medical Research. In addition, he is currently a Committee Member in the Thai Royal Dictionary and the Academic PI- Young Scientist Competition at Walailak University. He holds a Ph.D degree in Physics from University of Warwick from United Kingdom and a Bachelor's in Physics from Chulalongkorn University in Thailand.
Dr. Cullen Jennings, Ph. D
Fellow, Collaboration Technology Group, Cisco
Cullen is a Fellow in the Collaboration Technology Group at Cisco. He is responsible for setting the technical direction for the next generation of Cisco's communication and collaboration products, including VoIP, SIP, security and peer-to-peer technologies.
Cullen's current focus is on moving voice and video communications into the cloud, so that they become an integrated part of Web applications and can be used in everything from business process software to collaboration applications and games. This involves smoothly integrating a number of technologies ranging from HTML5 to highly scalable cloud services and federated authentication. Previously, Cullen played a key role in developing Cisco's technical strategy in voice/video security, media quality, NAT traversal, and peer-to-peer services. Cullen currently serves as Co-Chair of the IETF RTCWeb working group and is co-editor for the WebRTC specification at W3C.
Cullen came to Cisco from Vovida Networks, which developed the premier open source toolkit for VoIP. Prior to Vovida, he worked in the design and implementation of air traffic control systems. He holds a PhD from the University of British Columbia in computer vision. A long time sailor and snowboarder, lately he has been learning to kite surf.
Dr. Kanchana Kanchanasut
Director, InterLab, Asian Institute of Technology
Professor Kanchana is based in Bangkok in Thailand. A veteran in her field, recognised as the pioneer of the Internet in Thailand and founder of the .th (Thailand's country domain name). She currently serves as Director the InterLab and is a professor in the field of Computer Science in the Faculty of Engineering and Technology at Asian Institute of Technology. She is a published researcher having authored and co-authored numerous works in this filed.
She is an active and well established regional figure in the Internet field including a frequently invited speaker and authority promoting the Internet and capacity building for the Asia-Pacific region in many platforms for governments, policy makers, research groups, academia, businesses, etc. She is also an astute member of the ISOC alumni. Professor Kanchana holds a doctoral degree in computer sciences from the University of Melbourne in Australia.
Dr. Asanee Kawtrakul
Deputy Executive Director of NECTEC, National Electronics and Computer Technology Center
Dr. Asanee is the Deputy Executive Director of NECTEC, the National Electronics and Computer Technology Center, National Science and Technology Development Agency, Ministry of Science and Technology and the Associate Professor in Language and Knowledge Engineering Technologies at Kasetsart University.
She obtained her B.Eng (honors) and M.Eng in Electrical Engineering from Kasetsart University in Thailand and D.Eng in Information Engineering from Nagoya University, Japan. She is the leader of SRI Thailand (Service Research Innovation, Thailand) and the leader of the Specialty Research Unit of Natural Language Processing and Intelligent Information System Technology (NaiST Lab.) at Kasetsart University.
Her current research focuses primarily on unifying language processing technologies with Knowledge Engineering to support knowledge acquisition and management. She has led various large-scale research projects. Not only focusing in research, she, on behalf of NECTEC, works with the young researcher team at NECTEC and the Alliance Universities to bring the researches off the shelf and apply to the real problems solving for the industry, government, enterprise and social community.
She has also initiated various collaboration effort in Thailand with FAO, UN agencies and other international institution such as NII, National Informatic Institute (under BIOCASTER Project) and Nagoya University, of Japan , University Joseph Fourier, GETALP, LIG-campus (Under Franco-Thai project), IRIT, Institut de Recherche en Informatique de Toulouse, and Laboratoire LE2I (UMR-CNRS), University of Bourgogne, of France. She has published more than 90 papers and books.
Dr. Hugh Thaweesak Koanantakool, Ph. D
President, National Science and Technology Development Agency (NSTDA)
Dr. Koanantakool's research field is in electronics and information technology. His early works are on the development of Thai language for computer and the Internet: Thailand's first multi-font display adapter for PC, a major contributor in the National Standards for coded Thai characters (TIS 620-1986) and for Thai language processing (TIS 1566-1998). He was leading the early development of the Internet in Thailand in 1992, through the establishment of the first Thai Social, Academic and Research Network (ThaiSarn) and the first commercial Internet Service Provider in Thailand (INET).
He was leading the National Electronics and Computer Technology Center (NECTEC) during 1999-2006. He and his teams at NECTEC managed the national Y2K committee, drafted the first ICT Master Plan and developed six IT laws, three of which have been enacted. These included the Electronic Transactions Act (combined with the electronic signature bill), Computer Misuse Act, and a number of related decrees including electronic payment and computer security.
Dr. Koanantakool was a member of the National eTransactions Committee, the chairperson of Computer Security Sub-committee during2009-2013. He is on the executive committees of the Electronic Government Agency, Electronic Transactions Development Agency and the National Science and Technology Development Board.
He was appointed the President of National Science and Technology Development Agency in 2010.
Dr. Koanantakool received his B.Sc. (First Class honours) and Ph.D. degree in Electrical Engineering from the Imperial College of Science and Technology, London University, UK in 1975 and 1980, respectively. He holds two patents , with seven pending patents, and published/co-author more than 12 books and 170 papers and articles (in Thai and English).
Konstantinos Komaitis
Policy Advisor, Internet Society
Konstantinos is a Policy Advisor at the Internet Society based in Geneva, focusing primarily on the field of digital content and intellectual property.
Before joining the Internet Society in July 2012, he was a Senior Lecturer at the University of Strathclyde in Glasgow, UK. Konstantinos holds a PhD in Law and his thesis focused on issues of intellectual property and the Internet, with particular focus on the intersection of trademarks and domain names.
Between 2010-2012, Konstantinos served as the Chair of the Non-Commercial Users Constituency at ICANN and he was a member of ICANN's Special Trademark Issues (STI) team, which drafted the recommendations for the rights protection mechanisms for new gTLDs.
He is the author of the book "The Current State of Domain Name Regulation" and he also serves as a domain name panelist for the Czech Arbitration Court.
Morragot Kulatumyotin
Managing Director, Internet Thailand Plc (INET)
Morragot is currently the Managing Director for Internet Thailand Public Company Limited, Thailand's premiere ISP. She is also Vice Chairman of Thai Internet Service Provider Association (TISPA). Prior to joining INET in 1997, Morragot was a project manager of THAISARN (Thai Academic and Research Network) at the National Electronic and Computer Technology Center (NECTEC), Thailand's first Internet research network. Her qualifications include a Bachelor's of Science in Mathematics from Prince of Songkla University(first class honor), a Master's of Science in Computer Science from the University of Missouri-Columbia and a second Master 's in MBA from Thammasat University in Thailand.
Sofie Maddens
Senior Director, Global Services, Internet Society
Sofie Maddens joined the Internet Society as the Senior Director of Global Services in August 2012.
A Belgian Attorney fluent in Dutch, French, English and Portuguese, Ms. Maddens has worked for over 20 years in the Information and Communications Sector in international and multi-cultural environments, including in the Americas, Europe and Africa, as well as in Asia and the Middle East.
For over 20 years, she has managed complex private sector, government, and regional and international projects and grants, defining and drafting legal and regulatory frameworks and texts, developing and implementing advocacy initiatives and corporate and government strategy recommendations and plans, and defining and executing training programs, while balancing budgetary, legal, institutional, training considerations as well as cultural and geo-political needs and issues.
Ms. Maddens has advised both public and private sector clients and specializes in regulatory and policy assistance, capacity building and training, strategic advice and implementation, as well as project management and completion for ICT legal, regulatory and policy projects. Her scope of responsibility has been diverse including managing and defining ICT projects in more than 50 countries in Africa, Asia, the Caribbean, Europe and the Middle East, focusing in particular on the information and communications sectors, the postal sector as well as on regulation and policy with regards to the policy and regulation of the information society (including Internet policy and governance, e-commerce, privacy, cybercrime and cyber security).
Werachart Muttitanon
Educator, Rajamonkol Institute of Technology
Weerachart was originally the Director for the Bureau of Planning and Policy at the Office of Higher Education Commission, under the Ministry of Education of Thailand. Back then, his role was instrumental in developing policies for development and the establishment and management of UniNet and NEdNET. NEdNET is the country's national education network providing universal education programmes for all levels right up to university level while UniNET is the nation's largest backbone infrastructure connecting every school and educational instutions in the country. Weerachart now works at the Rajamonkol Institute of Technology (East Campus) as an educator. Weerachart qualifications includes a Bachelor's in Electrical Engineering and a Master's in Management Information Systems.
Dr. Thanachart Numnonda, Ph. D
Association of Thai ICT
Dr. Thanachart is the former director of Software Park Thailand since October 2010. In January 2013, he decided to work for the Association of Thai ICT (ATCI) and found IMC Institute. Prior to joining Software Park Thailand, Dr. Thanachart was business development director at Sun Microsystems (Thailand) Ltd. (since 2005) where he was responsible for the software business. He has played a crucial part in the development of Sun's product lines and business expansion in Thailand. He is also experienced in the IT development of Thailand's education sector. He was vice president for planning and information technology at Khon Kaen University, and acting project director of E-Saan Software Park. Previously, he was an associate professor at the Department of Computer Engineering, Faculty of Engineering, Khon Kaen University and a visiting lecturer at several universities.
Dr. Thanachart has a degree in electrical engineering from Khon Kaen University and holds a master's degree and a PhD in electrical engineering and electronics from University of Auckland, New Zealand.
Dr. Manoo Ordeedolchest
Chairman of the ICT Policy, Sripatum University
Dr. Manoo has been actively served the Computing Industry for more than 40 years in many capacities. He was the co-founder and President of the Association of Thai Computer Industry (ATCI) for 8 years and is now ATCI as Honorary President.
In 2003, he was appointed by the Ministry of Information and Communication Technology to lead a new business promotion unit called Software Industry Promotion Agency, under the Ministry of ICT, where he served as President for three years, until his retirement in 2006. Prior to the appointment at the Ministry of ICT, Manoo was Dean of School of Technology at Shinnawatra University. During the last six years he was the Chairman of the ICT Policy of Sripatum University. Manoo currently works as a freelance ICT consultant and part time lecturers in various universities and ICT \Training Institutions.
During 2003-2004, Manoo was appointed President of the Asian-Oceania Computing Industry Organization (ASOCIO), the Organization that represents computing and ICT related associations of 19 countries in the Asian-Oceania region. He was the co-founder of Datamat Public Company Limited, a Thai Systems Integrator established since 1969 where he served as President until 1994.
For the past 40 years, Manoo has been guest lecturer at many graduate schools in Thailand, such as Chulalongkorn University and National Institute for Development Administration (NIDA). Manoo has been writing many articles and books in ICT and the blogger of ICT and Services.
Pisuth Paiboonrat
Specialist, National Electronics and Computer Technology Center
Mr. Pisuth Paiboonrat is the key person in the area of Agricultural Smart Service.
In 1998 he was the director of Agriculture Information Services Center, Department of Agriculture, Ministry of Agriculture and Cooperatives. He was in the team who developed a report of Improving the use of Agricultural Knowledge Base for Thai Farmers through Internet submitted to The International Bank for Reconstruction and Development for the Information for Development Program (InfoDev), World Bank.
In 2005 he was the deputy director of the Hydro and Agro Informatics Institute, National Science and Technologies Development Center, Ministry of Science and Technology. Today he is a specialist at National Electronics and Computer Technology Center (NECTEC).
Some of his projects include the Knowledge management in Science village Project, Learning Paddy at Baan Samkha Lampang, and Digital Museum at Baan Yang, Fang, ChaingMai.
Pawoot Pongvitayapanu
Managing Director & Founder, Tarad.com
Pawoot is considered one of the most successful e-commerce entrepreneurs in the country. He founded Tarad.com, Thailand's version of e-Bay (B-C model) which became massively successful and drew the public attention to the e-commerce business. Tarad.com current shareholding includes foreign partners which Pawoot sold part of the shares of Tarad.com to a Japanese group, Rakuten for an undisclosed amount. He later developed Thai2hand.com(C-C model) which allows people interested to start up and run their own on-line businesses at minimal cost. Today Pawoot remains an active supporter of e-commerce and focuses on e-commerce related solutions for his clients. He is currently the President of the Thai e-commerce Association.
Krating Poonpol
Founder, Disrupt University
A proclaimed technology entrepreneur and designer, Krating comes with a wide range of experiences ranging from raising seed capital, launching new innovative services and applications for the Internet (social games, mobile applications, etc.), to name but a few of his achievements. Former student at Stanford University, Krating launched and sold his first business which later partly fund his next company, Mobilitz Inc.. He was able to raise an additional U$ 1.2 Million seed fund from Angel investors (Forbes) which launched his most successful social game application (top 10 most favourite applications on the iPhone in 2010 along with other apllications such as Twitter, Instagram, WorldLens and 148 other applications). The game received raving reviews including being featured in "What's Hot' and "Staff's Favourite" in iTune Apple's App Store review as buyer's favourite. He later launched his second product call Quipster, a location-based social network which became a top 12 best selling application in the US in July 2011. Quipster was also selected as finalist at the Location & Beyond Summit. Later in Google (US head office in Mountain View), Krating in the role of Global lead for Product Marketing of Google Earth/Ocean/Moon/Mars and Global Geo Marketing team, launched the celebrated "Moon in Google Earth 3D" used to commemorate the 40th anniversary celebration of the historical Moon landing in Washington D.C. Krating is based in Bangkok and currently heads the Products Division of Dtac, the second largest telecom operator in Thailand. Krating's personal life goals, apart from owning an already successful technology start-up business, is to establish a similar U.S. Silicon Valley model in Thailand.
Dr. Passakon Prathombutr
Director of Service Research & Innovation Programme, National Electronics and Computer Technology Center
Dr. Passakon Prathombutr graduated the interdisciplinary Ph.D. program in Software architecture and Computer networking from the University of Missouri, Kansas City.
He has been working as a researcher at National Electronics and Computer Technology Center (NECTEC), Ministry of Science and Technology, Thailand since 1992. In NECTEC he was the director of Next Generation Internet Laboratory and the director of Intelligent Transport System program.
At present, he serves as the director of SRI (Service Research & Innovation program) and the director of ICCRU (Information Communications and Computing Research Unit.) He is also the president of the Thai Intelligent Transport System association and a co-founder of Thailand IPv6 association and Thai Intelligent Traffic Information Center Foundation.
Dr. Nol Rananand
Quality Assurance Director
Dr. Nol Rananand has experience working internationally and for multi-national companies for almost 20 years. He graduated with a Bachelor's of Engineering degree (Electrical Engineering) from Chulalongkorn University in 1989. He then went to pursue a post-graduate study in the US and graduated with a Ph. D. degree (Electrical Engineering) from the University of Maryland at College Park in 1995. After graduation, he had been working in the US for nearly 6 years performing R&D work. The last company he worked for in the US was Motorola. He then returned to Thailand in late 2000, and joined Celestica (Thailand) in the capacity of test engineering manager. In 2004, he became a Quality Assurance Manager of Thomson Reuters and later a Quality Assurance Director in 2007. He currently leads a global engineering team that helps deliver and maintain a complex infrastructure providing pricing information of all financial instruments from exchanges around the world to Thomson Reuters customers.
Dr. Rananand is adept at setting up and leading an engineering organization to collaborate effectively across continents and cultures. He is passionate about helping product delivery achieve highest quality possible. He spends his spare time keeping up with new technologies and how they can help the business.
Dr. Rohan Samarajiva
Dr. Rohan is the founding Chair of LIRNEasia, an ICT policy and regulation think tank active across emerging economies in South and South East Asia, and the Pacific. He was its CEO until 2012. He has serves on the Boards of Communication Policy Research south (an organization that seeks to develop intellectuals who will contribute evidence to policy and regulatory processes in the Asia Pacific), Research ICT Africa and the Lanka Software Foundation.
Before setting up LIRNEasia, Samarajiva was Team Leader at the Sri Lanka Ministry for Economic Reform, Science and Technology, responsible for infrastructure reforms. He was also Director General of Telecommunications in Sri Lanka and a founder director of the ICT Agency of Sri Lanka. Previously, he was Visiting Professor of Economics of Infrastructures at the Delft University of Technology in the Netherlands and Associate Professor of Communication and Public Policy at the Ohio State University in the United States.
Surasak Sanguanpong
Vice President, IT Department
Associate Professor Surasak is currently the Vice President of the IT Department at the Lasertsart University in Bangkok. Prior to this role he was the Assistant to the President of the University. He comes from a technical research background with strong research experienced in computer networking such as Internet Security, Network Monitoring and Measurements and Applications for High Speed Networking. He is a published author of many technical papers.
T.H. Schee
CEO, Fertta
T.H. Schee, a well recognized figure in the regional industry was originally a college dropout, who pioneered several canonical community projects which spawned dozens of startup ventures, launched web campaigning sites for presidential/mayor election since 2002.
He served as a senior manager at Academia Sinica, Yam.com, Mio.com, Sanlih E-Television and JUT Living Development Group. He is a frequent invited speaker on topics relating to the forefront of digital revolutions. Currently, TH Schee is working on many ICT projects that power #OpenData in the Asia-Pacific region. He is now the CEO of Fertta.com
Nakorn Serirak
Journalist
An experienced journalist, Nakorn is very active advocator of freedom to information and personal data protection. In his recent paper on "Personal Data Protection " for the Research Centre for Data Protection of Johann Wolfgang Goethe University in Frankfurt am Main where he was completing his PhD. programme.
He is currently a director for Administrative Department, ThaiPBS public broadcasting service, an independent TV station in Thailand.
Prior to that, he worked for the Prime Minister's Office as Senior Expert of the Information Commissioner's Office of Thailand. Nakorn's qualifications include a BA in Political Science from Thammasat University and Master in Policy Science from Saitama University in Japan.
Rajnesh Singh
Regional Bureau Director, Asia-Pacific Region, Internet Society
Rajnesh Singh is Regional Director of the Asia-Pacific Regional Bureau at the Internet Society where he oversees projects, initiatives and activities across the Internet Society's functional and programmatic areas in the Asia and Pacific region, including Public Policy, Capacity Building and Internet Standards and Technology.
Prior to joining the Internet Society, Rajnesh played founding and leading roles in several technology and private equity investment firms, and still maintains varied business interests. In his professional capacity, Rajnesh has consulted on communications & power infrastructure, project management and business strategy for medium to large companies and organisations in the Asia-Pacific region. He has also held advisory roles across multiple sectors ranging from governmental organisations to sporting organisations and the private sector.
Rajnesh has worked extensively with the Asia-Pacific Internet community, and has held several leadership roles, including Founding Chair of ICANN's Asia Pacific Regional At-Large Organisation (APRALO) and Chair of the Pacific Islands Chapter of the Internet Society. He has worked extensively on ICT policy, training and capacity building in the region, including delivering programmes for UN agencies.
Rajnesh speaks multiple languages and is based in Singapore.
Dr. Philip Smith
Chair of the Board, Asia Pacific Internet Association
Philip, a Scottish native, is currently the Director of Learning & Development in APNIC and APNIC Executive Member, based in Brisbane, Australia since 2012.He was also a member of the Internet Society Board of Trustee since 2008-2012.
He is Chair of the Board of APIA (the Asia Pacific Internet Association) and co-chair of APOPS (the regions ISP operational forum). Previously from Cisco Systems he is part of the Internet Architectures Group under CTO Consulting Engineering. His role included working with many ISPs in the Asia Pacific region, specifically in network design, configuration, scaling and training.
Other areas of interest also include Internet routing, ISP network design, BGP, IGP, Internet protocols, IPv6 and encouraging the growth of the Internet around the world through his involvement with national/regionals NOGs and regional ISP forums. Prior to joining Cisco, he spent 5 years at PIPEX (now part of UUNET's global ISP business), the UK's first commercial Internet Service Provider.
He was one of the first engineers working in the UK Internet, and played a fundamental role in building the modern Internet in the UK and Europe. Philip is a Doctor of Philosophy and has a Bachelor of Science degree in Physics.
Thanapon Songput
Disaster Manager, Mirror Foundation
Thanapon is a passionate community developer and volunteer. He is currently the Disaster Manager for the Mirror Foundation, a local NGO focusing on disaster management and mitigation work for communities at risk in Thailand and overseas. He is an experienced and professional trainer and advocate for disaster management and preparedness in communities, as well as a professional CB radio and Flash Mob expert. He has been involved in many initiatives including the Tsunami recovery in Phuket and the recent Bangkok Big Flood (2012). Thanapon is based in Bangkok.
Sawatree Suksri
Lecturer, Thammasat Law School
Sawatree Suksri is a lecturer at Thammasat Law School, Thailand and a PhD Candidate at Ludwig Maximilian University of Munich's Faculty of Law. She specializes in criminal law and media law. Noteworthy, her LLM thesis title "The duties and criminal liability of Internet-provider: special study on pornography and libel on the Internet".
During 2011-2013, she headed a computer crime research team which later published a report titled "Impact of the Computer-related Crime Act 2007 and State Policies on the Right to Freedom of Expression" (March 2013).
Manorot Tangsaveephan
Systems Development, Hydro And Agro Informatics Institute
Manorot currently heads the Systems Development department at Hydro And Agro Informatics Institute responsible for the development of MIS/GIS system, development of data warehouse and database and many others. Prior to his current role, he was a researcher at National Electronic & Computer Technology Centre (NECTEC) involved in various areas relating to the Internet application: developing the Internet GIS using SVG, XML and DOM technology, website development using PHP, Pear, Javascript, CSS with MySQL ,PostgreSQL database, system analysis and design, research on new technology and system testing. His current research work includes PHP MVC framework, Responsive Web Design, IoS development, GIS/Map Server and Using Flex Technology in webpage. Manorot is based in Bangkok.
Among his accolades include winning the best Tourism website in 2003 awarded by the Thailand Web Master Association and Nation Thai Web Award 2002 for "Best Tourism Award".
He has a Master's Degree in Information Technology from Chulalongkorn University and a Bachelor's in Civil Engineering from King Mongkut Technology Institute of Thonburi.
Dr. Panjai Tantatsanawong
Chair of Thailand Research Education Network Association
Dr. Panjai currently hold several key positions and role in various universities. He is the Chair of Thailand Research Education Network Association, the Deputy Director Office of Information Technology Administration for Education Development (UniNet), Commission on Higher Education, Ministry of Education, Dean of Graduate School, Silpakorn University, Assistant Professor of Computing department at the Faculty of Science of Silpakorn Univeristy. He is also holds A Senate Member on the Information Technology and Telecommunication committee in the Government. His areas of expertise include Computer Network Design and Implementation, Virtual Reality, e-learning, Knowledge Management, Internet, ICT Master Plan, Grid Technologyand e-Commerce. He is also a published author of many technical papers. His current research work includes research on applied information technology to Archaeology using Virtual Reality, Multimedia and Geographic Information System (GIS), Applied Virtual Reality System for the National Historical Park and Museum, e-Culture Development in Greater Mekhong Sub-region Phase I and Phase II, Intangible Culture Information Management System development in Greater Mekhong Sub-region and Medical Grid. He currently possess a Ph.D Degree in Computer Sciences from Asian Institute of Technology in Thailand and a Master's in Computer Sciences from Chulalongkorn University.
Parkpoom Tripatana
Executive Director, THNIC Co. Ltd.
A mathematician by education, Parkpoom is one of the founding members of THNIC, the organisation which operates the country's first country level domain name (.th) since 1999. At present, he is the Executive Director of THNIC Co. Ltd.
Dr. Lokman Tsui
Policy Adviser, Google
Lokman Tsui is a Policy Adviser at Google Asia Pacific. Before Google, he was an Assistant Professor of Media and Communication at the City University of Hong Kong. He received his PhD degree (2010) from the Annenberg School for Communication, University of Pennsylvania.
In 2008-2009, he was also a Fellow at the Berkman Center for Internet & Society, Harvard University. His research interests are situated at the intersection of new media, global communication and journalism. He has co-edited a book "The Hyperlinked Society: Questioning Connections in the Digital Age" (2008) together with Joseph Turow.
Apinun Tunpan, Ph. D
Senior Researcher, Asian Institute of Technology (AIT)
Apinun is a Senior Researcher at the intERLab in the Asian Institute of Technology (AIT) located in Bangkok. He is currently working on the development in Internet of Vehicles, Disaster Emergency Multimedia Communication Networks, Rural School & Community Wireless Mesh Network. Apinun previous roles included working experiences in the private sector as well as in the public sector. His areas of expertise includes ICT development policies, network security and ICT services/product development. Apinun is a computer engineer by training and has a Doctoral degree in Computer Sciences from the University of Maryland, U.S.
Dr. Sornthep Vannarat
National Electronic and Computer Technology Centre
Dr. Sornthep comes from a research background and is currently working at the National Electronic and Computer Technology Centre specializing in developing core infrastructure for computing, modeling environmental and industry eco-systems and development of Information Systems. He is a published author of many technical papers and books including some listed here. Dr. Sornthep has a Ph.D. from Tohoku University, Japan in Material Physics and a Masters from Imperial College of Science, Technology and Medicine of the University of London in United Kingdom in Semi-Conductor Science and Technology.
Vara Varavithya
Associate Professor, King Mongkut Institute of Technology
Vara is currently an Associate Professor at the King Mongkut Institute of Technology, North Bangkok Campus in the Department of Electrical Engineering and leads the High Performance Computing Research Group. His areas of interest are in High Performance Computing, Grid Computing, Performance of Computer Systems, Software Engineering, and Implementing Enterprise Systems. His current study is in computer engineering research for the development of grid enabled applications on the Internet primarily for industrial and research.
He is also the co-founder for the Thai National Grid Project. Apart from being a researcher and educator, Vara is part of the global research community in the field of advanced research in networks and grid computing.
Kraikong Waitayakarn
Coordinator of ChangeFusion, ICT Plan
With his exceptional skill in ICT for Development, Klaikong was a manager of Information Technology Institute for Education (ITIE) and ICT Team Leader of Thai Fund Foundation.
He is currently a coordinator of ChangeFusion working for ICT Plan together with Thai Health Promotion Foundation to provide technology tools for thousand of Thai Health Promotion Foundation's partners. He is specialized in capacity building. His great contribution in social development led to the success of the Mekong ICT Camp, the technology camp for NGOs around Mekong sub-region.
He frequently attends International workshop on ICT for Development as a delegate as well as a guest speaker.
Pindar Wong
Digital 21 Strategic Advisory Committee, Hong Kong Government
Pindar is based in Hong Kong and is an Internet pioneer. He serves on the Digital 21 Strategic Advisory Committee of the Hong Kong Government, the task force that promotes Hong Kong as a hub for innovation, cooperation and trade in ICT (Information and Communications Technologies). Using valuation and pricing models from the financial industry, he is working to establish Hong Kong as a centre for Intellectual Property (IP) Trading by creating open standards for Digital Copyright Exchange (DCE).
In 1993, he co-founded HK's first commercial internet service provider and in 1999 served as the first Vice-Chairman of the ICANN Board (Internet Corporation for Assigned Names and Numbers). As a former elected Trustee of the Internet Society (2003-2006), Pindar actively promotes the adoption of 'open standards-based' technologies. He is particularly interested in fostering Asia's creative talents and in 2008 he helped introduce Creative Commons to Hong Kong where he serves as the Co-Public Lead.
Pindar's previous leadership roles within in the Internet community among others included Chairman of the Asia Pacific Internet Association, Alternate Chair of Asia Pacific Network Information Centre, Vice-Chairman of the Internet Corporation for Assigned Names and Numbers, Board Member of the Public Interest Registry (.ORG), Board Member of the Internet Society, Member of the Technical Advisory Board for Packet Clearing House, Editorial Advisory Board Member for Cisco Systems IP Journal, Advisor to the UNDP Asia Pacific Development Information Programme, Advisor to the Asia Pacific Networking Group, Associate Member of the UNESCO's Orbicom Network and School Council Chairman for the The Island School.
He graduated with First Class Honours in Computing Science from Imperial College London and was a Sir Edward Youde Research Fellow.