With protests intensifying and social media interruptions reported in the weeks leading up to Benin's presidential elections on 11 April 2021, many Internet and civil rights organizations were growing nervous about the potential for another Internet shutdown.
Internet access was cut for almost 24 hours during Benin's legislative elections in 2019 and there has been a worrying global trend in election-related Internet shutdowns. In 2020, Access Now's #KeepItOn coalition documented 155 shutdowns in 29 countries, including 10 in Africa. And according to Internet Society's data insight tool, Pulse, there have been 98 Internet shutdowns in the past 12 months.
So, two months before the presidential elections, Internet Society's Benin Chapter started proactively mounting a campaign, approaching a host of local and international rights organizations for support – including Access Now, Amnesty International Benin, Citizen Voice and Action, the Bloggers Association of Benin, and Citizen 229.
"Access Now is well known for its #KeepItOn Coalition and for denouncing shutdowns, so we contacted them as well as other local organizations with which we had already undertaken actions," says Harold Adjaho, President of the Internet Society Chapter in Benin. "We decided to write an Open Letter calling on the Government not to shut down the Internet before, during or after the elections."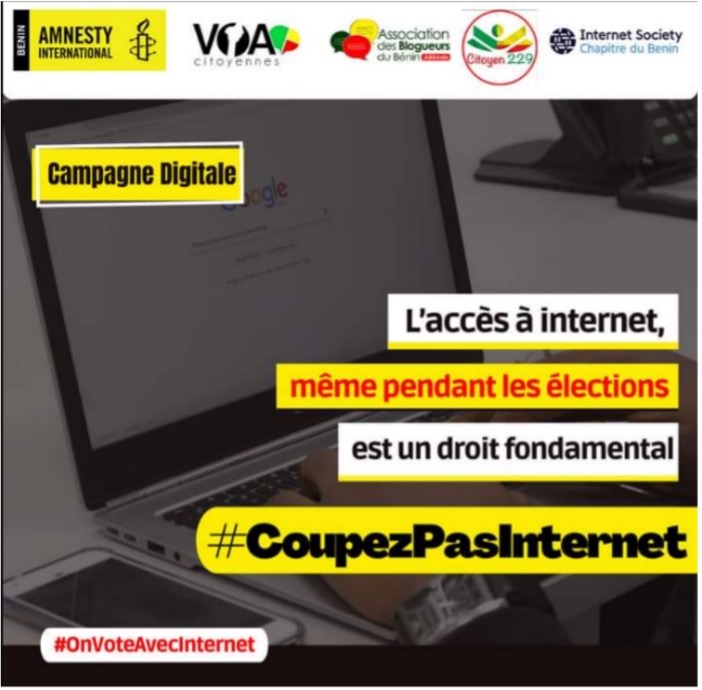 With partners, the Benin Chapter contacted local media and posted social media messages with the #CoupezPasInternet (#DontCutInternet) hashtag, which were magnified by posts and shares from at least 30 bloggers and partners.
Then, on 8 April, they published the open letter and publicized it with a Facebook live conference and Tweetup, garnering international media coverage.
The open letter condemns Internet shutdowns as "an obstacle to growth because they have an immediate financial impact on the national economy. An Internet shutdown in Benin would cause a loss of around 918 million CFA francs per day" – roughly US$ 1.7 million in economic losses per day. It warns that shutdowns can adversely affect global connectivity, international relations, and long-term investments, and hamper the work of health services amid a pandemic.
Access Now also emailed their version of the open letter to government contacts and Internet service-providers.
Surrounding the elections, the Benin Chapter used various tools to monitor Internet traffic and connectivity – such as the Internet Outage Detection and Analysis tool, development of which was supported by the Internet Society – and were pleased to see no disruptions.
"International pressure can be a big problem for the Government. It has a huge impact," says Adjaho. "Personally, I think what we did made them stop [and take notice]. We focused on the economic consequences of a cut. The Government is pushing economic reforms… and I think they realized that if they shut down the Internet this time, it would have been disastrous."
Whether the campaign was directly responsible for the uninterrupted Internet access is difficult to prove, admits Felicia Fauzia Anthonio, #KeepItOn Lead with Access Now.
"Having made those engagements and having the Government kind of listen to us, was an important outcome," she says. "But I cannot confirm this with any concrete evidence from the government side, as unfortunately we didn't get any feedback from the authorities. However, some of our partners called me on the day of the elections to say that they strongly believe that the letter had an impact."
Adjaho adds that even if the campaign directly influenced the government's decision, it's unlikely they would admit it publicly.
"Here, people are very sensitive in the political world. It's a little tricky but we stayed our course because we needed to go all the way. We do our best to stay within the Digital Code [law]. We don't say biased things. We are not political. We are impartial. But we have a cause to defend."
Shutting down the Internet can also have both short and long-term effects on the economy. According to Hanna Kreitem, Internet Society's Technical Expert for the Middle East and the Pulse Platform Internet Disruptions Observer, that's something governments don't always take into account.
"We were pleased to see that the Benin government did not shut down the Internet during the recent elections back in April," says Kreitem. "Every government needs to understand that Internet shutdowns hinder economic growth because they have an immediate financial impact on the national economy. Denying people and businesses Internet access also erodes the trust that Internet infrastructure will be available, stable, and reliable whenever they need it. Long-term economic growth cannot be achieved in today's world without reliable Internet access."
According to Amnesty International Benin Executive Director Dieudonné Dagbeto, human rights education is essential alongside advocacy, "to educate the authorities as well as the general public. … When the ISOC Chapter approached us, we were happy… we are stronger when we work together."
Amnesty Benin alone garnered nearly 13,000 views and high engagement on their social media platforms. Dagbeto says they know the Government got the message because on 8 April a journalist cited their campaign when asking the Minister of Communications if the Internet would be cut, and he reassured that it would not.
The Internet Society Chad Chapter equally advocated to prevent a shutdown around their elections, also on 11 April, posting on social media about the negative economic impacts of Internet shutdowns in days prior. And, on 12 April, they published a Facebook post thanking the Government for keeping the Internet on, while urging it to maintain total Internet access during the upcoming local and legislative elections.
"These proactive actions seem to have paid off in Benin and Chad," says Victor Ndonnang, Internet Society's Community Engagement Manager for Africa. "It shows how Internet Society chapters can work with their local communities and take action on the Internet-related matters that affect their lives."
---
Image by Gavin Allanwood via Unsplash