In August 2019, the Internet Society supported the Mutually Agreed Norms for Routing Security (MANRS) initiative by creating a platform to visualize its members' routing security data from around the globe. The MANRS Observatory's interactive dashboard allows networks to check their progress in improving their routing security.
Last week, we updated some key features of the MANRS Observatory guided by member feedback. Below we share a summary of those changes.
Please note, detailed statistics and reports for specific networks are only available to MANRS participants. Your organization can become an MANRS member for free, and join a global group of people committed to making the Internet safer for us all. Find out how.
MANRS Observatory 3.0.1: Latest updates
Shorter reporting cycle
Improved favorite functionality
Access to RIPEstat widget
Change to how we round numbers
1. Shorter reporting cycle
Previously the MANRS Observatory provided status report updates up to 31 days after members' had added their latest figures. While this wasn't a real problem when looking at general trends, it was an issue for network operators who use the platform to check their network conformance. It was also an issue for the MANRS team, as we use it to evaluate applications from new participants.
Now, updated figures are visible the day after they are added. This means members' efforts to improve their networks' MANRS readiness are now quickly rewarded with visibly higher scores recorded in the Observatory.
Read more about the benefits of this change in the full MANRS update.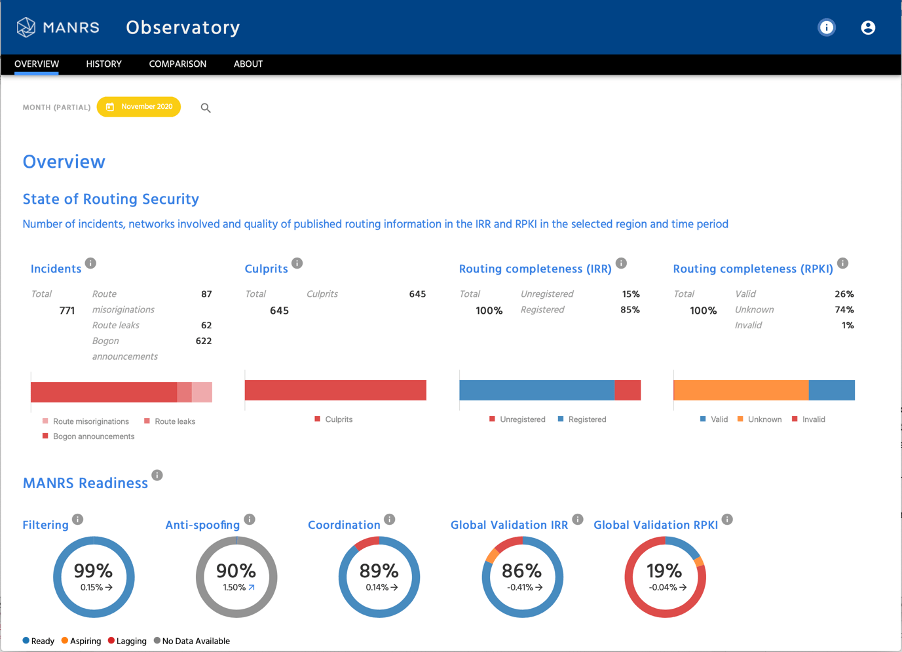 2. Improved favorites functionality
We've updated the favorites functionality so it's easier to search for a network whose data is stored in the Observatory. Previously, if you wanted to create a favorite, you needed to enter autonomous system numbers manually. Now you can do so by pasting the list in the dialogue box, or by simply uploading it from a file.
That means, if you look after an Internet Exchange Point (IXP), for example, you can use the function to monitor the level of MANRS conformance of your members.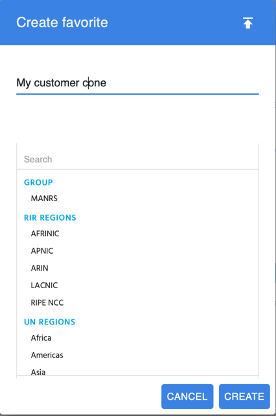 3. Access to RIPEstat widget
The MANRS Observatory allows members to see detailed issue reports for the networks in which they operate. For example, you can see which prefixes still need to be registered in the Internet Routing Registry (IRR).
To avoid including potentially large lists, we don't display the prefixes that are missing a corresponding route origin authorization (ROA) registration.
The average adoption of resource public key infrastructure (RPKI) is about 25% globally, and RPKI registration is a recommended but optional MANRS action. That means, for some networks, the whole list of its announced prefixes needs to be presented, which may not be practical. To address this issue, we now provide a direct link to the RIPEstat widget, where users can review relevant data.
4. Change to how we round numbers
The MANRS Observatory rounds scores to whole numbers – we don't use decimal points. Some users told us this was confusing. They wondered why their network was 0% ready, when some of the prefixes were already registered. Or, why the Observatory pointed to missing registrations, when their score was 100%.
To make things clearer, we now round down to 99% when things are not quite 100%, and round up to 1% when they're not completely 0%. It's not scientifically precise, but we think it will help motivate more networks to get better scores – and better routing security for everyone.
Find out more details about the latest changes to MANRS Observatory version 3.0.1.
We hope these changes will lead to an improved user experience for our members around the world. If you're an MANRS Observatory user and have further feedback, please don't hesitate to get in touch – email us at [email protected].
How can you get involved?
If you're interested in becoming part of a global initiative that aims to improve global routing security, find out more about MANRS and how you can join us.
---
Image by Jason Leung via Unsplash