The Internet is changing. Consolidation in the Internet economy, the topic of the Global Internet Report 2019, might be the source of ongoing shifts in its underlying infrastructure and the way users engage, among many other things.
Clearly, the growing presence of big Internet platforms can benefit the user by offering seamless Internet experiences, but it could also harm innovation, competition, and the Internet's broader architecture, says the report, which marks the start of the Internet Society's efforts to examine this issue.
The Internet in Asia-Pacific is no exception. A few corporations – including Facebook and Tencent in social networking, Google and Baidu in search, and Amazon and Alibaba in online shopping – dominate large parts of the Internet, benefitting people while raising similar questions about what it means for the Internet's fundamental properties.
This year's Survey on Policy Issues in Asia-Pacific, released today, helps deepen our understanding of the role that corporations play in shaping Internet use and user experience in the region and how they may impact future innovation on the Internet.
More than 1,300 people from 39 economies in the region took our online survey when we opened it to the public in July.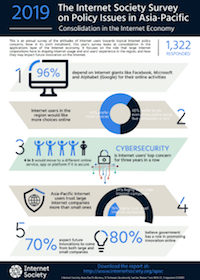 The results show a big majority of Internet users in APAC are heavy users of the products of companies like Facebook, Microsoft, and Alphabet (Google), and that almost all respondents depend in some way on their offerings for most of their online activities.
Almost half of the respondents say it will be either difficult or very difficult to find replacements for those products.
The respondents are concerned about security. They ranked it as their top concern when they choose an online service, followed by how easy it is to use and if it is free of charge.
In general, they have more trust in big companies than small ones. Yet, they expect future innovations on the Internet to come from not only big companies, but also new and emerging firms.
The survey shows that digital consolidation involves a complex set of issues. It helps inform us as we continue to delve deep into the topic of consolidation from different perspectives.
Thank you to many of you who took part in the survey. Please continue to share your views with us on our website or social media.
Read the full report and look back at past surveys: 2014, 2015, 2016, 2017, and 2018.