If you follow the IPv6 Maintenance (6man) Working Group of the Internet Engineering Task Force (IETF), you may have noticed the 300+ message email thread on an Internet Draft that was recently published on the "Reaction of Stateless Address Autoconfiguration (SLAAC) to Renumbering Events". This was prompted by the experiences of developing Best Current Operational Practice on IPv6 prefix assignment for end-users, an activity led by ISOC's Jan Žorž and published as ripe-690.
SLAAC is used to automatically assign an IPv6 address to a host, but there are a number of scenario where hosts may end up using stale configuration information and thereby leading to interoperability problems.
For example, a typical IPv6 deployment scenario is when a CPE (Customer Premises Equipment) router requests an IPv6 prefix to an ISP via DHCPv6-PD, and advertises a sub-prefix of the leased prefix on the LAN-side via SLAAC.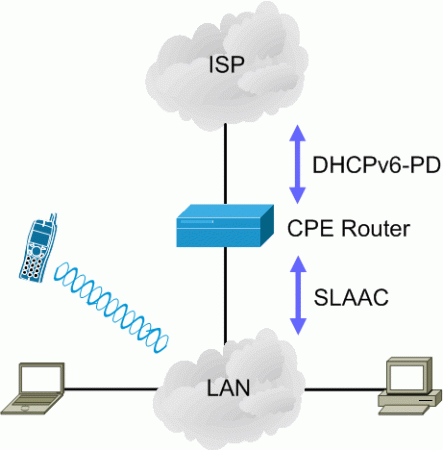 In such scenarios, if the CPE router crashes and reboots, it may lose all information about the previously leased prefix. Upon reboot, the CPE router may be leased a new prefix that will result in a new sub-prefix being advertised on the LAN-side of the CPE router. As a result, hosts will normally configure addresses for the newly-advertised prefix, but will normally also keep (and use) the previously-configured (and now stale!) IPv6 addresses, leading to interoperability problems.
ripe-690 had tried to address this problem by recommending that operators lease stable IPv6 prefixes to CPE routers, but for various reasons, ISP may not be able or willing to do this, and may instead lease dynamic prefixes. In fact, a recent survey of ISPs indicates that 37% of the surveyed ISPs lease dynamic IPv6 prefixes to their customers, as opposed to the stable prefixes recommended by ripe-690.
Most of the input on the 6man mailing list fell into one of the following camps:
"ISPs should be leasing stable prefixes — if they don't, they are asking for trouble!"
"CPE routers should record leased prefixes on stable storage, such that they can deprecate such prefixes upon restart — if they don't, they are asking for trouble!"
"No matter whose fault is this (if there is any single party to blame in the first place), we should improve the robustness of IPv6 deployments"
This Internet Draft therefore tries to improve the current state of affairs through the following improvements:
Allow hosts to gracefully recover from stale network configuration information — i.e. detect and discard stale network configuration information.
Have SLAAC routers employ more appropriate timers, such that information is phased-out in a timelier manner; unless it is actively refreshed by Router Advertisement messages.
Specify the interaction between DHCPv6-PD and SLAAC — which was rather under-specified.
Require CPE routers to store leased prefixes on stable storage, and deprecate stale prefixes (if necessary) upon restart.
Based on the mailing list discussions, there would seem to be consensus this is a problem that needs to be addressed by the 6man Working Group.
The topic is therefore likely to be on the working group agenda at the IETF 104 Meeting at the end of this month in Prague, Czech Republic. So if you're a network operator, vendor or otherwise have operational experience of this issue, you're strongly encouraged to contribute to the discussion.
Further Information