Dustin Phillips, Co-Executive Director of ICANNWiki, is traveling across the United States in his red Toyota Corolla, making connections with the people who are making their communities – and the Internet – a better place. First stop: Portland, Oregon, where attended the ICANNWiki's Girls in ICT Day Edit-a-thon and met up with Hack Oregon.
On the first day of the Internet Community Road Trip, I headed down to Portland for ICANNWiki's Girls in ICT Day Edit-a-thon. Making this my first stop was particularly special for me, because it is where I was introduced to the world of Internet governance three years ago. In my time at ICANNNWiki, I've experienced the important role that collaborative resources and tools play in the bottom-up, community-driven processes that keep the Internet free and global. At ICANNWiki, we focus on providing capacity-development, an informative resource and a sense of community. We build community by capturing and promoting the work that is being done, in order to provide well-deserved recognition and increase awareness for what is happening in the Internet governance ecosystem.
The stop in Portland focused on increasing the recognition for the role of women in the Internet's history as planned, but also included an introduction to a great initiative called Hack Oregon, demonstrating the value and importance of increasing awareness for the work that is happening within Internet Communities.
ICANNWIki Edit-a-thon: Girls in ICT Day Edition
At ICANNWiki, we also focus on historical contexts of the Internet, the Domain Name System, and ICANN. Unfortunately, recognition for women has been lacking, especially in technological developments, from the ENIAC Programmers, to those who have made major contributions to the Internet. Our event was inspired by Interet Society's initiative to increase the visibility of Women on Wikipedia.
Jackie Treiber, the coordinator and facilitator of the event, kicked it off by providing a brief explanation of the initiative, which was followed by Franny Corry, a PhD candidate at the University of Southern California. Corry spoke about her work, which focuses on digital pasts and Women in Internet History. She highlighted the use of gendered language (Fathers, Wizards, etc.) to reference the founders of the Internet and the omission of women's roles in both mainstream and academic accounts of the Internet's history. She mentioned that there is at least one major historical account that doesn't even go as far to mention a single woman or a single feminine pronoun. However, Franny mentioned that we are starting to see this change across the board, from the work of ICANNWiki (where you'll find the best account of Joyce Reynolds) to the new book, Broad Band: The Untold Story of the Women Who Made the Internet.
After Corry's presentation, I discussed how Wikipedia's Notability Guidelines perpetuate the underrepresentation of women in historical accounts. These require "significant coverage in reliable sources that are independent of the subject" in order to justify a standalone article. I used this as an example of why a subject-specific resource like ICANNWiki is so valuable, even though we still have a lot of work to do.
Following my presentation, Jackie described ICANNWiki's work with TechChix Tz on the Arusha Women's School of Internet Governance and the past work that highlights the women who have been movers and shakers in the Internet tech and policy worlds – including veterans and those considered part of the next generation.
Then, we launched into the Edit-a-thon where Treiber provided an editing tutorial and the participants got to editing!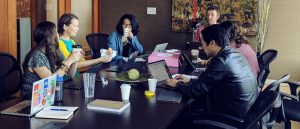 Left to right: Elise Ferguson, Jackie Treiber, Summer Zhou Fang, Sam Torrey, Nikki Rodriguez, and Ray King at the Edit-a-thon
Hack Oregon
As I was getting ready to drive south on my journey, I was introduced to a locally grown initiative called Hack Oregon. Out of a stroke of good fortune, I was able to meet with the Founder and Executive Director, Catherine Nikolovski, to learn more about the project's mission to "promote engagement, awareness, and quality of life" through open data and its community-powered, volunteer-driven approach.
The project brings together multidisciplinary teams of volunteers to build projects using public data to analyze different issue areas. Over approximately six years since Hack Oregon's got its start in a Portland business's basement, its various teams have developed a number of open source, data-driven projects around issues including minimum wage and graduation rates. Currently, its project teams are focused on:
Disaster Resilience
Transportation Systems
Housing Affordabilty
Local Elections
Neighborhood Development
Catherine told me about Hack Oregon's growth and movement toward standardization across its projects, which prompted the development of a platform for robust data systems, visualization and open data standards for its large scale, volunteer-driven projects. On June 21, the CIVIC Platform will launch at the Global Tech Jam in Portland, OR. This new platform is a big step for Hack Oregon and could be a major step for the utility of civic data on a wider scale. The open source platform will be available for communities at large to leverage vast amounts of public data available to engage the public and make informed decisions.
During our conversation, I was thinking about all of the communities that should know about the CIVIC Platform and all of the other great organizations that Hack Oregon could benefit from collaborating with. That is what the Internet Community Road Trip is all about and why the Internet Communities Wiki has so much potential. There are everyday heroes across the world making the Internet and their communities better and this work needs to be illuminated. In doing so, we can enhance collaboration and share experiences and best practices across our communities.
To see how the Internet Communities Wiki is seeking to enhance awareness and collaboration, check out the beginning of our portal on Smart Cities and Connected Communities.
Special thanks to Jackie Treiber, Co-Executive Director of ICANNWiki, for her work in coordinating the Edit-a-thon and her contribution to the subsequent report posted in this blog.
Learn about Internet Governance and why every voice matters, then join SIG Women to ensure that everyone has a role in shaping the Internet!