Colegio Técnico National (CTN) of Asunción is one of the top schools in Paraguay offering the technical baccalaureate. It was created by the country's Ministry of Education and Science in 1980. The school is attended by more than 1,500 students from the capital city and from nearby towns like Luque, Fernando de la Mora, San Lorenzo, Lambaré, and Capiatá.
As with most of Paraguayan state schools, the CTN does not have the right infrastructure for an appropriate development of modern education. The little equipment owned by the CTN, donated more than 25 years ago by private or charitable institutions, are today too obsolete. Classes do not have any type of interactive material due to the lack of an Internet connection, equipped laboratories, and modern computers. A new project lead by the Paraguay Chapter and supported by the Internet Society Beyond the Net Funding Programme will provide the school with Internet access and set up a high-tech electronics lab to ensure a quality environment for the development of innovative solutions based on robotics, automation, e-learning systems, and the Internet of Things. 250 students will be trained in the use of online tools. ReVa , a virtual library, will be available to students and used as a primary reference tool. "Thanks to the Internet we have the opportunity to access information as well as seek help in forums and also learn "C" programming" say some pupils from the school, effusively.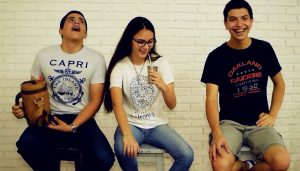 CTN students:  Tomas Aquina, Alana Segovia and Juan Velazquez
The project's aim is to have 450 students in electronics participating with their innovative solutions to national and international competitions. Alana, a young girl wearing a cyber-circuit head t-shirt, explains: "I think that we'll have more opportunities thanks to the new laboratory. There will be more space for curiosity and inventiveness. It will be very exciting to develop the projects that we present every year to Expotecnia, a fair where each student can showcase their own technological solutions."
The installation of a network based on IPv6 will facilitate the adoption of new protocols, in addition to teaching administration and Internet infrastructure. 30 teachers will be trained to educate with technological resources. "Teachers are still reporting activities manually, but soon we'll have a School Management System online", says Informatics Professor Martha Mojoli, "This project will facilitate us to generate greater interest and higher expectation in students while we are guiding them towards innovative learning objectives."
Once the project is closed the costs of ISP, computer maintenance, and payment of salaries to technicians and teachers will be paid by the CTN. In addition, the CTN is committed to receive ISOCpy members from universities to work as facilitators and students coaches.
"We believe that the empowerment of our ICT learning will help us to enrich the digital economy in the future. We hope to be snapped up and working as soon as we finish our studies," one student says, smiling.
Do you have a great idea to make your community better via the Internet? Apply for a Beyond the Net grant, which funds projects up to $30,000 USD.