The Asia Pacific Regional Internet Conference on Operational Technologies (APRICOT) is an annual event that brings together Internet engineers and networking experts, government representatives, Internet business leaders, and other interested parties from around the world to learn from training workshops and tutorials, attend technical presentations, discuss policies, and extend social and professional networks with like-minded peers. This year's event was held in Kathmandu, Nepal from 19-28 February.
The Internet Society Asia-Pacific Bureau has a long-term partnership with APRICOT and proudly sponsors its fellowship program, providing financial support for individuals from developing economies to attend the event, and to contribute to discussions about Internet operations, technologies and development. This year the Internet Society sponsored a total of 13 fellows to APRICOT 2018, split between the technical workshops and the conference week, depending on their areas of interest. 75% of these fellows were females, endorsing our focus to inspire and facilitate the participation of women in the technology sector and to #ShineTheLight!
We had an opportunity to meet some of these fellows, to know more about them and their experience as a fellow.
Athirah Rosli is a Doctoral Researcher at Universiti Utara Malaysia, and also a committee member of the ISOC Malaysia chapter.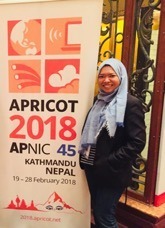 "I fully enjoyed my five-day event that was full of interesting sessions and tutorials. I also get to know more about the current status of IPv6 especially on the deployment and operations of it. Moreover, during this conference, I have a chance to meet other researchers, Internet engineers, networking experts, government representatives and technical staffs around the globe that have mutual concerns and issues regarding the Internet. The experience of attending this conference will become a valuable treasure of memory to be cherished in my life."
Anand Raje is a board member for India Internet Foundation. He is also vice president of the ISOC India Kolkata chapter.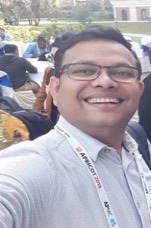 "Receiving this fellowship has been a great experience and it has helped a lot while networking with the community. Sessions on SDN, DDoS, Network Automation, peering forum and others alike were quite interesting and engaging. APRICOT conference is a great place to meet, build new connections and share ideas. In our local community, we are building a model of community Internet Exchange Point (IXP) which is replicable and can be implemented by the community for the community. It has been a great pleasure in meeting fellow network practitioners from the region, thanks to friends from ISOC Nepal Chapter and community leaders for such an awesome hospitality. During the conference week I visited the NPIX, one of the pioneering efforts towards a community driven exchange point.  I would like to suggest to have a fellowship alumni network and one dedicated session for fellows, to share their experiences and guide the newcomers to better mingle with the community and it will become a driving factor which can yield great results in the local community."
Hsu Myat Thwe is from Magway, Myanmar. She is a junior network engineer at a local ISP, and also volunteers for Myanmar Internet Exchange Point (MMIX).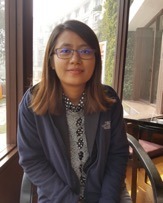 "I decided to attend for Network Management and Monitoring workshop because it reflected my professional experience. By attending this workshop, I had a great knowledge and the key concepts of network management and monitoring. I learned useful network monitoring tools, and also made many friends from other countries. I will share my experience with colleagues, and will encourage engineers from Myanmar to participate in APRICOT workshops."