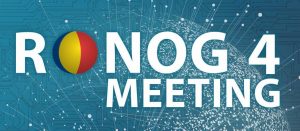 The 4th edition of Romanian NOG (RONOG) is being held today, 31 October 2017, in Bucharest, Romania, and as the largest meeting of Internet technology professionals in Romania it is expecting to hit over 170 attendees.
As specified in the meeting agenda, I'll deliver my talk about NAT64 experiments in the go6lab and also one very useful tool that came out of this testing – NAT64Check. I also have the honour of chairing the the infrastructure session and participating in an IPv6/IOT session.
I'm looking forward to being back in Bucharest and if you happen to be at RONOG4, please come and find me in the hallways as I'm always happy to chat about technology, IPv6, DNSSEC, DANE and everything else that makes our Internet a bit of a better place!
You can also watch the livestream at https://www.youtube.com/channel/UCQXYy-eFfVceadgRVR3sAuQ.