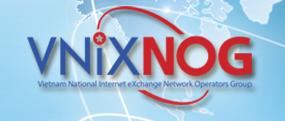 VNNIC, the National Internet Registry (NIR) of Vietnam, organized 2 major events in Ho Chi Minh City. VNNIC IP Member meeting on 24th August at VNNIC HCMC Office and second VNIX-NOG event on 25th August at Saigon Prince Hotel and was attended by our Deploy360 colleague Aftab Siddiqui. NetNam, a local ISP, provided Internet connectivity for the NOG event and did a great job by providing a dual stack IPv4 and IPv6 network.
The first event was for VNNIC IP members where reports were presented and NIR policies discussed, but the NOG event the following day was attended by around 70 people from various organizations including all the major telcos and ISPs in the country, the Internet Society, APNIC, Google and BBIX.
The opening speech was provided by Nguyen Hong Thang – Deputy Director of VNNIC, and a welcome note was added by Vu The Binh – General Secretary of Vietnam Internet Association (VIA) . Presentations from the event are available here, but the emphasis was on local participants to share their experience and local community engagement.
Nguyen Tran Hieu (VNIX) shared some network statistics of the Hanoi and Ho Chi Minh City nodes, which unfortunately showed that most members are not peering with IPv6. This is why IPv6 traffic is negligible (0.1%) at VNIX, whereas the total IPv6 capability as measured by APNIC labs is around 8% for Vietnam.
However, last year VNNIC and Vietnam National IPv6 Task Force announced the National IPv6 Action Plan which should positively impact deployment in coming years. And Truong Quang Dung (VNPT-Net) followed this up by presenting the work that VNPT (the incumbent telco) had been undertaking to deploy IPv6. 1oo% of their mobile network is now IPv6 ready, nearly all of their leased line business, and just over 60% of their broadband subscribers.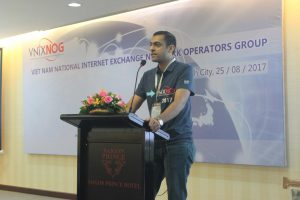 Aftab provided an update on Internet Exchanges and Technology Trends. – where Internet Exchanges were located, which ones were planned, and the move towards open networking.
The whole event was in Vietnamese, but translation service was available for the foreign delegates. Although network manager and engineers in Vietnam can understand and speak functional English, this was a local event and the ability to use their mother language encourages questions and make things more interactive.
The event concluded with a dinner at a local restaurant, and a commitment to bring more participants to VNIX-NOG next year.
Best of luck VNIX-NOG.