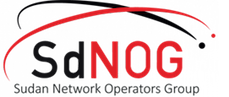 Our colleague Jan Žorž will be presenting at the 4th Sudan Network Operators Group meeting (SdNOG 4) on 16-17 August 2017 in Khartoum, Sudan. This is being preceded by an IPv6 Workshop.
Jan will be talking about his real life experiences with NAT64/DNS64 on the Thursday, which will be followed by an IPv6 Security 101 by Stephan Musa (AfriNIC), and then a talk on Testing IPv6 Firewalls using THC-IPv6 by Mohamed Alhafez (Canar).
Our ISOC Board colleague Walid al-Saqaf will also be presenting the keynote presentation on Blockchain Technology, whilst other Deploy360-relevant topics include presentations on Securing Web Traffic using TLS from Khalid Elmansor (University of Khartoum), and on Web Security from Hiba Alamin (NCTR).
Additionally worth checking out are the IoT presentations on Zigbee and the Unique Identifier System, the SDN session covering OpenFlow and NFV technologies, and overviews of Internet rollout in Sudan.
More Information