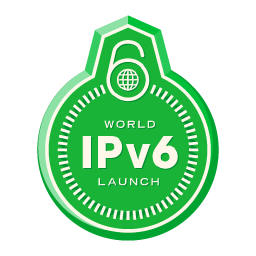 Today marks five years since World IPv6 Launch and today the Internet Society released a new landmark paper on the State of IPv6 Deployment 2017. Sometimes IPv6 deployment seems slow, but it really is moving along nicely and when we  stop to compare then and now we see huge improvements.
From Mat Ford's blog post, the highlights of the paper include:
IPv6 has increased 3000% since the beginning of World IPv6 Launch five years ago.
Deployment is occurring around the globe: Measurements show 37 countries exceed 5% of traffic is IPv6 to major content providers.
Over 25% of the Alexa Top 1000 websites are reachable using IPv6.
Some networks are now IPv6-only internally (e.g. JPNE, T-Mobile USA, SoftBank), and some major networks are now majority-IPv6 (e.g. RelianceJIO, Verizon Wireless, SkyBroadcasting, XS4ALL).
Some organizations are in the process of turning off IPv4 within their networks and/or data centers to reduce network complexity and cost (e.g. T-Mobile, Facebook, LinkedIn).
The Internet Society's core recommendations are to: (a) start now if you haven't already, (b) use established RFP requirements like RIPE-554: Requirements for IPv6 in ICT Equipment, and (c) take advantage of existing IPv6 deployment information including the Internet Society's Deploy360 Program.
There's also already a ITWorld article on the paper including an interview with Fred Baker, Internet Society consultant and author, and Mat Ford, one of our colleagues: http://www.itworld.com/article/3199930/networking/dont-be-left-behind-by-ipv6-deployment-isoc-warns-enterprises.html
We wish all of you a Happy Launchiversary! Where are you on your deployment transition journey? You can visit our main IPv6 Page for all the resources, or use the guided Start Here page to help you. Looking for something specific and can't find it? Let us know!