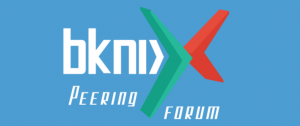 The BKNIX Peering Forum 2017 will be held next week on 15-16 May in Bangkok. Once again the agenda is packed with very interesting talks from various international and local speakers. 143 people have already registered for the event and hopefully, the numbers will rise.
From Deploy360, team member Aftab Siddiqui will present on MANRS (Mutually Agreed Norms for Routing Security) and also an update on the Internet Society's IXP initiative globally. If you are planning to attend the event then don't forget to catch up.
BKNIX Peering Forum (BPF) setting consists of two parts:
Part I: Panel Discussions, Meetings and Seminars by distinguished speakers from multiple regions to deliver valuable talks and exchange experiences in IXP connection and peering, including the Internet service and content services, in order to enhance perspectives and to build business opportunities for participants.

Part II: Business Meeting and Discussion between Participants There were open opportunities for the participants to meet and discuss business matters.
About BKNIX
Bangkok Internet Exchange (BKNIX) was inaugurated in February 2015, after long collaborative efforts by various organisations such as Internet Society, NSRC, IIJ, Google, Nokia/Alcatel-Lucent, Netnod etc.  The neutral Internet Exchange Point was started with the idea that it will add significant social and economic value to Southeast Asia by providing a neutral community IXP, and further drive operational efficiency for Internet service providers (ISPs) and content providers will be able to diversify local and regional peering and data exchange by offering services through BKNIX, allowing wider access and more services to the general public.
After almost a year BKNIX Peering Forum 2016 celebrated the steady growth of BKNIX. It was attended by more than 140 participants from local and international technical community and got good media coverage. BKNIX Peering Forum (BPF) 2016 was a two-day event which was held on 9-10 May 2016 with free registration.
As of today, there are 16 members who are part of the IX and sharing more than 15Gbps of IPv4 traffic and almost 600Mbps of IPv6 traffic.

We are looking forard to BKNIX Peering Forum 2017. Let us know if you'll be there!
We don't have any information that it will be webcast, but video recordings of all the presentations will be uploaded after the event.