BKNIX Peering Forum 2017, as highlighted in our previous blog post, happened last week on 15th and 16th May in Bangkok, Thailand. Here is the brief recap of the whole event, which helped bring the local community together.
Webcast of 15th May can be found here.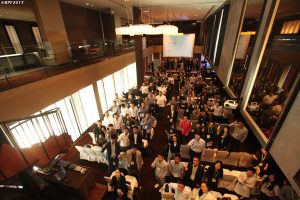 There were more than 160 online registrations for the event and many people watched it online through the live webcast as well.
The event was inaugurated by Dr. Gothom Arya, chairman of the Thailand Network Information Center Foundation (THNICF). In his brief remarks, he highlighted the importance of a neutral internet exchange point in Thailand and how it is affecting the local industry. He thanked all the sponsors and participants.
Next, it was Mr. Takorn Tantasith, Secretary General of National Broadcasting Telecommunication Commission of Thailand (NBTC), a regulatory body. He shared some interesting facts about internet growth in Thailand. By the end of 2016, there were 43 million internet users, a 15% increase over last year. Fixed broadband subscribers were 6.33 million at the end of 2016, with 600,000KM fibre already in place covering 20% of the whole country. He also shared the two main directions of the ministry: auction of additional wireless spectrum and expansion of broadband coverage. By June 2018, over 70,000 villages will get broadband access. Around 30,000 villages are already covered by the private sector as of today; the remaining 40,000 will be covered by the budget from Ministry of Digital Economy and NBTC.
The keynote address was delivered by Andrew Sullivan, a former chair of the Internet Architecture Board (IAB) currently working at Oracle-Dyn. The presentation is available here and on the webcast, his talk starts at [50:10]. He shared some insightful details of the two major DDoS attacks faced by Dyn and how they managed to recover from them. He also gave some good advice to the community, asking them to collaborate more and keep communication channels open.
Dion Leung, VP of Business Development at Coriant shared his views on the latest trends in Data Center Interconnect (DCI) market and also shared his company's product line.
Aftab Siddiqui from Deploy360 presented the IX Update and highlighted the various steps Internet Society has taken in last few years to support the development of internet exchange points in the world. Webcast starts from [3:14:00].
Martin Levy from Cloudflare presented an overview of Cloudflare's network, its global and local peering policies, the building of its local Thailand site and also shared some very interesting details of their IPv6 switch and how Cloudflare turned it on by default and how it impacted IPv6 traffic globally. His presentation is available here and his talks start at [4:52:00] on the webcast.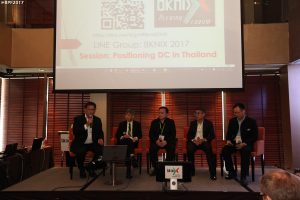 The last session of the day was a panel discussion on the topic of Data Center in Thailand. Moderated by Dr. Jesada Sivaraks (Secretary of Vice Chairman of NBTC), panelists included Prasong Ruangsirikulchai (Senior VP of 1-to-all, former VP of Telecommunication of Thailand Association), Dr. Adisak Srinakarin (Executive Vice President of Electronic Government Agency, Thailand), Tuang Cheevatadavirut (Member of International Data Corporation – IDC Thailand) and Charlie Chairatanatrai (GM Interlink Data Centre). The important highlight if this session was the presentation of Dr. Adisak on Thailand Digital Government Development Plan (2017-2021). The panel discussion lasted for more than two hours and was very informative. Webcast starts from [6:07:00].
Webcast of 16th May can be found here.
The first session of the second day was from Andy Davidson (Asteroid, LONAP). He presented BGP Traffic Engineering while sharing his experience of using different tools and techniques to measure traffic, how to manage capacity demands, ensure the quality of service to end users, recover from failures, decide when to peer and with whom, and how to make a sensible and calculated decision.
Walt Wollny from Hurricane Electric presented the BGP Tool Kit from HE [bgp.he.net] and how it can be used to get the right information. His webcast starts at [1:01:00].
Fakrul Alam from APNIC shared his experience on various community tools to fight against DDoS attacks such as putting the right bogon filters, having a good view of your network traffic through flow sonar and how to getting traffic scrubbing services to remove unwanted traffic. His webcast starts from [2:22:00].
Aftab Siddiqui from Deploy360 presented the MANRS initiative (Mutually Agreed Norms for Routing Security). He also shared the data for Thailand from CAIDA's Spoofer project and highlighted the spoofed prefixes coming out of Thailand and also presented the list of bogus prefixes and ASNs generating from Thailand from CIDR Report. Webcast of this presentation starts at [2:40:00].


Dr. Philip Smith chaired a panel discussion on "Peering Tools and Best Practices" with panelists Che-Hoo Cheng (APNIC), Martin Levy (Cloudflare), Sokvantha Youk (TelcoTech), Kittinan Sriprasert (BKNIX), and Johnathan Lee (TIME). Webcast for this panel discussion starts at [4:31:00].
Somchai Treerattananukool from Symphony (also part of the MCT management committee) presented the "Submarine cable expansion in Asia". He shared some interesting statistics about Thailand internet growth and forecast. As per the stats from NECTEC the current bandwidth usage of Thailand is around 2.5Tbps and increasing 40% every year. Thailand is using 44% of internet capacity from Singapore hub and 28% from Malaysia hub, while the capacity is increasing on Malaysian hub. He shared the update about the MCT Submarine Cable (Malaysia, Thailand, Cambodia) and others in the pipeline. Webcast for this presentation starts at [6:48:00].
Finally, there was a presentation from Kohei Kitade of NTT Communications about "internet traffic expansion and submarine cables" where he shared the status of various submarine cable systems in the region.
It was a wonderful event, full of informative sessions and time to meet with industry leaders. We hope to see a larger crowd at BKNIX Peering Forum 2018.