India is an interesting country when it comes to Internet access.
On the one hand, India has the second most Internet subscribers in the world. There are over 450 million people online here. On the other hand, we also have the largest number of unconnected people. Only about 35 percent of our population is online, including more than 70 percent of women. Between 70 and 80 percent of our landmass isn't connected, including most rural parts of the country. So we have a severe problem when it comes to connectivity.
I helped found the Digital Empowerment Foundation about 20 years ago, with the aim of fixing these connectivity problems. Our goal is to overcome information poverty and make the Internet accessible to the remotest part of the country, for the poorest of the poor.
One of the core problems is a lack of last mile infrastructure. The "last mile" refers to the final leg of the network, the one that delivers the Internet to people's homes and businesses. Telecom companies here have been reluctant to invest in the last mile in rural areas because it doesn't make sense for them as an investment. They say the cost is higher than the return. That's often where we come in.
There are certain bands of wireless spectrum that are unlicensed, which means anyone can use them for community networks. By using unlicensed spectrum, we've managed to bring the Internet into telecom dark areas. If you build a tall enough relay tower, you can easily get a line of sight that will allow the signal to carry for up to 40 kilometres. And you can set up a series of these towers. That's how we build networks. We started in 2010 when we first started partnering with ISOC. It began with a pilot program in a handful of communities. Now, we're in over 100 communities, and we're still growing.
What's amazing, though, is how the network gets built and maintained. Over the years, we've trained hundreds of people to become what we call barefoot network engineers. These are regular people in rural villages, often without much formal education, who we train to be network engineers. With ISOC's help, we've developed a multi-lingual kit and guidebook that explains the technology and equipment at a literacy level that works for them. So local people can maintain and troubleshoot the network themselves. And this is tremendously empowering, not only for the individuals we train but for the whole community.
The access itself gives people a tremendous sense of liberty. Suddenly, they can access government programs, which used to be controlled by middlemen. They can run their own business. They can buy things at better prices. They can access doctors through telemedicine. They can access education. Because it's a broadband connection, they can do video conferencing, which has an enormous appeal to people who might not have high levels of literacy. Also, they use it for entertainment. That's important, too.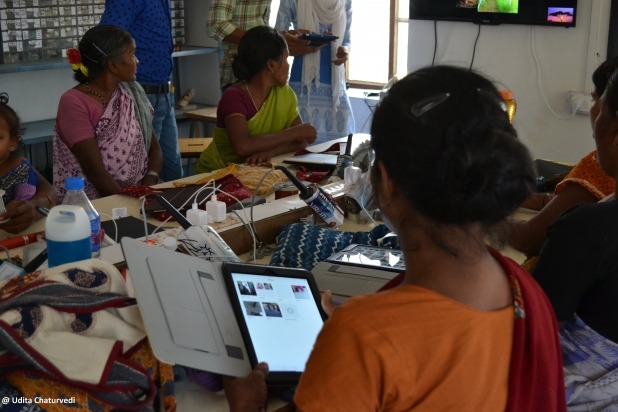 The biggest achievement is that people aren't just acting as a consumer of information, but they're talking to each other. They're sharing knowledge. They're talking about their rights, about access to services, about democracy. You see it the most with the women in the community. India is still a very patriarchal society, but in our programs, women play a key role. In many of these communities, the men have to migrate to other parts of the country for work, but the women usually stay put. As a result, they're often in charge of the community access points and the computers themselves. They're the keepers of the information, and having that role gives them more leverage to make decisions in their households and communities.
Community networks are one of the most viable, available technology-based solutions for last-mile access to underserved communities. What we've been doing in India could become a prototype or a scaleable model for connectivity all over the world. But right now, it's still seen as a novel idea, not something that could be rolled out on a large scale. Organizations like ours need to work with each other, as well as with larger organizations like ISOC, to advocate for community networks to become a global, mainstream phenomenon. Because when you connect these communities, amazing things happen. I've seen it first-hand.
Impressed by Osama's story? Tell your local policy maker. Share this and the Policy Framework for an Enabling Internet Access and help make access possible. Keep watching our blog throughout the week for our Community Networking Series.