Beyond the Net Journal: Armenia Chapter #2 Episode
A conversation with the manager of the "Culture House of the Blinds" unravels the mystery of the chess game, seen as the golden key that opens any door. Thankfully the Internet boosted the chess virus at a point that the benefits are within everybody's reach.
In the previous episode we shared the pleasure we had in meeting the amazing team from Yerevan. We learnt how they created the Internet Availability Center which led to the idea of an Internet Radio. This latest project received funding from Internet Society newest grant programme  "Beyond the Net Funding programme".
Оn March 14th, the first recording took place at the Internet Radio located in the Culture House of the Blinds. Yura Avetisyan, their visually impaired director, talked about chess game and its role in the lives of people with different abilities.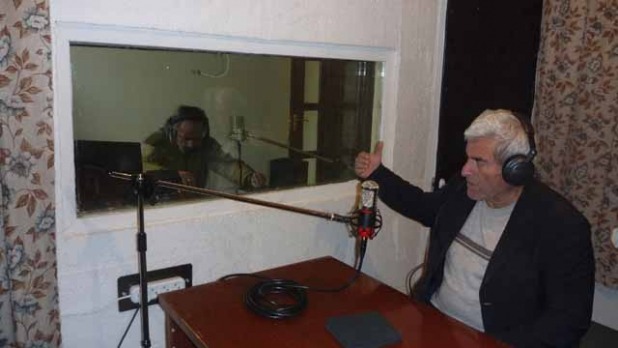 I had the opportunity to interview Yura Avetisyan and I found out he is one of the best chess players in his country with a national rating of 2.475. In this interview, he explains how the chess game changed his life helping to overcome disability and training his memory to the point that he can memorize 200.000 pages of poetry. He discusses how the Internet boosted this game so that its incredible powers are now available to a global audience.
Q: "Yura, you are a talented poet, a fine musician and also a master of blind chess. Every day you offer your talents to the community to help others. Many of them feel blindness as being in prison; they play a game against themselves. Chess positively impacts on mental and social development. How can this game persuade visually impaired people that they are talented enough to be everything they want?"
A: "This is a philosophical question and if we manage to respond it will be useful for many people. Chess is one of the most ancient games in the history. It's a master of life, especially for invalids and visually impaired. The chess teaches you to find the best outcome in critical situations. It can give you everything you need in real life. The chess is the golden key that allows you to open any door. My visual problems started late, and I had never supposed that chess would play such a crucial role in my life. When I lost my sight, I was concentrated on the difficulties, and I couldn't even imagine how to study, to work, to live a normal life. But one day a blind person approached me and said "Brother, don't hide your disability, be natural. I am blind, and I want to show you where I am working. You will regain your lost confidence there." I followed him and met blinds and other disabled people, footless, armless… they were playing chess and music. At this point, I told myself I had to come out of my pessimistic state. I joined their team, and little by little the chess brought me out of the darkness. I became a grandmaster of chess, I graduated with honors from the University and created my family. I can play 13 musical instruments. Today I manage the Culture House of the Blinds, where I share my experience to help people breaking the barrier of their disability. Some of my chess students have really good ratings and titles of international masters."
Q:"The digital revolution has affected this 1.500 years old game in several ways. Chess playing software is helping people to become stronger players faster. But unlike video games, where real life actions are involved, chess is the same online as over the board. So how is the game evolving thanks to the Internet, and how is it opening new opportunities?"
A: "The Internet is a fantastic thing for chess. It is allowing lots of people to get into it in a way they would have never imagined. Before Armenia became independent, the game was isolated in community centers, church halls, and newspapers back pages. Now all the treasures of chess are stored into a computer, and you can play online with or without a partner. You can teach using Skype, both individually and in groups… at any level.  As a chess trainer, I think the game should be taught showing people that it's not only theory but tightly linked with real life. I want my students to love chess, to understand its benefits and to take advantage of them. The Internet makes it easier. We have the whole world at our fingertips; I like this feeling."
Q: "Talking about the hidden secrets of this intellectual game, I think you are the best person to answer this question: can blind chess be learned or is it a natural skill? Sighted people call it blindfold chess."
A: "I can also play the blind chess, and this kind of game differs completely from the visual one. It's a skill everybody can learn with a lot of practice. Having always a clear vision of the board and properly update the overall position on the board after every move is a strong memory work! This allowed me to train my brain into storing a huge amount of information to a point that I was able to memorize 200.000 pages of poetry from antique to contemporary times. For this reason, I was invited to participate to "Hidden talents" a TV show.  When they started reading random pages from Byron, Ronsard, Pushkin, Anacreon, Lamartine, Chénier, Goethe and many others. I could follow up declaiming the rest of the poem. It was a skill given to me by chess."
Q: "Alfred Binet, the French psychologist, discovered that people who can play blindfold chess are not seeing in their mind a photographic representation of the position, but are relying on their abstract understanding of the patterns of how pieces move and control the board. According to neuroscientists, playing chess may alter the structure of the brain. It's like a superglue holding chunks of information. Chess has also shown to yield some cognitive benefits in children and elderly alike.
A:"Yes we are living in incredible times! Neuroscientific research is contributing to the understanding of the brain and helping us to improve our learning. On the other hand, the Internet is giving us the access to all information. This can lead to so many benefits. And think about how much chess can give to us. I can't imagine my life without chess. I couldn't achieve anything or write wise and profound verses without chess. Without the knowledge of chess secrets, I couldn't be a musician and understand music. This game is a golden key that opens multiple closed doors and help you reach everything behind. This is the role of chess in my life, and I'm sure it can be a master of life for any person."
Share this story
If you like this story, please share it with your friends. That would tremendously help in spreading the word and raising the visibility of this project. Help more people understand how the Internet can change lives.
Do you have a great idea? We are interested in your project.
We are looking for new ideas from people all over the world on how to make your community better using the Internet. Internet Society "Beyond the Net Funding Programme" funds projects up to $ 30.000 USD.
Find out More
Beyond the Net Funding Programme
Register for the Information Sessions
Watch the movie "My Voice Counts!"