Beyond the Net Journal:
Guatemala Chapter #1 Episode
The funding from "Beyond the Net" provides free Internet and computing services to Mayan students who would otherwise have to pay to complete their homework.
San Marcos la Laguna, on the western shore of Lago Atitlán in the Sololá Department of Guatemala, is a rural village of approximately 3.500 indigenous Mayans, most subsisting on agriculture and tourism. There are too few textbooks in elementary and secondary schools for students. Teachers subsidize classroom resources by assigning homework to students requiring internet research and printing.  The Internet Cafes in the village center are unattainable as 40% of the local population lives on $1.25 per day. Very few students own computers, have internet access, or can pay enough to complete the assignments.
Building on a program already established by the All Together Foundation Konojel.org, the Beyond the Net funding program provides the means to implement a community computer center with substantial Internet access, more computers, and laser printing and scanning. Mayan students are taught computer skills and are allowed to use computers to complete their school assignments, without placing the financial burden on their households.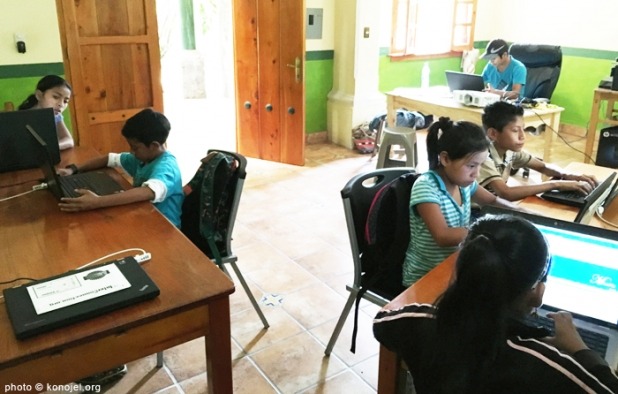 New students must sign an agreement to abide by CCC rules. To date there are 162 signees. Students who are computer-literate are allowed immediate access to the equipment. Students without computer skills are taught basic skills in a course given once weekly and then allowed to use the equipment. About 25 students come by daily to do assignments, with more students arriving all the time.  Students are encouraged to ask questions of the onsite staff.
A small number of pupils are taught more in-depth computer skills, with an eye towards employment. A 120 hour curriculum covering web browsing, social networking, duolingo, search engines, YouTube, advanced Word & Excel, image creation and manipulation, file systems, utilities and PII security was created by Helder Chiyal Mejia. Helder is trilingual, speaking the local Mayan dialect of Kaq'chikel, Spanish, and English.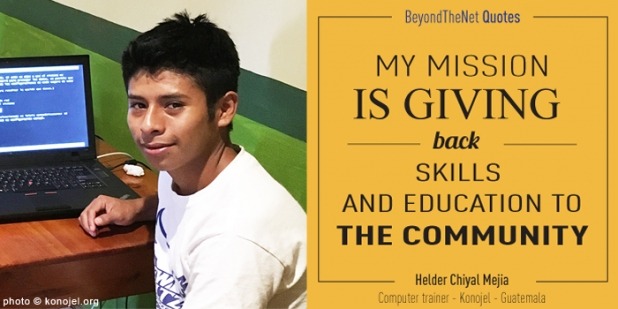 Our student Angelina shared her story about selling more baked goods to tourists after some lessons with duolingo. Cecilia and Morelia want to become Doctors and are using the computer center to look for scholarships.
Recently, thanks to the donation of Carlos Funk of Blind Lemon's, The Community Computer Center has outgrown its original site and moved to a larger space, and can now accommodate more students for extended hours.
We will continue to expand this program. Teaming up with the Guatemala Chapter will pave the road for the next big step, the design of an IXP to modernize the Internet for all Chapin.
This project is benefiting the community through:
Free Internet access in a supervised setting with computers, tablets and printers
• Tech assistance to introduce brand new users to computers and the Internet
• A clean space to do homework assignments (otherwise indigenous Mayan children would have to pay for access – or not do the assignment, the more common practice)
Watch Helder teaching to Konojel children
Share this story
If you like this story please share it with your friends. That would tremendously help in spreading the word and raising the visibility of this project. Help more people understand how the Internet can change lives.
Do you have a great idea?
We are interested in your project.We are looking for new ideas from people all over the world on how to make your community better using the Internet. Internet Society "Beyond the Net Funding Programme" funds projects up to $ 30.000 USD.
Find out more
Beyond the Net Funding Programme
Register for the Information Sessions