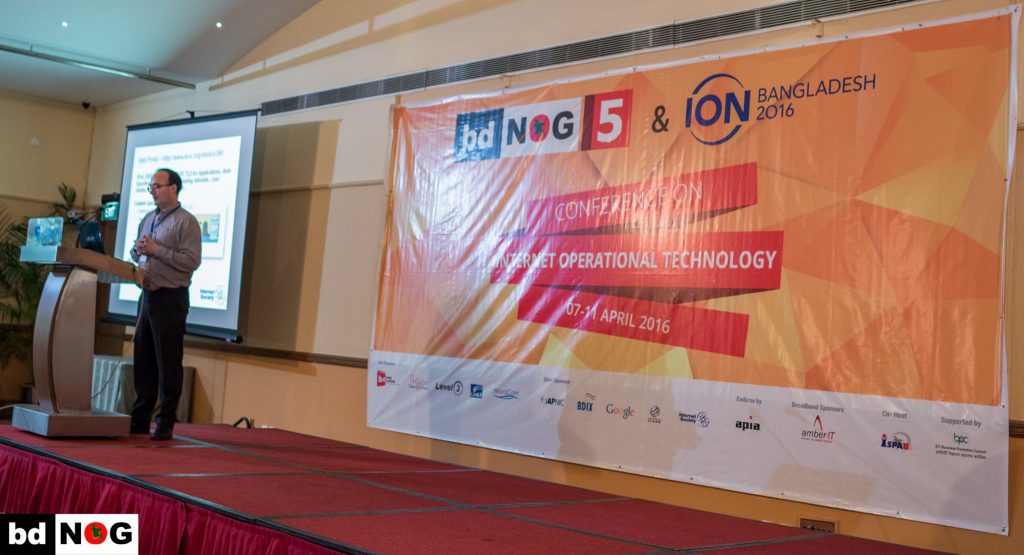 The Deploy360 team has just completed a couple of hectic weeks that included our ION Conference in Bangladesh, participating in SEE 5 in Albania, before Jan headed off to SEEDIG in Serbia. The ION Conference was organised jointly with bdNOG 5 on 11 April 2016 at the Lakeshore Hotel in Dhaka, and attracted a very high turnout of 152 participants. This had been preceded by three days of technical training provided by bdNOG and APNIC.
Kevin Meynell opened the event with a overview of the Deploy360 programme, followed by a welcome from Professor Shabbir Ahmed, President of the ISOC Bangladesh Dhaka Chapter.
Jahangir Hossain (ISOC Bangladesh Dhaka) then explained Secure BGP and reported on RPKI adoption in Bangladesh. There were currently 2,079 advertised IP prefixes in Bangladesh, of  which 97 had Route Origin Authorisations (ROAs) accounting for 4.67% of the total. Unfortunately, 26 of these prefixes were invalid according to their ROAs, which was something that needed further investigation.
Next up was a panel session on MANRS that included Fakrul Alam (APNIC), Rashed Amin (Link3 Technologies) and Jan Žorž. This introduced the Routing Resilience Manifesto initiative that aims to help network operators around the world work together to improve the security and resilience of the global routing system through four actions that include filtering, anti-spoofing, coordination and global validation. Although the initiative was new to most of the audience, it still generated significant discussion and several network operators expressed interest in signing-up during and after the conference.
Jan then updated the audience on DANE adoption and implementing it in the go6lab. This has previously been covered in the ION Cape Town and the Let's Encrypt certificates for mail servers and DANE blogs, but the .bd domain is not currently signed with DNSSEC which has limited potential deployment of DANE in Bangladesh. Hopefully the increasing usage of TLS and Jan relating his experiences of successfully deploying DANE will encourage the implementation of DNSSEC in the .bd domain shortly.
The session after the tea break was devoted to the bdNOG report (provided by Rashed Amin, bdNOG President) and the keynote speech on the Potential of Indigenously Developed Telemedicine using the Internet (provided by Dr. Khondkar Siddique-e-Rabbani, University of Dhaka). There were also remarks from the Chief Guest Dr. Shahjahan Mahmoud, the Honourable Chairman of the Bangladesh Telecommunication Regulatory Commission, and from the Special Guest M.A Hakim, the President of ISPAB Bangladesh.
After lunch, Kevin talked about what was happening at the IETF and how to get involved. He pointed out that had been 1,824 registered participants from 65 countries at the recent IETF in Buenos Aires, but not one was from Bangladesh even though India was well represented. There was clearly a very active Internet community in Bangladesh, but for whatever reason little engagement with the IETF. However, he encouraged the local community to check out the IETF Fellows and Regulators to the IETF programmes.
Pubudu Jayasinghe (APNIC) followed this with an update on the current situation in the Asia-Pacific region with respect to IPv4 address availability, how to request IPv6 addresses, and the rollout of RPKI to provide cryptographic attestations about route advertisements. The rest of the session was devoted to submitted papers including The Future of SIP in WebRTC (provided by Shaila Sharmin, Link3 Technologies) and a Holistic view of 802.1x integration & optimisation (provided by Faisal, BDPEER).
The final session focused on IPv6. Abdul Awal (BDREN) set the scene with a presentation on IPv6 deployment in BDREN, the Bangladesh National Research and Education Network, as well as the wider challenges of deploying IPv6 in Bangladesh. This led into the IPv6 Panel session moderated by Kevin that included Asela Galappattige (Sri Lanka Telecom), Nurul Islam Roman (APNIC), Sumon Ahmed Sabir (Fiber@Home), Matsuzaku Yoshinobu (IIJ) and of course Jan.
The panel session focused on the message that deploying IPv6 was not a complex or expensive process, but eking out IPv4 addresses would be in future. IPv4 addresses were a finite resource and would increasingly only be obtainable through recovery and trading, which would impose a real cost for network providers. This was particularly an issue in countries like Bangladesh that currently had relatively limited Internet penetration, but which had large productive and aspirational populations that would put heavy demands on address resources. IPv6 deployment was presently quite low in Bangladesh, but the experience of BDREN demonstrated that networks could be substantially enabled for IPv6 with minimal effort and limited impact on existing services.
The conference was concluded with some final remarks from Kevin, thanking the host bdNOG, as well as the sponsors Afilias, APNIC, ISPAB, ISOC Bangladesh Dhaka and the Bangladesh ICT Business Promotion Council, before the training certificates were presented. The Deploy360 team would also like to thank bdNOG and their officers for helping us bring an ION Conference to Bangladesh for the first time, as well their contributions towards making the event a successful and productive one.
Our work was still not yet over though, as the following day Kevin was invited to open the Bangladesh Cyber Security and Network Security Workshop that was also attended by the State Minister for ICT, Zunaid Ahmed Palak. This workshop involved around 100 participants from the Internet community, academia, government as well as law enforcement agencies.
Further Information
The proceedings from ION Bangladesh are available here.