Beyond the Net Journal: Pakistan Chapter, Hamara Internet #1 Episode
International Women's Day is a call to action especially in parts of the world where women are still forced to deal with shocking inequality on a daily basis. We would like to celebrate the spirit of women through the amazing story of Nighat Dad, named TIME's next generation leader.
Nighat Dad started her career as a lawyer practicing criminal and family law and also volunteering with women's rights organizations. By that time she collected and responded to a large number of reports by women experiencing digital harassment and abuse. "Women approaching the Internet end up ashamed" says Nighat "They are threatened, dishonored and forced to delete their email and social accounts".
The problem of online harassment is global but is even worse in Pakistan, considering  that the deep rooted patriarchal culture also affects the online life.  According to the Human Rights Commission of Pakistan there are more than 1.000 women murdered in "honor killings" every year, and one woman gets raped every two hours.
Nighat got blackmailed too, and she couldn't get a judicial relief despite being a lawyer. She searched within the Pakistani legislation only to find out there is no law against cybercrime at all! At that stage, she asked herself the question that changed her life: "If as a lawyer I can't get legal remedy against cyber harassment, what will happen to ordinary people?"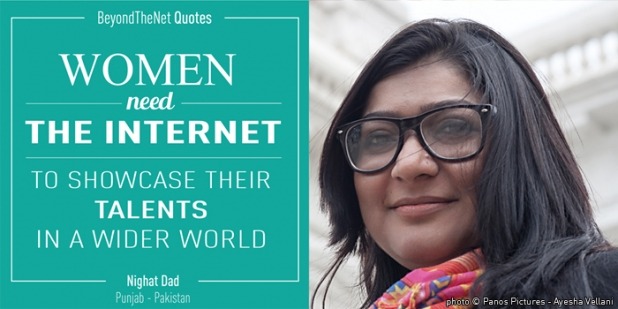 In 2012 she set up the "Digital Rights Foundation" and started teaching thousands of Pakistani women to protect themselves from online harassment. "We tell Internet users how to adjust their privacy settings and change their passwords frequently" says Nighat. "Women come here to seek help if they are targeted for cyberbullying". Her tenacity increased her experience and capacity building on digital crimes, enhancing the performance of criminal justice organizations.
In 2015, Nighat submitted an application to the new Internet Society grants "Beyond the Net Funding programme" to create Hamara Internet, a national campaign to raise awareness of digital violence against women. The pioneer project, supported by Pakistan Chapter, is providing women with the necessary information and tools to protect their freedom of expression. They are committed to foster a free and secure digital environment for young students, rights activists and women of every age.
To encourage the replication of the project by Chapters all over the world, the program is well organized through a wide range of activities and a dedicated website.
Project activities:
awareness workshops and seminars in several colleges and universities
national conference on women's digital rights in Islamabad
technical training of over 300 young women in digital security
creation of manuals and guidebooks in English and Urdu
distribution of promotional material and informative flyers
"Hamara Internet means Our Internet" says Nighat "Because the Internet means so much to Pakistani women. We want the old generation to stop treating the Internet like the devil and start using it as a weapon to kill that devil: ignorance, harassment and gender inequality".
Nighat Dad has been named in the TIME's list of next generation leaders. She is a passionate young innovator inspiring others to have the courage to follow their convictions. Her greatest ambition is to lead Pakistani women to freely showcase their talents on the Internet contributing to the future of Pakistan.
Watch the Video
How the project can be replicated in other countries?
Learn from her own voice
Share this story
If you like this story please share it with your friends. That would tremendously help in spreading the word and raising the visibility of this project. Help more people understand how the Internet can change lives.
Do you have a great idea? We are interested in your project.
We are looking for new ideas from people all over the world on how to make your community better using the Internet.
Internet Society "Beyond the Net Funding Programme" funds projects up to $30,000 USD.
Find out more
Beyond the Net Funding Programme
Register for the Information Sessions
Watch the movie "Nighat Dad – Hamara Internet – Internet Society Pakistan Chapter"