I was recently in Cambodia for three weeks and from my observations I saw many improvements to our computer course offerings. I saw that our teachers now have a greater level of confidence in teaching our students. This is largely due to ongoing training from our Learning Center Manager, from outside trainings from technology based organizations, and to the continuous development of a behavior management system based on positive reinforcement. In all that Children's Future does, we include the opinions of the students as well as the staff; with the development of the behavior management system, students and staff were included and now the students understand what is expected of them in the classroom and teachers know how to respond if students have negative behavior. This has led to more effective teaching, less disruption during classes, more attentive students, and better test scores. I saw that teachers were using new techniques in their courses and that students were more engaged. In our basic computer courses, teachers have integrated online learning options in tandem with their regular course plan. I also saw that our English course teachers were using technology and internet options in their classrooms.

Children's Future computer courses continue to develop and evolve. A new course, Adobe Premiere 302, was initiated at the beginning of this semester and has been implemented over the last few months. This course builds upon Adobe Premiere 301 and has taught the students to create and edit videos. Students first search for footage from the internet and create short videos. Then, students learn how to record sound, record footage so that they can create and edit their own videos. After monitoring and evaluating the courses last year, teachers learned that the students needed to develop their ability to work in teams. Thus, Adobe Premiere 302 includes a group project component where students are encouraged to produce and edit films in small groups.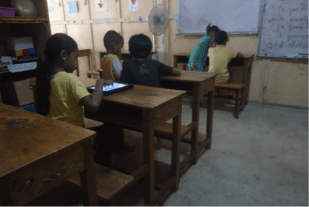 Children's Future is in the beginning stages of evaluating and revising its Child Protection Policy. One aspect of this is the use of social media at our Learning Center as well as in the community. Focus groups are being planned with students and staff to better understand how to teach and ensure safe internet use.Children's Future Fun Season (summer session) will begin in August and teachers will prepare for the next year of courses and offerings to the students. We have arranged for teacher trainers to spend time with our teachers to further develop course options and strengthen the existing courses.