Congratulations to Argentina on becoming the latest country to sign their country-code top-level-domain (ccTLD), with DNSSEC!  Today we are very pleased to update our DNSSEC Deployment Maps and give Argentina a shade of green for .AR!  Here's how the maps looked between last Monday and today: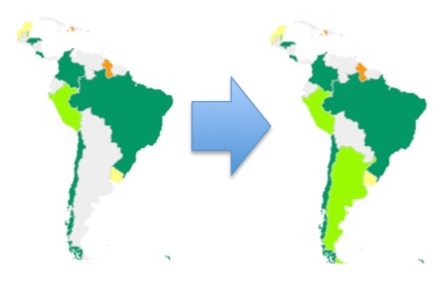 Awesome to see!
And obviously perfect timing for the ICANN 53 meeting next week in Buenos Aires where we'll be talking all about DNSSEC at numerous sessions!
Congratulations to the whole team at NIC.AR for making this happen. Now all the people who register domains underneath .AR will at least have the possibility of adding the layer of security and trust that DNSSEC can provide. They will also be able to potentially use DANE and other new innovations that build upon DNSSEC.
The next step, of course, is for the registrars and DNS hosting providers who support .AR domains to allow registrants to use DNSSEC.  But that wouldn't be possible without this first step of signing the .AR ccTLD.
Congrats and we're looking forward to celebrating with the NIC.AR team in Buenos Aires!
P.S. If you would like to get started with DNSSEC, please visit our Start Here page to learn how to begin!   And if you would like to receive our weekly DNSSEC deployment maps, we have information about how you can subscribe.