The latest World IPv6 Launch measurements are out for May 15 and as my colleague Mat Ford explains in a blog post, there's a lot of great momentum happening! My attention was drawn to the fact that Verizon Wireless is at 69.1%… at their current rate they should cross over 70% by next month: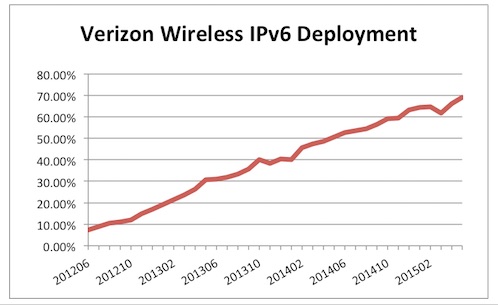 As Mat noted, AT&T broke through the 50% IPv6 mark this month and has the kind of growth chart you love to see: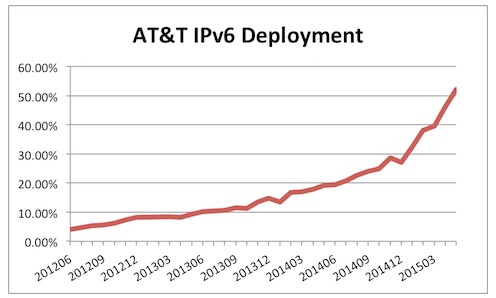 Looking at the May measurements, T-Mobile USA also continues their solid growth as do Comcast, Time Warner Cable and Telefonica del Peru.
Mat's post also dives into some of the newer entrants such as Saudi Arabia's Saudi Telecom Company.
All around great news to see!  IPv6 deployment is happening! 🙂
If you've started deploying IPv6 in your network, why not sign up to have your network counted in the measurements?  It's free and you'll help the global technical community gain more insight into the true status of IPv6 deployment.
And if you haven't started with IPv6 yet, please do visit our Start Here page to find resources to get going!  The time is now!