Residents of Bhimeshwar (formerly Charikot) whose houses were damaged in the April 25 earthquake and live now in tents can now use the free wifi provided by the Internet Society Nepal Chapter.
Today the trip to help Nepal get back online takes us to Bhimeshwar, formerly Charikot, and still referred to as Charikot, the headquarters of Dolakha district about 4 hours driving North-West from Kathmandu. This area is halfway Kathmandu and the Everest region and is much more mountainous and higher than Kathmandu.
Most buildings in Bhimeshwar are standing. It is a provincial town that only in recent decades grew and most buildings are relatively new and in concrete.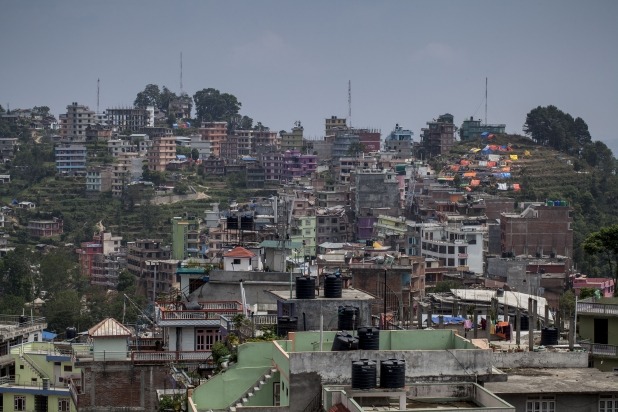 A view over Bhimeshwar.
However a number of those collapsed anyway as most of the town is precariously built on steep slopes. Many buildings that are still standing show cracks.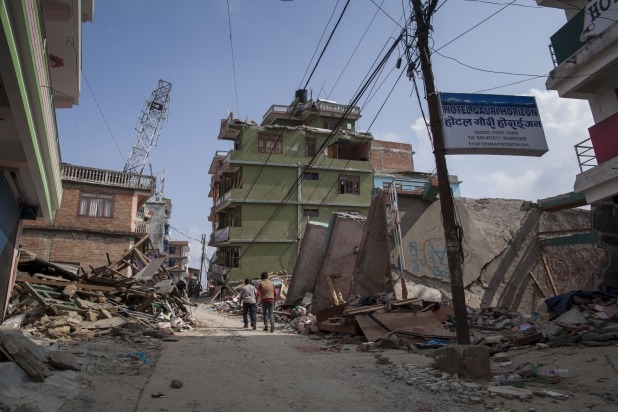 A street in Bhimeshwar.
The three wifi devices we want to install arrived already the day before. The solar panels and batteries that normally power the wifi devices during power cuts haven't arrived yet although the truck carrying them left Kathmandu hours before us.
The first place where we install a wifi device is on the roof of a concrete building near another area where a cluster of tents is erected. But again there is a power cut and we cannot test it.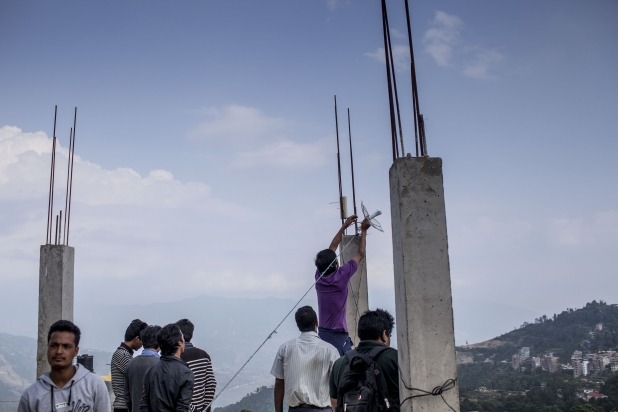 Members and supporters of the free wifi project of the Internet Society Nepal Chapter install a wifi spot on a rooftop in Bhimeshwar.
We first visit a local radio station, Hamro Radio FM, which has their antenna on one of the hills of Bhimeshwar. The building with the antenna still stands but the studio is moved to two tents because the building where the studio is located, underneath the broadcasting tower, shows cracks.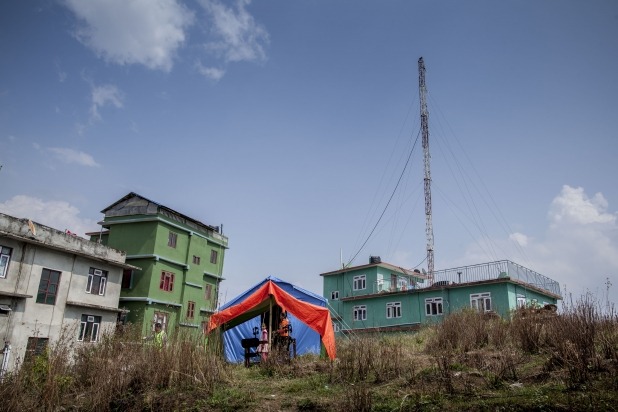 Hamro Radio FM is located in a makeshift studio located in a tent on a hill near the center of Bhimeshwar since the April 25 earthquake.
In the tent with all electronic equipment I meet Laxmi Basnet, an 18 year old news reader. She used to be a part time news reader before the earthquake and attended college, but now schools and universities are all closed so she works full time for radio.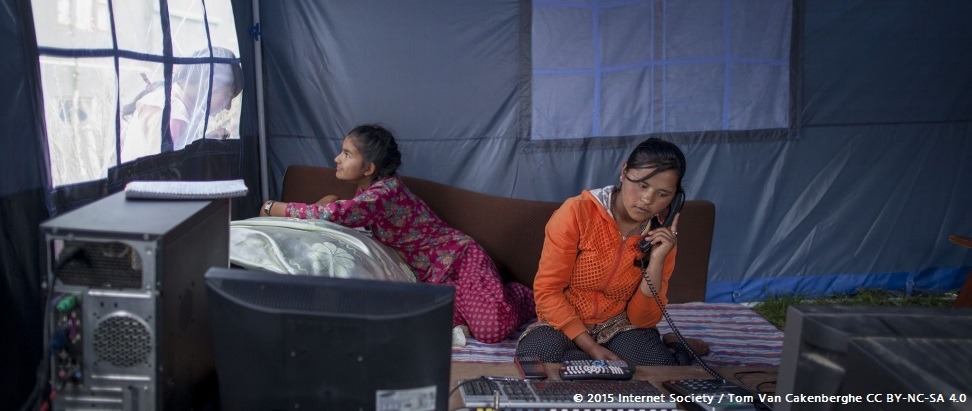 Laxmi Basnet (18), a part time news reader for Hamro Radio FM, checks the internet for news in the radio's makeshift studio located in a tent on a hill near the center of Bhimeshwar.
On the antenna behind the tents a small device is attached the previous day by the local Internet Society Nepal Chapter volunteers. It is a free wifi transmitter and the whole area can now go online for free. However, only when there is electricity, the device is not powered by a solar panel.
A few meters down from the radio tents there is a small tented camp where the local residents live now. This hill has been severely affected by the earthquake; a number of houses collapsed and many are damaged beyond repair and too dangerous to live in.
For checking news updates we rely on the internet, and then we broadcast it via our radio. The other internet services are often unreliable and expensive so the free internet is important.
The previous day and immediately after this wifi spot was installed Gokarna Prasad Bandhari, a reporter for a local newspaper, together with other journalists did online research and filed stories using the free internet access.
Armed with their smart phones and laptop they sat on the hill and worked.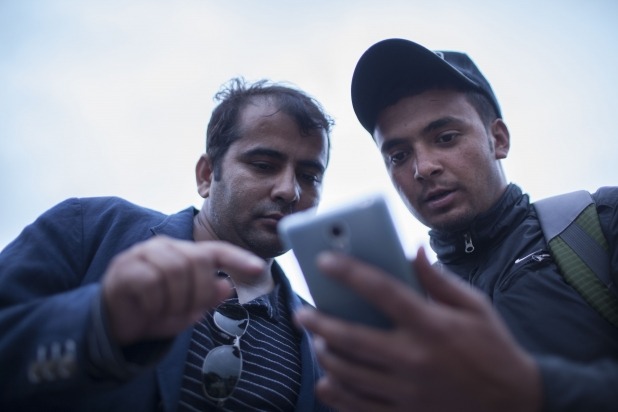 Gokarna Prasad Bandhari, a local news paper journalist (right), shows a photo to Babu Ram Aryal to explain how local journalists used the newly installed free wifi system the previous day.
The school ground is now also a tented camp for earthquake victims. One of them is Subash Subedi (22). Subash sits in his tent surfing the internet using a wireless connection that connects to the mobile 3G network. That is expensive and he is pleased to hear that free wifi is being installed soon.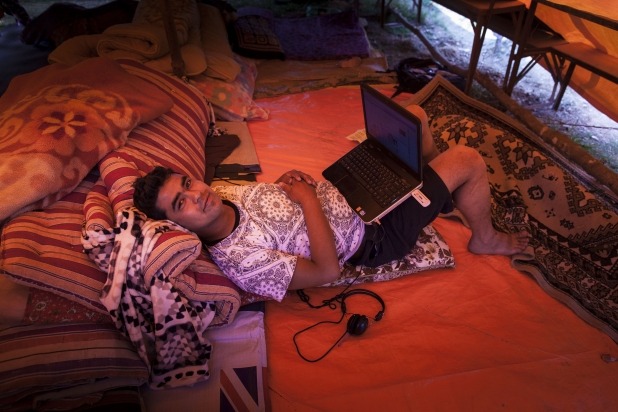 Subash Subedi (22) a resident of Bhimeshwar (formerly Charikot) is surfing the internet in a temporarily shelter since the April 25 earthquake damaged his home.
Free wifi would be good as using 3G is expensive. We use the internet to inform our self and it is the best way to keep in touch with friends and family.
Photos: © Tom Van Cakenberghe
* If you would like to help the Chapter bring Nepal back online you can donate on our website.