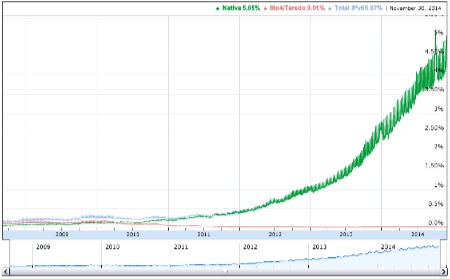 Outstanding news!  Today marked another milestone in the continued evolution of the Internet from the development version based on IPv4 to the production version of the Internet based on IPv6 – Google's IPv6 traffic statistics showed that global traffic over IPv6 has passed the 5% mark!   Even better, if you go into the per-country IPv6 statistics, you can see the increased growth in IPv6 traffic in countries such as Belgium (28.45%) and the USA (11.85%), Germany (11.88%), Luxembourg (11.38%), Switzerland (9.94%) and a number of others.
As our colleague Phil Roberts writes in an Internet Technology Matters post today, these numbers compare well to what Akamai is showing in their per-country IPv6 traffic statistics.  Phil also mentioned the World IPv6 Launch measurements, which break down the measurements on a per-network basis and show even higher levels of IPv6 deployment such as the 59.4% measured on Verizon Wireless' networks (because of their IPv6-based LTE).  I would add that APNIC's IPv6 statistics tell a similar story (and use a different measurement technique) – if you scroll down APNIC's page you'll see the list of the top countries and the IPv6 connectivity in those regions.
As far as the global 5% measurement, we definitely agree with Phil:
While 5% might not seem like a large percentage, it's a big step on the path to IPv6 becoming the prominent Internet Protocol on the Internet, and billions more people and devices being able to connect to an Internet that works like the one we've enjoyed and benefitted from so far. And that's worth celebrating.
Anyone who still doubts that IPv6 will ever happen in their lifetime clearly isn't reading the statistics!  That graph is going up and to the right… and if you look at the fact just two years ago the % was under 1%… the deployment IS happening!
What about you?  Are your networks, services and applications ready for IPv6?  If you haven't started yet, definitely check out our Start Here page to find resources for your type of role or organization.  And please let us know if you need more information – the time to make the move is TODAY!