Congratulations to the team at SIDN and all the .NL registrars and DNS hosting providers for the fact that there are now 2 million .NL domain names secured by DNSSEC!  Yesterday as the SIDN team apparently became aware that a large registrar/DNS hosting provider was going to be signing .NL domain names, Kees Monshouwer set up a website that showed an ongoing countdown to when they projected passing the 2 million DNSSEC-signed domain mark.  If you go there now, of course, you see that they've passed 2 million domains: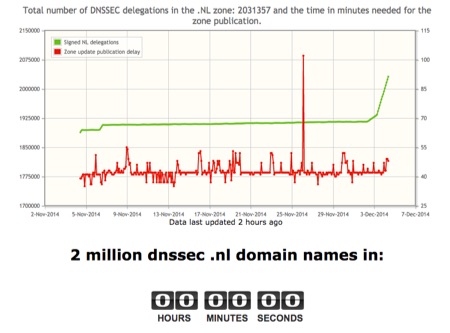 But yesterday the countdown was underway: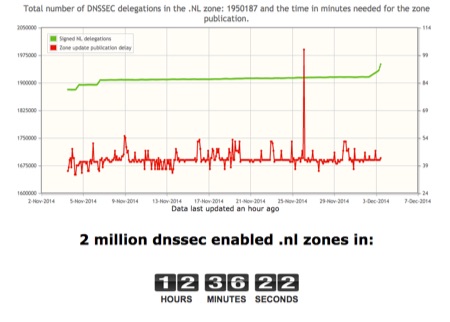 It was fun to watch yesterday from time to time… and a definite congratulations to the teams at all the various organizations.
As the news announcement from SIDN (in Dutch) explains, this represents over 36% of the 5.5 million .NL domains now secured with DNSSEC!  The announcement also explains a bit about how this was accomplished.  SIDN, the operator of the .NL registry, offered a financial incentive where .NL domain names are less expensive if they are signed with DNSSEC.  Given that incentive, a number of large registrars who also do DNS hosting set up their DNS systems to do bulk signing of the .NL domain names.  The end result is that their customers are now getting the added security of DNSSEC without the customers needing to do anything more.
This model may or may not work for other top-level domain (TLD) registries, but it certainly has worked well for .NL.  The tweets were fun to see today – among them:
Weer een mooie #SIDN mijlpaal: we hebben ruim 2 miljoen #dnssec gesignde .nl-domeinnamen pic.twitter.com/3NNTgu9NFY

— SIDN (@SIDN) December 5, 2014
and
https://twitter.com/PowerDNS_Bert/status/540758906713436160
Congrats again… and if YOU want to get started with signing your domain (from whatever TLD), please take a look at our Start Here page to find resources available to you!