Today the folks over at Akamai launched a new set of IPv6 statistics and trend visualization charts that help confirm the ongoing growth of IPv6 that we are seeing all around the world. Launched as part of Akamai's "State of the Internet" (SOTI) Trends area, these new charts allow you to explore IPv6 deployment on a country or network basis.  As our colleague Phil Roberts writes today on our Internet Technology Matters blog:
This is a really nice tool that allows you to see what they see in terms of a view of IPv6 deployment by country and by network. Whereas the World IPv6 Launch measurements are an opt-in measurement for networks, Akamai publishes data from every network where they see IPv6 traffic, so they report some large deployments that we don't have in our data. Kabel Deutschland is an example of a network with a large IPv6 deployment (35% of the traffic coming from their network to Akamai's servers uses IPv6) that isn't in our database.
The country trend charts are great to see and fall in line with numbers that we see out of similar statistics from Google, APNIC, Cisco and also Eric Vyncke.  Obviously with Akamai only recording this data starting from August 31, 2014, you don't yet see the longer trend lines that some of the other sites can show, but it will be helpful to have these trend charts over the months and years ahead as IPv6 continues to grow. (I'd note that Akamai has been tracking overall IPv6 growth statistics for several years now, so you can see the overall trend chart.  Now they are displaying charts on a per-country and per-network basis.)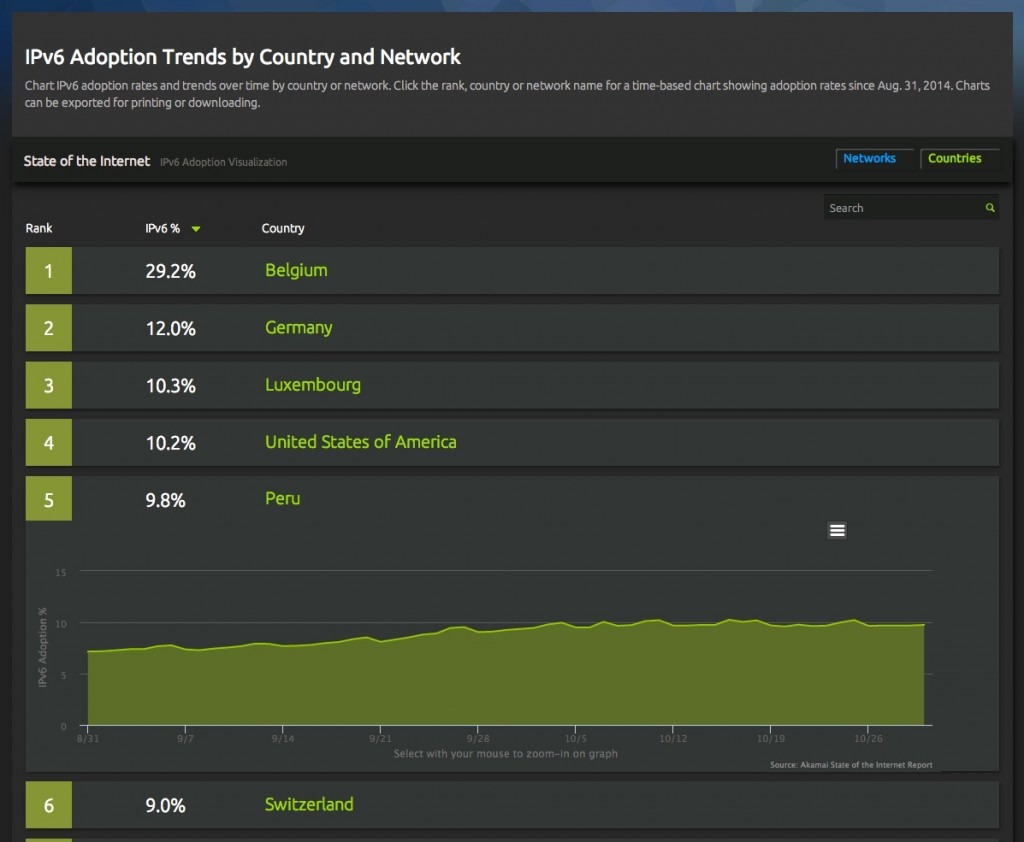 As Phil mentioned in his post, a great aspect of these charts is that they come from Akamai's own data across the servers of their content distribution network (CDN) and so you gain a strong view into what networks are really sending IPv6 traffic.  If you click on the "Networks" tab on the right side of their page just above the names of the countries, you can start seeing the trend chart by network names. Interesting to note, too, Akamai's message when you hover your cursor over the Networks tab:
Note that the Networks ranking is determined by the volume of IPv6 requests to Akamai.
This explains why Comcast Cable is listed first even though Verizon Wireless has a higher percentage of IPv6 requests.  Comcast's networks have simply sent more requests in total to Akamai's network than Verizon Wireless' network has.   Akamai's Network trend charts also line up nicely with the World IPv6 Launch measurements as Akamai has been one of the long-standing providers of data into that project (although, as Phil noted, only for networks that opted in to participating in the WIPv6L measurements).
We're very pleased to have these new charts out there from Akamai – and look forward to continuing to watch them grow as IPv6 continues its global march toward full deployment!
P.S. If you haven't yet started with your own IPv6 deployment, please visit our Start Here page to find resources to help you get started!